Casualty legend William Beck on why we're all obsessed with doctor Dylan Keogh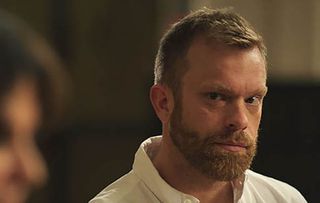 (Image credit: BBC)
We know why we love Casualty character Dylan Keogh, but what does William Beck, who plays him think?
There are many reasons to love Casualty doctor Dylan Keogh. From perfectly-timed put downs and brilliant medical diagnoses to his boat life with pet dog Dervla and secret obsessions, there's no denying he's an intriguing character.
We know what we think of him, but what does William Beck, who plays Dylan, make of his character's much-loved quirks and challenges?
Here we talked to Casualty star William Beck, on why people are obsessed with dour doctor Dylan…
1: His withering one-liners
We say: He's essentially a serious man, but also endless funny.
William Beck says: "I'm very, very lucky on a number of counts. It's a fundamental parameter of Dylan's character that he is sarcastic. Sometimes I think the best lines are saved for me and I'm eternally grateful; I enjoy them!
"The general subject matter of the show is serious so, what you can't do is try and make people laugh. But sometimes when I watch it back, I can see why people might think I was!
"Dylan feels things, and that's the basis of really good comedy – somebody taking something much more seriously than they need to, and the circumstances that surround that. Dylan is the epitome of that. He is unintentionally comic!"
2: His boat life
We say: Scenes of Dylan at home on his boat are like glimpsing behind the wizard's curtain…
William Beck says: "The boat was an idea that originated when Casualty was shot in Bristol [it's now filmed in Cardiff]. I think, after twenty-five years they were looking for new locations for characters' flats and the marina there is lovely to film. We later discovered it's also incredibly noisy, especially late at night, so we had to build a set... shooting on a real boat is next to impossible. While cameras nowadays are very small, if anything filming crews have got bigger over the years and you just can't fit everyone in the boat. We practically sunk the jetty, so we now film inside a studio set!
"The boat works for Dylan; you just think he would live on a boat."
His one true love… Dervla the dog
Will says: "People always ask me about the boat and the dog!
"[Laughing] There's a couple of little guys in there operating Dervla and doing a very good job of making her look realistic… The dog comes with it's own list of demands… She doesn't watch the show… Okay you may have realised I'm not quite as up on the dog as I should be!"
We say: Let's leave that one there, there's no pointing hounding the issue...
4. His unlikely (human) friendships…
We say: From Zoe to David, when Dylan makes friends he makes them for life – whether he wants to or not!
Will on Zoe Hanna: "Sunetra [Sarker (opens in new tab), who played Zoe] and I scotched the idea of a romantic relationship between Zoe and Dylan straight away because we enjoyed working together far too much. We knew if we had a romantic relationship one of us would have to die or leave, and we didn't want that! And sure enough I think Zoe and Dylan were all the stronger for having that platonic relationship."
Will on David Hide: "There's a kind of an odd couple there [with Dylan and David, played by Jason Durr (opens in new tab)]. It's nice to be taken by surprise. People like tension and I think that's the genesis of so much of [Dylan's friendships]."
Will on Louise Tyler: "My personal favourite is Dylan's relationship with Louise. It may be a surprise one for me to pick but it's one I particularly look forward to doing. It's a slow, quiet one, and people don't talk about it so much but I think there's a real meeting of minds there. She's absolutely no-nonsense with him, but he takes it from her and also gives it back. I love working with Azuka [Oforka (opens in new tab)]."
5. His relatable vulnerability, from alcoholism to OCD
We say: Dylan has his fair share of personal troubles, which make him more endearing.
On these elements of Dylan's character, Will says: "It's not very difficult to find a reason to be at odds with the world, I think everybody knows that feeling. A great deal of people also know how it feels to find the relief of routine, liberation or comfort one gets from alcohol. Alcohol disinhibits and a lot of people find relief in that.
"OCD and alcoholism are opposite sides of the same coin. But you can't play them as a general. I read each episode in isolation. And, bit-by-bit, ultimately over a series of episodes a storyline or a motif develops. Hopefully Dylan is sympathetic, because if he isn't unfortunately people can't say 'I feel like that.' And it's nice to know that other people do too. Dylan is vulnerable because he's human. I find Casualty endlessly fascinating; the uniqueness of working in continuing drama and not knowing what your story is going to be. I'm as interested as anyone else to know what Dylan's going to do next!"
Casualty continues on BBC1.
With twenty years of experience as an entertainment journalist, Elaine writes for What's on TV, TV Times, TV & Satellite Week and (opens in new tab)www.whattowatch.com (opens in new tab) covering a variety of programs from gardening and wildlife to documentaries and drama.
As well as active involvement in the WTW family's social media accounts, she has been known to get chatty on the red carpet and wander into the odd podcast.
After a day of previewing TV, writing about TV and interviewing TV stars, Elaine likes nothing than to relax… by watching TV.
Get the latest updates, reviews and unmissable series to watch and more!
Thank you for signing up to Whattowatch. You will receive a verification email shortly.
There was a problem. Please refresh the page and try again.