The Casualty Notebook Mystery — can Dylan Keogh crack the sinister case?
Dylan Keogh is faced with a conundrum in Casualty — where is this mysterious new storyline going? We examine the evidence…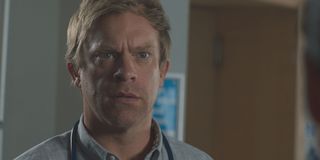 (Image credit: BBC)
In Casualty episode Start the Fire Dylan Keogh had an emotional reunion with his mentor Dr Jemima Hargrove and was plunged into a sinister mystery.
Here, What To Watch takes a deep dive into the curious case facing the ED clinical lead and examines where this new storyline is going…
Warning: Major Spoilers for Casualty episode Start the Fire, which aired on BBC One on Saturday, January 7, 2023, beyond this point!
The episode (available to view on BBC iPlayer) opened with a devastating fire at a retirement home and saw the ED overrun with patients.
Among the casualties Dylan Keogh (William Beck) was shocked to discover his former medical school teacher Dr Jemima Hargrove (played by Souad Faressm, best known for her roles in The Archers and Game of Thrones).
As the twisty-turny episode progressed, Jemima, 81, was accused of starting a deadly fire, and as the credits rolled, Casualty viewers — and Dylan Keogh! — were left with many unanswered questions. Not least, what do the mysterious contents of Jemima's notebook mean?
So, with that in mind, let's examine the evidence…
1. The sequence of events
The fire started in the laundry room at the retirement home.
Within minutes of the alarm sounding, care home employee Roy Welch (Michael Begley) evacuated the residents and did a head count.
Jemima realised her notebook wasn't in her handbag. Panicked, she went back inside the burning building and discovered it in the communal lounge.
According to paramedic Iain Dean (Michael Stevenson) Jemima was found unresponsive in a smoke-filled room with serious burns to her neck, shoulder and arm.
During the course of treating Jemima, Dylan noticed an injury seemingly unrelated to the fire, on her neck and shoulders, which wasn't mentioned in her notes.
While being treated Jemima became distressed when she couldn't find her notebook. She muttered something about "It being all for nothing," told Dylan it was "everything" and that she "needed to finish her work."
Soon afterwards DCI Supriya Vadra (played by Sheena Bhattessa, who has starred in Whitechapel, EastEnders and Doctors) revealed that the fire was arson and Jemima was the main suspect! A witness told the police they saw her take the key to the laundry room - the source of the devastating fire. Jemima admitted she was in the laundry room but claimed she was looking for the TV remote.
DCI Vadra wasn't buying it and dialled up her questioning. Knowing Jemima smokes she demanded to know where her lighter was. Jemima passionately defended herself, stating that her friends live at the care home, so why would she start the fire?
DCI Vadra revealed one of the residents was still unaccounted for.
Missing resident Shazia Swann was brought into the ED. She was found hiding in a cupboard at the retirement home. When Shazia died in Resus, an inconsolable Jemima proclaimed "Can't you see what I've done? I've killed my best friend!"
Jemima confessed to Dylan that the fire wasn't something she planned. She then added "If only I'd remembered the notebook, I would have known."
Before Dylan could get more information, Jemima's son Campbell Hargrove burst into Resus and warned his mother not to say anything to the police! He also had a suspicious eye injury. He then revealed that Jemima doesn't live at the retirement home, she actually lives with him and spends her days there.
Tragically Jemima passed away while Dylan was in a training seminar, leaving the clinical lead determined to find out why his mentor risked her life for a notebook. Convinced Campbell is involved, Dylan accuses him of hurting his mother and tells DCI Vadra to look into the matter further.
Before the credits rolled, nurse Faith Cadogan (Kirsty Mitchell) retrieved Jemima's handbag from paramedic Iain Dean and handed it over to Dylan. Inside was the notebook with a record of names and numbers, which Dylan instinctively took screenshots of…
2. Questions that need to be answered
* How did Jemima Hargrove get the injury to her neck and shoulders? Did these happen prior to the fire, or are they connected to her being found unresponsive at the scene?
* Who informed the police that they saw Jemima take the laundry room key? Are they a reliable witness, or misdirecting suspicion away from themselves?
* After doing a headcount how did Roy Welch fail to realise that people were unaccounted for? When he was supposedly checking rooms, was he actually covering his tracks? Or was it simply that the shocking events caused him to miscount?
* Why was Shazia Swann hiding in a cupboard? Was she sheltering from the fire or trying to evade someone?
* What or who caused Campbell Hargrove's eye injury? He says it was the result of a pub fight, but could it actually be related to the cuts and bruises on Jemima's neck?
* And last, but not least, the contents of Jemima's notebook. What do they mean?
At first glance they appear to be names and a record of dates. Can Dylan Keogh crack Jemima's code and solve the deadly events at the retirement home?
3. Main suspects
Dr Jemima Hargrove. She admitted to starting the fire, which killed her close friend. But the question remains - why did she start the fire? Was it an accident, deliberate, to cover something up, or because she was scared?
Dylan is convinced that someone was hurting Jemima, which brings us to her son, Campbell 'Cam' Hargrove. He's already revealed that there was no love lost between them and that his mother had brought this on herself... Is Campbell (played by Amir Boutrous, who has starred in The Crown, Good Omens and Fauda) involved?
Roy Welch, who works at the retirement home and was responsible for getting everyone out safely. Is he the hero of the hour in a frightening situation - or has he something to hide? Consultant Ethan Hardy (George Rainsford) seemed surprised by the extent of smoke inhalation Roy suffered. Could Roy (played by Michael Begley, who has starred in City Central, William and Mary and Doctors) have returned into the burning building for sinister reasons?
Shazia Swann. Was Jemima's friend somehow responsible for the fire? It seems unlikely, but nothing can be ruled out.
Another resident? It was revealed during the episode that at least one other resident was keeping secrets. As doctor Rash Masum (Neet Mohan) discovered when he treated a patient called Bill Rooney, who spread an STI around the care home. Bill (played by Malcolm Rennie, who starred in Coronation Street, Sherlock, Mr Selfridge and Ted Lasso) was the retiree who alerted everyone to the fire in the first place...
Someone else! Roy was visibly shaken at the news of Shazia's death and said to Ethan: "Someone should have got her out sooner." Has he "someone" in mind?
4. What does this all mean for Dylan Keogh?
While being treated by Dylan, Jemima remarked that his bedside manner had improved. Which begs the question, what was it like when he was a medical student!
Jemima also told Faith Cadogan that although he wasn't her best student, he was one of the most promising.
Will this sudden reminder of his youth bring back unpleasant memories for Dylan, who we already know had a difficult and painful childhood? The fear for fans is that his determination to unravel the mystery of Jemima's notebook could lead him down a dark path that may threaten his mental health, his job (which, unknown to him, is already under threat from scheming Stevie Nash and Marcus Fidel), or even his sobriety.
Most worryingly of all, with two people already dead, could Dylan's life be in danger?
5. The Faith Cadogan connection
It won't have escaped Casualty fans' attention that nurse Faith Cadogan (Kirsty Mitchell) recently befriended elderly patient Elsie Clegg (played by Coronation Street legend Amanda Barrie).
Elsie also lives in a Holby care home. Is she a resident of the same property where the deadly fire occurred? If so, then perhaps Elsie can shine a light on this medical mystery.
More scenes with recurring guest star Amanda Barrie would be very welcome - especially if her return means ex-lovers Faith and Dylan end up secretly working closely together on cracking the care home case!
Get the latest updates, reviews and unmissable series to watch and more!
Writer for TV Times, What's On TV, TV & Satellite Week and What To Watch
With twenty years of experience as an entertainment journalist, Elaine writes for What's on TV, TV Times, TV & Satellite Week and (opens in new tab)www.whattowatch.com (opens in new tab) covering a variety of programs from gardening and wildlife to documentaries and drama.
As well as active involvement in the WTW family's social media accounts, she has been known to get chatty on the red carpet and wander into the odd podcast.
After a day of previewing TV, writing about TV and interviewing TV stars, Elaine likes nothing than to relax… by watching TV.
Thank you for signing up to Whattowatch. You will receive a verification email shortly.
There was a problem. Please refresh the page and try again.