Casualty spoilers: Twisted Marcus Fidel targets Dylan and Stevie in SHOCKING double-bill!
Airs Saturday 11 February at 8pm and 8.50pm on BBC1.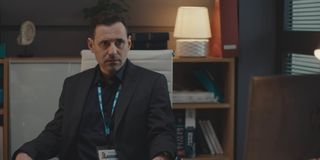 (Image credit: BBC)
Keep a close eye on Marcus Fidel in this week's Casualty double-bill
In this week's first episode I.O.U. (BBC One, 8pm, Saturday, February 11, 2023 — see our TV Guide for listings) Marcus isolates Stevie Nash from Faith Cadogan. In the second outing Running on Empty (BBC One, 8.50pm, Saturday, February 11) he schemes to ruin Dylan Keogh's reputation!
Elsewhere, Rash Masum and Jacob Masters both face unimaginable horrors.
Full Casualty spoilers below…
Marcus Fidel AKA 'The Manipulator' is on a mission
Marcus Fidel is fast becoming one of Casualty's most Machiavellian characters and, in this week's double-bill outing to Holbyland, he's in razor-sharp form and ready to ruin lives!
In the first episode, Marcus (Adam Sina) ups his twisted campaign to destroy consultant Stevie Nash's confidence and win her back.
Stevie (Elinor Lawless) is visibly unraveling due to the ongoing barrage of negative comments online. The normally confident doctor is a shadow of her former self, making mistakes, and not sleeping — completely unaware that her ex is behind the 'patient' reviews!
While treating online child star Serena Shelsby (House of the Dragon's Shani Smethurst) stressed Stevie loses her temper with pushy mum, Astrid. Sly Marcus encourages Astrid (Chewing Gum star Danielle Walters) to make a formal complaint and then convinces Stevie that nurse Faith Cadogan (Kirsty Mitchell) has confirmed Astrid's account!
Stevie confronts Faith, which results in a bitter argument that quickly turns nasty, ruining their friendship. Meanwhile, Marcus looks on smugly.
Satisfied that he's isolated Stevie from her closest confidant, he swoops in to comfort her…
Rash Masum's crash horror
Rash Masum experiences pure terror when his father Ashok is involved in a traffic accident with life-changing consequences for all involved.
As the first Casualty episode opens, Ashok (Kriss Dosanjh) believes he's on holiday in Miami with a young Rash in the backseat. In fact, he's driving alone on the wrong side of the motorway and causes a life or death collision.
Paramedics Iain Dean (Micheal Stevenson) and Sah Brockner (Arin Smethurst) are quickly on the scene. Iain recognises Ashok as Rash's father and realises that all is not well.
Meanwhile, Jan Jenning (Di Botcher) attends couple Elinor Vassos (Dungeons and Dragons star Sophia Eleni) and Aaron Oasey (Outlander's Ryan Hunter), who've been seriously injured in the traumatic crash…
Shocks and showdowns
At Holby ED Rash (Neet Mohan) is shocked when his father doesn't recognise him and realises Ashok's dementia is progressing. Meanwhile, Ashok is deeply distressed and confused. It's a heartbreaking situation and there's more bad news to come. Clinical lead Dylan Keogh (William Beck) suspects Ashok has suffered a stroke.
Rash vows to give his father the best care he possibly can only for Ashok's ex-partner Mona Nadkarni (Shobu Kapoor) to disclose a terrible secret.
There's something Rash has been completely unaware of, and it will affect everything!
What is Mona hiding?
Also in Casualty episode I.O.U.
Doctor Paige Allcott (Shalisha James-Davis) selflessly supports Rash and Ashok. However, it's also the day of a very important meeting for the junior doctor. Will Paige's case manager have encouraging news for the medic regarding her upcoming GMC inquiry?
Speaking of Paige… could it be that paramedic Teddy Gowan (Milo Clarke) is sweet on her? Or are they just fast becoming firm friends? Either way, Teddy impressively channels his inner Fonzie when the hospital vending machine refuses to release treats for Paige. Ayyyy! Consider us impressed!
Elsewhere, Paul Pegg (Paul Popplewell) has some explaining to do. Will he tell girlfriend Robyn Miller (Amanda Henderson) exactly how he managed to get a nasty cut on his arm?
Robyn's big on trust and may not stand for Paul's secrets and lies!
Spoilers for Casualty's second episode Running on Empty
Jacob Masters in shocking amputation story
Remember earlier when we said that Jacob Masters is involved in a horror storyline?
Well, in the second episode, Jacob (Charles Venn) is forced to perform a DIY amputation in shocking scenes that are not for the faint hearted…
After a gruelling night shift and strong words with Marcus over agency nurses, Jacob decides to blow off some steam. Riled, he goes for a run along some remote cliffs, where he discovers Sunil 'Suni' Desai in a terrible state.
Suni (Devesh Kishore) has fallen down the cliff, is suffering multiple injuries, and has been trapped for three days. Jacob makes him as comfortable as possible but realises there's no way to free his wedged foot from an immovable boulder. With no phone signal, Jacob promises Suni he will be back with help in half an hour.
Unfortunately, once the crucial thirty minutes have passed, desperate Suni starts to cut his own foot off. Jacob returns to a grisly scene and, with time running out, has to finish the job.
Jacob heroically carries Suni to safety and then it's a race against time to save his life. But at the ED the ordeal continues and Jacob faces potentially ruinous consequences. Marcus is up to his old tricks, but all Jacob cares about is saving Suni.
Will Suni survive and can Jacob hold onto his career?
Marcus targets Dylan
Having decimated Stevie's confidence in the previous episode, in this second outing, scheming Marcus sets his sights on Dylan Keogh. Having warned Dylan to stop his maverick investigation into Willco care home, Marcus spots an opportunity to wreck his career and reputation.
While treating elderly patient Brian Craugh, Dylan becomes convinced he finally has irrefutable evidence of abuse and calls the police, making shocking accusations. Brian (Killing Eve's Jack Chissick) however, doesn't back up Dylan's claims.
Unfortunately, this paves the way for Marcus — who's a member of the board at Willco — to get Dylan in seriously hot water.
Will Dylan be sacked?
Also in Casualty episode Running on Empty
Stevie goes out of her way to avoid Faith, embroiling Jacob in their epic estrangement.
Paige starts to feel the strain of helping Rash take care of Ashok. The couple are like ships in the night, as Rash works the night shift and Paige is on days.
Exhausted after spending the evening with Ashok, Paige falls asleep while on duty in the ED. Will her patients pay the price with their lives?
Teddy is concerned for Paige and encourages the young doctor to tell Rash she's at breaking point.
Meanwhile, agency nurse Tilly Wadey (Conversations With Friends' Isobel O'Regan) realises she's out of her depth…
These episodes of Casualty air on Saturday, February 11, 2023 at 8 pm and 8.50 pm on BBC One. Both episodes will be available on iPlayer after transmission.
FIRST LOOK! Next week Nigel Harman makes his much-anticipated Casualty debut. There may be trouble ahead!
Get the What to Watch Newsletter
The latest updates, reviews and unmissable series to watch and more!
Writer for TV Times, What's On TV, TV & Satellite Week and What To Watch
With twenty years of experience as an entertainment journalist, Elaine writes for What's on TV, TV Times, TV & Satellite Week and (opens in new tab)www.whattowatch.com (opens in new tab) covering a variety of programs from gardening and wildlife to documentaries and drama.
As well as active involvement in the WTW family's social media accounts, she has been known to get chatty on the red carpet and wander into the odd podcast.
After a day of previewing TV, writing about TV and interviewing TV stars, Elaine likes nothing than to relax… by watching TV.