Casualty death and shock repercussions — who died, who quit and what happens next?
Casualty favourite Robyn Miller's tragic death and shock aftermath — here's everything we know about what comes next.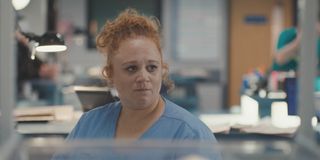 (Image credit: BBC)
Following a massive cliffhanger last Saturday, Casualty upped the ante this week with the death of a main character and a mass walk out of Holby ED staff.
What happened in Casualty, who died, and who has quit? The answer to all these questions are answered below…
*Warning - spoilers for Casualty episode The Straw beyond this point*
Casualty: Robyn Miller's tragic accident — what happened?
Casualty episode The Straw (Saturday, March 18, 2003) picked up directly after last week's Falling Down (Saturday, March 11, 2023) cliffhanger, with nurse Robyn Miller trapped in her car after a road traffic accident.
Help arrived in the form of the fire service, but they couldn't remove Robyn (Amanda Henderson) until an ambulance arrived. Unfortunately, there was a lengthy wait, due to ambulances being stuck in queues outside Holby ED.
With Robyn weakening by the second and having waited 20 minutes already, the fire crew decided they needed to cut Robyn from her crushed car and attempt to keep her alive.
By the time paramedics Teddy Gowan (Milo Clarke) and Sah Brockner (Arin Smethurst) arrived at the scene, Robyn was unresponsive and they raced her to the emergency department.
Last on scene 😬 #Casualty Saturday 8:50pm on @BBCOne 📺 pic.twitter.com/tegV9nsD5DMarch 15, 2023
Robyn fights for her life
Shocked doctors Dylan Keogh (William Beck) and Stevie Nash (Elinor Lawless) were waiting by the ED doors for Robyn and transported her immediately to resus.
In resus the team, headed by clinical lead Max Cristie, sprung into action and quickly assessed multiple injuries, many internal. The major haemorrhage protocol was activated, a CT scan arranged and preparations made to send her to theatre.
Outside resus, there was stunned disbelief as news of Robyn's condition spread, with close friends Charlie Fairhead, Marty Kirkby, Paige Allcott, David Hide, and (ED enemy number one) Jacob Masters deeply affected.
As everyone tried to piece together what led to this, Jacob (Charles Venn) bore the brunt of the blame for making Robyn work extra hours, upsetting her before she left, closing the ED doors to new patients, and for not freeing up ambulances sooner. It didn't help that while everyone was processing that Robyn may die, he asked them to focus instead on treating patients.
Robyn is finally in resus 🤞 #Casualty Saturday 8:50pm on @BBCOne 📺 pic.twitter.com/7UH7Sp5LLzMarch 16, 2023
Paul in the dark
Meanwhile, Charlie (Derek Thompson) was attempting to contact Robyn's fiancé, Paul Pegg.
Paul (Paul Popplewell) was at home packing up for their move to Wigan and looking after Robyn's daughter, Charlotte (Aurora Jones) when he realised his phone was dead and that he may have accidentally packed the charger in one of the many boxes…
Sacha Levy pulls out all the stops
Holby City's Sacha Levy (Bob Barrett) rushed down from Keller Ward to the ED and informed Dylan that he'd received Robyn's scan and she needed surgery — urgently.
Unfortunately, no theatres were free, but Sacha reassured Dylan that he was doing his best.
Sacha then spoke to Robyn and cheered her up with his lovely bedside manner, joking: "You know, if you didn't want to go to Wigan, you could have just said." He also gently revealed that there were lacerations to her liver and spleen, and that there may be damage to her mesentery and pancreas…
The nurse part of Robyn immediately knew the seriousness of her condition and became tearful. But Sacha managed to reassure his frightened friend, saying: "Can you imagine what Lofty (Lee Mead) would do to me if I let anything happen to you? This is my bread and butter, this is what I do, and I'm here to look after you."
Shortly afterwards, Robyn's condition deteriorated just as Sacha learned there was a theatre free - the problem was, there was no one to staff it.
Realising their dear friend was about to arrest and become beyond saving, Dylan came up with an idea — he rustled up a surgical team made up of David (Jason Durr), Max (Nigel Harman), and himself for Sacha.
In theatre…
Sacha led Robyn's life-and-death surgery with Dylan assisting, Max on anaesthesia, and David acting as theatre nurse. It looked like they were making progress when Robyn began stabilising. They then turned their attention to her liver but she began bleeding out and, despite their best efforts, Robyn died on the table…
Meanwhile, Paul, after charging his phone, made his way to the ED with Charlotte — but they were too late to say their goodbyes.
The aftermath of Robyn's death in Casualty
Devastated, David broke the news to Robyn's colleagues. In the wake of her death, emotions ran high with Charlie collapsing at the sight of Robyn's body in theatre.
Later, in the staff room, Dylan revealed the details of Robyn's death - that there was too much damage and as soon as her blood pressure started to come up, there were more bleeds than they were able to control. As shock quickly turned to anger, Jacob was widely blamed for her death, and many of the nurses walked out in disgust.
What happens next?
Charlie has invited Paul and Charlotte to stay with him and offered to help organise Robyn's funeral.
The failure of the NHS in Robyn's hour of need, has caused many of the beloved nurse's colleagues to question their future in the profession.
Jacob is privately broken but continues to defend the decisions he took on that fateful day, which is worrying.
For many, however, the entire situation is indefensible. David has resigned, and it looks like it may be for good, given that Jason Durr announced he was leaving Casualty last year.
Marty (Shaheen Jafargholi) has also quit and it also looks to be permanent at this point.
Charlie's walkout - the most shocking on the night of Robyn's death - was short-lived as, having worked at Holby Hospital since 1986 he returned, realising he couldn't let his patients down. But how will he be able to work alongside Jacob in the place where Robyn died?
With three Casualty favourites now gone — Robyn, Marty and David — the future of Holby ED looks frighteningly unstable. And something tells us grieving junior doctor Paige (Shalisha James-Davis) won't be willing to forgive fragile Jacob anytime soon…
What happens next? Find out in No Regrets, airing on BBC One, Saturday, March 25 at 9.25 pm.
Get the What to Watch Newsletter
The latest updates, reviews and unmissable series to watch and more!
Writer for TV Times, What's On TV, TV & Satellite Week and What To Watch
With twenty years of experience as an entertainment journalist, Elaine writes for What's on TV, TV Times, TV & Satellite Week and (opens in new tab)www.whattowatch.com (opens in new tab) covering a variety of programs from gardening and wildlife to documentaries and drama.
As well as active involvement in the WTW family's social media accounts, she has been known to get chatty on the red carpet and wander into the odd podcast.
After a day of previewing TV, writing about TV and interviewing TV stars, Elaine likes nothing than to relax… by watching TV.