Casualty spoilers: Marcus Fidel's evil past revealed — with DEADLY consequences?
Airs Saturday 25 February at 8.50pm on BBC One.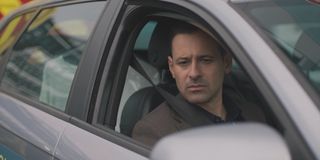 (Image credit: BBC)
Nasty Marcus Fidel is hiding a terrifying past. This week Stevie Nash discovers the horrifying truth in Casualty episode Not Important (BBC One, 8.50pm, Saturday 25 February 2023 - See our TV Guide for listings).
Elsewhere, Rash Masum considers taking drastic action, Max Cristie opens up to Faith Cadogan, and Jacob Masters tries to help a friend in danger.
Full Casualty spoilers below…
Marcus Fidel violently attacked
Marcus Fidel feels he's got Stevie Nash exactly where he wants her — isolated and under his control — but the truth about his manipulations are about to come to light!
Set over four days, this chilling episode of Casualty opens with Stevie (Elinor Lawless) and sinister Marcus back on track as a couple. This facade falls apart, however, after Marcus is violently attacked outside the ED by a mysterious woman called Eloise.
Remember the scene of someone being choked with a rope in Casualty's spring trailer? It's Marcus and Eloise.
Stevie comes to Marcus' rescue and saves his life, knocking the assailant unconscious in the process. It's clear that Marcus recognises his attacker and there are more shocking twists and turns to come!
Secrets and lies
In the ED Marcus (Adam Sina) claims Eloise is an unhinged stalker. Eloise (Angela Terence, Doctors, Doc Martin) insists Marcus is her abusive ex and he'll destroy Stevie!
Initially Stevie dismisses Eloise's accusations, putting them down to a mental ill-health condition. But an escalating series of disturbing events leaves Stevie questioning everything she believes about her lantern jawed lover!
Marcus unmasked
Firstly, nurse Jacob Masters (Charles Venn) reveals he knows Eloise from his domestic abuse group and advises Stevie to listen to her. Shortly afterwards, 'someone' sends an intimate photo of Stevie to everyone in her phone contacts. But it's when Stevie finally visits Eloise that the scales fall from her eyes.
When Eloise explains everything merciless Marcus did to her, Stevie recognises his nasty pattern of behaviour.
Stevie fights back
Determined to get proof, Stevie invites Marcus over for dinner, drugs him and goes through his phone. What the ED doctor discovers shakes her to the core — Marcus was engaged to Eloise AND he shared Stevie's private photo!
Armed with the truth, is Stevie now in danger from twisted Marcus?
Rash's difficult decision
This week Rash Masum takes his dad Ashok to visit a potential care-home. Ashok (Kriss Dosanjh) can't help but voice his unhappiness with the place — the soulless room is badly in need of decorating (which isn't allowed) and there's no view worth talking about or even a garden.
Rash's girlfriend Paige Allcott (Shalisha James-Davis), who has come along to help, does her best to look on the bright side. Yet there's no denying it's substandard accommodation and Rash (Neet Mohan) promises to find his dad something better.
Rash is sadly well aware that Ashok, who has dementia, needs specialist care. When Ashok leaves the house in the middle of the night and is almost hit by a car, the ED doctor decides to act fast in the best interests of his father.
Money, however, is a major factor. In need of cash fast, Rash applies for a personal loan, despite Paige's concerns…
Food for thought: Will Ashok and Rash's storyline link in with Dylan Keogh's abuse investigation?
Faith confronts Max
New acting clinical lead Max Cristie gets stuck into life at Holby ED this week, but that isn't without teething problems. There are names to learn, computer systems to get to grips with, Dylan Keoghs to rile, and patients to shout out!
Fortunately nurse Faith Cadogan (Kirsty Mitchell) is on hand to guide the cocky consultant. She's shocked, however, when Max (Nigel Harman) yells at tricky teenage patient Ivy.
Ivy (Daisy Cooper-Kelly, The Trials of Jimmy Rose, The A Word is being treated for broken fingers. She's loudly difficult and scathing of her single mum Carly (Amy Searles, Hollyoaks, Coronation Street) who appears to be depressed. Yet Max's sudden outburst has an immediate effect on Ivy, which is how he justifies his actions when Faith calls him out on it!
Later that week, when Ivy is readmitted to the ED with burns to her hand, Max becomes deeply concerned about her welfare. This time he takes a different approach and tries to talk to her. When Ivy gives him the cold shoulder, he gives her the number to the switchboard and tells her she can get in touch any time. Faith is horrified and voices her concerns about his lack of boundaries.
Max's instincts about Ivy's safety turn out to be spot on. The next day she is admitted for a third time and it's a race against time to save her life. Afterwards, Max opens up to Faith about his very personal reasons for caring about Ivy…
Will the troubled teen survive?
Also in Casualty this week…
Jacob Masters (Charles Venn) has personally experienced the sharp end of Marcus Fidel's nasty temper. So he's slightly less shocked than everyone else at Eloise's accusations in this week's Casualty. Not only that, Jacob knows her from a domestic abuse support group and is certain she's telling the truth.
Concerned, Jacob closely watches interactions between Marcus and Stevie and confirms his suspicion of advancing abuse. Unable to turn a blind eye, the kindhearted nurse asks Stevie out for an afterwork drink (as a friend), and Marcus is not happy!
Over one too many, Jacob questions their relationship and although Stevie insists 'Marcus isn't Tina' and everything's grand, his words hit home.
Marcus, meanwhile, is waiting in his car outside the pub…
To say the situation escalates quickly and dangerously from here is an understatement.
Elsewhere, when Ivy's social worker Trish (Stacha Hicks, David Brent: Life on the Road, Call the Midwife) collapses in the ED, Rash tries to convince her to let him do blood tests. She refuses and puts it down to being massively overworked.
The next time Rash sees Trish, she's brought into the ED in need of urgent diagnosis…
And finally, Dylan Keogh (William Beck) clocks Faith and Max's growing closeness. Will his baby blues turn a distinct shade of green?
Casualty episode Not Important airs on Saturday, February 25 2023 at 8.50pm on BBC One. It will be available on BBC iPlayer after transmission.
When Casualty is next on? Check our special Casualty guide for details.
Get the What to Watch Newsletter
The latest updates, reviews and unmissable series to watch and more!
Writer for TV Times, What's On TV, TV & Satellite Week and What To Watch
With twenty years of experience as an entertainment journalist, Elaine writes for What's on TV, TV Times, TV & Satellite Week and (opens in new tab)www.whattowatch.com (opens in new tab) covering a variety of programs from gardening and wildlife to documentaries and drama.
As well as active involvement in the WTW family's social media accounts, she has been known to get chatty on the red carpet and wander into the odd podcast.
After a day of previewing TV, writing about TV and interviewing TV stars, Elaine likes nothing than to relax… by watching TV.