Who is Lucy in Casualty and why is she important to Dylan and Max?
Who is Lucy in Casualty and why is she important? Casualty reveals the crux of Dylan Keogh and Max Cristie's bitter feud.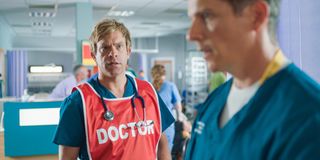 (Image credit: BBC)
There is a big revelation about Max Cristie and Dylan Keogh's feud in Casualty episode Pushover, but who is Lucy and why is she important?
Casualty fans are already well aware that Max (Nigel Harman) and Dylan (William Beck) know each other from their days as medical students, and that there's major beef between them! But the hows, whats and wheres have remained a mystery. Until now...
Warning: Major spoilers for Casualty episode Pushover, which aired on BBC One, Saturday, March 4, 2023, beyond this point!
In Pushover (available on BBC iPlayer) Max and Dylan had a heated exchange, which led to a big revelation involving their friend Lucy, who died in tragic circumstances!
Who is Lucy in Casualty?
During the episode Max expressed concern about Dylan's obsession with uncovering abuse at Holby City care homes. He recommended Dylan cooled it with his allegations, crucially using the words: "Dylan, this obsession isn't healthy."
In response Dylan shrugged him off and walked away, clearly irate.
So far, so set up. But the tension didn't end there. When Rash Masum's father Ahosk (Kriss Dosanjh) was admitted to the ED after having stabbed a care home worker, Dylan became more convinced than ever that he was on the right track and an abuser, or abusers, are at large.
While treating Ashok, Dylan discovered bruises on his arms, consistent with assault. Ashok, who has dementia, became distressed when Dylan questioned him — causing Rash (Neet Mohan) to intervene. This led to a showdown with Max in his office, while bewildered Rash looked on…
The showdown
It kicked off with Max asking Dylan: "Do you actually want to lose your job?" and Dylan retaliating: "Is that what you're threatening?"
Max became visibly exasperated by this and said: "I'm trying to help. Let the police investigate. This is not your problem!"
Then Dylan replied with something very telling, saying: "But they're not investigating Max, that's the point. We can't all be like you. We don't just turn the other way and pretend, because it's not happening to us, it's not happening."
Max countered with: "What's that supposed to mean?" Adding: "Can't you see this is not helping. I know what you're trying to do, but this obsessive crusade is not going to bring her back!"
Then Rash asked the question on everyone's lips: "Bring who back?"
Rash wasn't getting an immediate answer, however, as Dylan and Max only had angry eyes for each other with Dylan replying: "This has got nothing to do with Lucy!"
Max retorted with equal ferocity: "This has everything to do with Lucy!"
Fortunately, Casualty didn't leave us (or poor bewildered Rash) hanging.
Max went on to explain more about Lucy, revealing: "She was a friend of ours at university. She killed herself because her professor was abusing her.
"And Dylan here — centre of the universe — thinks that somehow it's his fault for not seeing it coming. EVEN THOUGH NOT EVERYTHING IS ABOUT HIM!"
At this point Rash, who was having the day from hell, had enough and asked: "I'm sorry but what's this got to do with my Dad?"
While Rash didn't care to know more — the same can't be said for us! So, let's take a deeper dive into the Max-Dylan-Lucy conundrum…
Is history repeating itself?
Since Max joined the medical drama, he's been a thorn in Dylan's side.
Not only has Max taken over Dylan's role as clinical lead, he enjoys goading his former university classmate every chance he gets. And, to add insult to injury, Max gets on like a house on fire with Dylan's ex, ACP nurse Faith Cadogan (Kirsty Mitchell).
How is this affecting Dylan?
Whenever anyone asks Max about his relationship with Dylan, he sticks to the script that they were at med school together twenty or so years ago.
Dylan on the other hand has been characteristically silent on the matter. In fact, he makes a point of barely interacting with Max. He keeps all conversation between them curt and shuts Max down or walks away, as soon as professionally appropriate. And sometimes when it isn't!
Knowing Dylan, could this be the sign of a deep seated inability to process having Max in his life? The fear for the popular character is that an internal crisis is brewing.
Does Max actually care about Dylan on some level?
Dylan is clearly holding onto resentment for Max. But it's definitely a two way street. Yet, behind all Max's bravado, there are glimmers that suggest he actually cares about Dylan's welfare. Although quick with sharp comments at Dylan's expense, Max has also been showing concern over his "obsession".
Only those closest to Dylan know about his battles with OCD, and it sounds like these two once operated in close quarters — whether they liked each other or not!
Ultimately, will the arrival of Max shed more light on Dylan's troubled past?
Could this be the start of a better working relationship?
When Dylan and Rash uncover details of a shocking assault on Ashok and deceased (murdered?!) care home resident, Olive, Max doesn't hesitate in calling in DCI Supriya Vadra (Sheena Bhattessa). When she doubts whether there are grounds for further investigation, Max convinces her otherwise.
Dylan doesn't seem overly impressed by Max's support, but could this be the beginning of a reset between them?
Will the Lucy storyline escalate?
There's more to be explored here. Lucy was clearly someone very important to Dylan. He implies that she was less dear to Max. But was this really the case? We smell a love triangle. And would love a flashback episode!
There's also the possibility that the professor who abused Lucy is still alive — which could lead Max and Dylan down a number of paths — revenge, showdowns, murder, and retribution all spring to mind.
What happens next remains to be seen — but hopefully, there's more to come!
Obsessed with Dylan Keogh? You're not alone! William Beck tells us more.
Get the What to Watch Newsletter
The latest updates, reviews and unmissable series to watch and more!
Writer for TV Times, What's On TV, TV & Satellite Week and What To Watch
With twenty years of experience as an entertainment journalist, Elaine writes for What's on TV, TV Times, TV & Satellite Week and (opens in new tab)www.whattowatch.com (opens in new tab) covering a variety of programs from gardening and wildlife to documentaries and drama.
As well as active involvement in the WTW family's social media accounts, she has been known to get chatty on the red carpet and wander into the odd podcast.
After a day of previewing TV, writing about TV and interviewing TV stars, Elaine likes nothing than to relax… by watching TV.