Coronation Street spoilers for 2023: Danger, dark pasts and a possible murder hit the cobbles
Coronation Street is full of thrills and drama in 2023!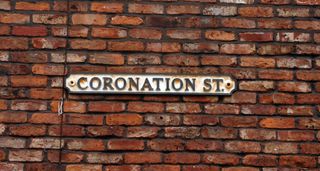 (Image credit: ITV)
It's cold outside, but Coronation Street is turning up the heat this new year with drama aplenty!
There's threats and danger and possibly a murder — and some heartwarming romance, too.
Read on for our lowdown on what's happening in Coronation Street in 2023!
Coronation Street in 2023: Six of the most explosive stories happening this new year
Max and Griff's far-right gang
Max Turner is in too deep with Griff and the dodgy gang of far-right activists, and things are really ramping up as 2023 begins.
As the new year dawns, Max is totally estranged from his family and things are looking bleak.
Corrie boss Iain MacLeod has revealed that Max will end up in "extremely dangerous territory" with David left coping alone as Shona is off supporting Lily's blossoming football career (actress Julia Goulding is on maternity leave).
But it's not all bad news!
Iain has also revealed that there is redemption for Max. "Over the course of 2023 he will realise the errors of his ways," he said.
But he added that the "after-effects" will last for a very long time.
Damon bringing the drama
Jacob Hay's dad Damon has only been on the cobbles for a short while, but he's already causing trouble.
Fresh from the reveal that Damon is Harvey Gaskell's brother, and with Jacob installed at the Bistro, it seems there's a lot of drama for Leanne and Nick — and the rest of the Weatherfield residents.
Iain MacLeod, Coronation Street's producer, has revealed that though Damon seems charming and sophisticated, he's "every bit as dangerous and brutal as Harvey".
Which sounds quite exciting to us!
And he's also hinted that Damon could turn the head of one of Corrie's most high profile characters, leading to an explosive love story.
So who could it be? Leanne Battersby? Tracy Barlow? Gail Platt?! We can't wait to find out!
Could Carla be Stephen's next victim?
Stephen Reid has so far proved to be an underwhelming Cobbles Killer. He may have done away with Leo Thompkins, but since then he's spent his time skulking round the Street trying to fleece poor Audrey out of her money.
But as 2023 begins, Stephen's struck again — he's tried to kill Leo's dad, Teddy, and now he's backed into a corner once more.
And in the new year, Stephen starts another feud — with Carla Barlow.
Stephen sets his sights on getting his feet under the table at Underworld, and to do that he needs to topple Carla from her position at the top!
Carla's not going to go without a fight, mind you, and rumour has it that Stephen's plan is so unpredictable that viewers will never see it coming.
Sounds intriguing!
Wedding bells
It's not all doom and gloom in Weatherfield this new year. There is some romance on the horizon too in the shape of Daniel and Daisy's wedding plans.
But of course, this is Soapland and that means nothing is ever straightforward.
There's trouble brewing for the cute couple, thanks to Daisy's social media addiction.
Corrie boss Iain MacLeod said the story will run right through 2023.
"It threatens their relationship, and leads to Daisy's faith in Daniel being shaken," he teased.
And there's more excitement in store for Daisy when her mum Christina turns up, annoying step-mum Jenny and giving fans a chance to learn more about Daisy's background.
Hope's downward spiral?
Things are happy in the Dobbs/Stape family as the new year begins, thanks to Fiz and Tyrone's gorgeous Christmas wedding.
But troubled tween Hope's still fixated on her serial killer dad, and there's a very unexpected twist involving an animal!
"Hope's troubled behaviour ends up in a fairly acrimonious feud with an adult neighbour," teased Corrie boss Iain MacLeod. "And it involves a chinchilla!"
No, we can't work out what that means either, but Iain has promised it's going to be "blackly funny".
Abi's past resurfaces
After a happy festive season with Kevin, Jack and baby Alfie, Abi Webster is looking forward to 2023.
This new year, Abi starts thinking about her past a bit more thanks to her involvement with some of the younger residents in Weatherfield.
She begins to work through her own history of addiction and eventually reconnects with someone unexpected from her past.
And thankfully, Coronation Street producer Iain MacLeod said he is "keen" to see Abi and Kevin happy.
Phew!
Coronation Street usually airs as hour-long episodes on Monday, Wednesday and Friday at 8pm on ITV. Check our TV Guide for more details.
Get the latest updates, reviews and unmissable series to watch and more!
Kerry is a writer, author and editor with a lifelong love of the soaps, a passion for TV drama of all kinds, and an obsessive devotion to Strictly Come Dancing.
She was features editor of All About Soap magazine for more than a decade, covering every bit of excitement from all the UK soaps and the Aussies and still writes about all the juiciest gossip from the Street, the Square and the Dales whenever she can.
Kerry's also an author of historical fiction, and her two jobs collided when she got the chance to write two novels based on Emmerdale, and the Sugden, Tate and Dingle families, during WW2.
Thank you for signing up to Whattowatch. You will receive a verification email shortly.
There was a problem. Please refresh the page and try again.