Endeavour star Abigail Thaw: 'Dad would have given the nod of approval'
Abigail Thaw on the final season of Endeavour and why she hopes her father John Thaw would have been proud.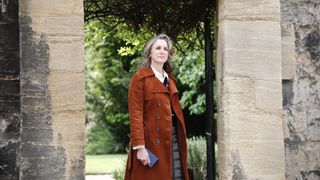 (Image credit: ITV)
Endeavour is nearing its conclusion after more than a decade and, for Abigail Thaw, the crime drama's swansong feels particularly poignant.
The actor plays shrewd journalist Dorothea Frazil, who is often seen offering support and a vital clue to DS Endeavour Morse (Shaun Evans). But Endeavour season 9, which is airing each Sunday and ends on Sunday, March 12 at 8pm on ITV1, also holds a special place in Abigail's heart as she is the daughter of the late John Thaw, the star of the original Inspector Morse series, which ran from 1987 to 2000.
What To Watch chatted to Abigail Thaw to find out more about saying goodbye to Endeavour…
Endeavour is drawing to a close — will you miss playing Dorothea?
Abigail Thaw: "When it started [in 2012], I just thought I'd maybe play the sergeant on the front desk and get one line. So playing Dorothea has been an absolute joy. I'll miss her humour and her insightfulness and wryness, she's very cool, and much cleverer than I am!"
And what do we see Dorothea get up to in this final season?
Abigail Thaw: "Well, she seems to be giving Endeavour many more clues than she has done in the past! Then, in the finale [next week], we see her doing some investigating and helping Endeavour… She is like Endeavour's older sister. I think she just wants him to be happy and seek more joy."
Does it feel bittersweet that the show is coming to an end?
Abigail Thaw: "Yes, it's sad to say goodbye to anything that you've had a good time on. But it's been a great journey and it's lovely that in the final episode, all of us are together in a scene, which we've never had before. We've formed some close friendships."
Would your Dad have enjoyed Endeavour?
Abigail Thaw: "I like to think that Dad would have given it the nod of approval. We made it our own, we weren't trying to ape Inspector Morse, but I've always had him as a sort of benign presence on set just there on my shoulder, and I've loved that. I think he's up there smiling. Dad would have loved Shaun, and would have totally respected Shaun's wishes to not emulate him but with the writing, you could still absolutely see Morse and the man he was about to become."
Did your Dad love playing Morse?
Abigail Thaw: "It meant the world to him. Initially, he was unsure whether anyone would want to be bothered with this grumpy, vaguely alcoholic, miserable loner! But then he fell in love with the character. Dad was constantly amazed by people's kindness about Morse. When he was in The Sweeney, every bloke wanted to fight him, whereas with Inspector Morse, everyone wanted to shake his hand!"
There have always been nods to Inspector Morse in Endeavour, can you tease anything for the finale?
Abigail Thaw: "There's something wonderful. I read the script and cried my eyes out! Russell [Lewis, the show's writer] writes beautifully, he doesn't need words, just an image. But there's always so much rich stuff buried. Even my character's name, Dorothea Frazil, means de-ice [frazil is a type of ice], which is Thaw!"
Endeavour continues in the UK on Sunday, March 5 at 8pm on ITV1 and concludes on Sunday, 12 March at 8pm on ITV1.
It will air in the US on PBS later in the year.
Get the What to Watch Newsletter
The latest updates, reviews and unmissable series to watch and more!
Caren has been a journalist specializing in TV for almost two decades and is a Senior Features Writer for TV Times, TV & Satellite Week and What's On TV magazines and she also writes for What to Watch.
Over the years, she has spent many a day in a muddy field or an on-set catering bus chatting to numerous stars on location including the likes of Olivia Colman, David Tennant, Suranne Jones, Jamie Dornan, Dame Judi Dench and Sir Derek Jacobi as well as Hollywood actors such as Glenn Close and Kiefer Sutherland.
Caren will happily sit down and watch any kind of telly (well, maybe not sci-fi!), but she particularly loves period dramas like Call the Midwife, Downton Abbey and The Crown and she's also a big fan of juicy crime thrillers from Line of Duty to Poirot.
In her spare time, Caren enjoys going to the cinema and theatre or curling up with a good book.