Endeavour season 9: final episode date, plot, cast, trailer and more
Endeavour season 9 sees the show draw to a dramatic close — and stars Shaun Evans and Roger Allam have given us the lowdown on the new series.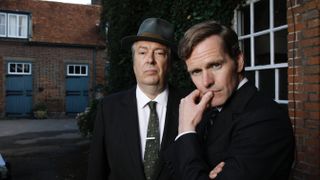 (Image credit: ITV)
Endeavour first burst onto our screens back in 2012, giving us an intriguing glimpse into the life of troubled young detective Endeavour Morse.
Now, the Inspector Morse prequel is drawing to a close with its ninth and final series, and for Endeavour (Shaun Evans) and his superior DCI Fred Thursday (Roger Allam) change is blowing through Oxford, while the past returns to haunt them.
The final case airs on ITV1 on Sunday March 12 at 8 pm. The plot of the last episode sees a series of deaths being announced in the newspaper before they have occurred, a biker is killed and storm clouds gather as the past continues to rear its ugly head.
Here's everything you need to know about Endeavour season 9 — the last-ever series of the crime drama…
Endeavour season 9 — what is the release date?
The final episode of Endeavour will air on ITV1 on Sunday, March 12 at 8 pm.
The three-part run started on Sunday, February 26 at 8 pm on ITV1 and is also available on ITVX. It will air later in the year on PBS in the US.
Endeavour season 9 plot
The new season begins with Endeavour returning to Oxford after seeking help for his drinking problems. But life at Castle Gate police station is about to change…
"At the end of the last series, Endeavour was told to get his act together. He was fighting that, but then he reached the conclusion that he did need time off, so he's back in a more positive mood and full of good intentions," Shaun Evans tells What To Watch. "But something is ending and shifting inside…"
For Thursday, a tantalising career offer is on the cards but the return of his soldier son Sam (Jack Bannon), who has been in military prison after going AWOL, spells trouble.
"It was lovely to see Jack again. But it is an upsetting and dramatic story," says Roger Allam, "I like that things are brought back in and I hope it's satisfying for the audience."
Meanwhile, the unresolved case involving abuse and corruption at former reform home Blenheim Vale resurfaces. The complex investigation temporarily landed Endeavour in prison back in Endeavour season two, while Thursday got shot. But now, there are fresh developments and even darker consequences.
"Things had been left open, so it was great, as we're ending, to cross t's and dot i's," explains Shaun Evans. "We see corruption again on every level and Endeavour immediately focuses on this case and thinks, 'This has to be sorted out now'."
Is there a trailer?
Yes, the trailer shows all the action coming in the final season of the series, with the usual drama and mystery that we have come to expect from Endeavour and his team.
Endeavour season 9 — episode guide
Episode One: Prelude
The opener sees the sleuths looking into a mysterious death at a reception for a prestigious orchestra, while the subsequent demise of a musician in the orchestra complicates matters, and the murder of an old face from Thursday's past rings alarm bells.
"There's a juxtaposition between the highbrow orchestra and the deaths," reveals Shaun Evans. "Then there's the underbelly of London drawing Fred back. But are those worlds colliding or not? It presents interesting challenges."
Episode Two: Uniform
The murder of a cast member on a TV cop drama starring a popular actor (Stonehouse's Kevin R McNally) baffles the sleuths, while an elite undergraduate club causes mayhem.
"This is fun with the detective show," says Shaun Evans. "There's a real lightness and Kevin was fantastic."
Episode Three: Exeunt
While a series of deaths are announced in the newspaper before they have occurred, a biker is killed and storm clouds gather as the past continues to rear its ugly head.
"I remember years ago, someone saying, 'How should it end?' I said, 'A spectacular death for Fred!' But can that happen?" teases Roger Allam. "There has to be a satisfying reason with an emotional heft as to why John Thaw's Morse never mentions Fred Thursday…"
Endeavour season 9 — who is in the cast?
Along with Shaun Evans and Roger Allam, Anton Lesser (Better) returns as Endeavour and Thursday's boss CS Reginald Bright, who is facing retirement.
Sean Rigby (Gunpowder) is also back as DS Jim Strange, who has big changes ahead, while James Bradshaw (Hollyoaks) reprises his role as pathologist Max DeBryn and Abigail Thaw (The Nevers) is shrewd journalist Dorothea Frazil.
As well as the return of Jack Bannon (Pennyworth) as Sam, Caroline O'Neill (The Devil's Hour) plays Thursday's wife Win once more and Sara Vickers (Guilt) is also back as Thursday's daughter Joan, who has a shock in store for Endeavour, which will mark a huge shift in their will-the-won't-they relationship…
Get the What to Watch Newsletter
The latest updates, reviews and unmissable series to watch and more!
Caren has been a journalist specializing in TV for almost two decades and is a Senior Features Writer for TV Times, TV & Satellite Week and What's On TV magazines and she also writes for What to Watch.
Over the years, she has spent many a day in a muddy field or an on-set catering bus chatting to numerous stars on location including the likes of Olivia Colman, David Tennant, Suranne Jones, Jamie Dornan, Dame Judi Dench and Sir Derek Jacobi as well as Hollywood actors such as Glenn Close and Kiefer Sutherland.
Caren will happily sit down and watch any kind of telly (well, maybe not sci-fi!), but she particularly loves period dramas like Call the Midwife, Downton Abbey and The Crown and she's also a big fan of juicy crime thrillers from Line of Duty to Poirot.
In her spare time, Caren enjoys going to the cinema and theatre or curling up with a good book.