Sheila Hancock: 'My John was nothing like Morse; he was more like Regan from The Sweeney'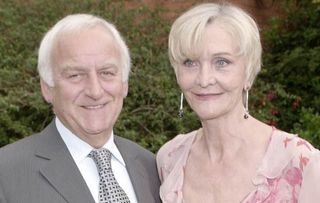 (Image credit: RICHARD YOUNG/REX/Shutterstock)
Sheila Hancock reveals all about her guest appearance in Endeavour to celebrate the 30th anniversary of her husband John Thaw's first episode of Inspector Morse
The finale of the latest series of Endeavour this Sunday marks the 30th anniversary of Inspector Morse in style with a guest appearance from Sheila Hancock, the widow of Morse star John Thaw, who died in 2002.
The episode sees Endeavour (Shaun Evans) investigating the disappearance of a botanist who went missing five years previously and Sheila plays local wise woman Dowsable Chattox, who comes to his attention.
Sheila reveals all to TV Times…
What was your take on Dowsable? "You see her relationship with her wild grandson Seth [Chris Coghill] and I felt really sympathetic towards her because a local power planet is building a reservoir in the area and I can see why she'd break her heart at the uprooting of nature and the threatened destruction of her world."
She seems to strike up a bond with Endeavour… "Yes, Dowsable is honest with him, she sympathises that his love life is a mess and she touches on something about him that other people aren't interested in. She even does a tarot reading for him. I don't know how serious tarot cards are, although I was instructed by a woman that does the cards for real."
Why were you keen to appear in Endeavour? "I've always avoided things like this because John and I kept our careers separate and that was his world, but when the writers contacted me, I felt it was wonderful. I like what they've done with Endeavour, the episodes have depth to them, and before the series first aired, they sweetly asked me how I'd feel about them making it. Also, my stepdaughter Abigail is terrific in Endeavour [as newspaper editor Dorothea Frazil] and Roger Allam [Endeavour's boss DI Fred Thursday] is an old friend from when we were at the Royal Shakespeare Company, so it was nice to be around mates."
What was it like working with Shaun Evans? "He takes it incredibly seriously and he was anxious about whether I thought he was doing it well, which I do. He has done a wonderful job creating what Morse might have been like when he was young and I'm full of admiration."
Were you a fan of Inspector Morse? "Yes, but I never understood the Morses when I watched them with John! I'd say, 'Who's that?' and 'Who did what?' I'm not good at following plot. John demanded the highest standards on the show though. Anybody appearing on a Morse knew that the scripts and the directors would be good and the same is true of Endeavour. It's well shot, well cast and well written and John would be proud that those values are maintained."
Do people still like to chat to you about John? "Although I'm glad to have shaken off the 'tragic widow' role, people still come up to me to talk about John and say, 'I love Morse'. The character has a profound effect on people because he is a flawed, but honourable man."
John Thaw and Dennis Waterman in The Sweeney (Stockroll/REX/Shutterstock)
Was John anything like Inspector Morse and would he have been proud that the character has endured? "John certainly wasn't like Morse, he was slightly more like his character Jack Regan from The Sweeney, a more aggressive, sardonic person. But he'd like the fact that so much has come out of Morse, with both Lewis and Endeavour, and that it has given work to actors because he was a working actor himself."
Are you still in touch with Kevin Whateley, who played Morse's sidekick Lewis? "I love Kevin. He is involved in a charity of mine and he is also deeply involved with my family and we go and see his daughter, who is an opera singer, in shows. He has been amazing. When John died, he was distraught, but he still managed to be a great support to me."
You are 84 next month, what keeps you so enthusiastic about your work? "Oh when I get a part now, my kids say, 'Do you go senile or die in it?!' But I've got to the stage where I don't have to obey any rules and I only do things that'll be nice, like Endeavour, or where I'm in new territory.
"I did a wonderful movie, Edie, which will hopefully be released this year, about a woman who climbs a mountain in Scotland. I was probably the only 80-odd-year-old that could climb it, so I got the part and it was amazing to be up there. At my age there are not many of us that can still learn lines and stagger across a stage, so the list of people they go to before they get to me has become shorter!'
You are also incredibly fit, how do you do it? "I work hard at it. I go to the gym three times a week and I walk everywhere because if I don't, I'd seize up. I'm terribly lucky that at my age, I'm still jumping around and climbing mountains."
Endeavour concludes on Sunday on ITV at 9pm
Get the What to Watch Newsletter
The latest updates, reviews and unmissable series to watch and more!
Caren has been a journalist specializing in TV for almost two decades and is a Senior Features Writer for TV Times, TV & Satellite Week and What's On TV magazines and she also writes for What to Watch.
Over the years, she has spent many a day in a muddy field or an on-set catering bus chatting to numerous stars on location including the likes of Olivia Colman, David Tennant, Suranne Jones, Jamie Dornan, Dame Judi Dench and Sir Derek Jacobi as well as Hollywood actors such as Glenn Close and Kiefer Sutherland.
Caren will happily sit down and watch any kind of telly (well, maybe not sci-fi!), but she particularly loves period dramas like Call the Midwife, Downton Abbey and The Crown and she's also a big fan of juicy crime thrillers from Line of Duty to Poirot.
In her spare time, Caren enjoys going to the cinema and theatre or curling up with a good book.