Fact vs Fiction: The Staircase — did Michael Peterson kill Kathleen and where is he now?
The Staircase is based on a true story, but what really happened the night Kathleen Peterson died? Here's everything you need to know from the owl theory to what Michael really thinks of the Colin Firth drama.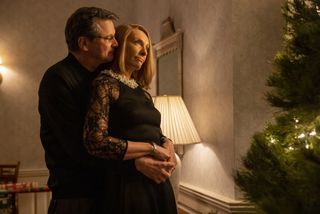 (Image credit: Sky)
True crime is huge on TV right now, with shows based on extraordinary real-life events taking center stage. But somehow The Staircase feels different, mainly because the tragic death of Kathleen Peterson is still shrouded in so much mystery. But what really happened the night she died?
The Staircase, starring Colin Firth and Toni Collette as Michael and Kathleen Peterson, explores the life of Michael Peterson, who was accused of murdering his wife Kathleen at their sprawling North Carolina home after she died under suspicious circumstances in December 2001.
Despite the fact Michael was the one to call 911 the night Kathleen allegedly fell down the stairs, Michael soon became the prime suspect in her death when it appeared there was much more to Kathleen's injuries than simply taking a tumble down 15 steps.
This isn't the first time Michael Peterson's story has been played out on TV. This current adaptation follows many shows covering Kathleen's death, with the most renowned being the 2004 series, also called The Staircase documentary, which is still available to watch on Netflix.
But how much of this latest adaptation of The Staircase actually happened? Here is everything you need to know...
Is The Staircase a true story?
Yes. In December 2001 novelist Michael Peterson called 911 to report that his wife had fallen down the stairs, suggesting her accident was due to her alcohol and Valium intake. However, when the police arrived at the scene they quickly became suspicious given the amount of blood found around Kathleen's body.
After Kathleen's body had been examined it was revealed that she was bludgeoned to death with a blunt object, and with Michael being the only other person at the house at the time, he quickly became the prime suspect in a murder case.
Who is the killer in The Staircase?
This is the million-dollar question. While Peterson still to this day maintains his innocence and claims that his wife's death was a tragic accident, the prosecution at this trial back in 2003 told a very different story.
It was argued that Michael killed Kathleen after she found pictures of naked men on his computer and emails to a male escort. It was then claimed that he bludgeoned her to death with a metal tube used for stoking the fire.
To this very day, Michael maintains that he never had a conversation with Kathleen about his sexuality on the night she died. In an interview on UK show, This Morning, Michael told presenters Holly Willoughby and Phillip Schofield: "No, we did not discuss it. But did she know? I'm sure she did… in a marriage there are things that don't need to be said sometimes. And this was one of those."
What was Kathleen Peterson's cause of death?
The medical examiner on the case found that Kathleen was bludgeoned to death with a blunt object and suffered multiple lacerations to her scalp. The blood on her head had dried, implying she was left in that predicament for some time, contradicting Michael's claims that he had found her at the bottom of the stairs no more than half an hour after the incident allegedly occurred.
Speaking to This Morning, Michael shared his own theory on what happened the night Kathleen died...
"Pathologists looked at all the evidence and said 'no, she was not beaten to death' and I could never figure it out [what happened]... my understanding of it was, and it's hard to believe this, but it was over 20 years ago, but the theory was that yes she fell but she tried to get up and slipped in all the blood.
"I don't know what it was or what happened to her. There are numerous theories, but I think she fell — she had alcohol, she had valium, flexerole.. I don't know, I honestly, I wish I could tell you."
What happened to Elizabeth Ratliff?
In episode four of the true-crime drama, it was revealed that a close family friend the Petersons called Elizabeth Ratliff was also found dead at the bottom of a staircase. But did this happen in real life? And what happened?
Yes, unbelievable as it sounds, Kathleen's ordeal wasn't the first staircase death that Michael has been linked to.
Elizabeth Ratliff and her husband, George Ratliff, were close friends of Michael Peterson and his first wife Patricia Peterson when they lived in Germany in the 1980s. However, in November 1985 Elizabeth was found dead at the bottom of the stairs in her home. She was last seen alive by Michael, who had brought her home just before the incident and German authorities ruled Elizabeth's death as an accident, stating that she had suffered a cerebral hemorrhage before falling down the stairs.
George Ratliff sadly died two years after his wife, and Michael Peterson went on to adopt the couple's two daughters Margaret and Martha Ratliff.
However, the similarities between Elizabeth's death and Kathleen's were too hard to ignore, and Elizabeth Ratliff's body was exhumed and a second post mortem carried out by the Durham Medical Examiner.
In April 2003, a second autopsy was carried out and it was concluded Elizabeth's cause of death was in fact homicide. The medical examiner found Kathleen Peterson and Elizabeth Ratcliffe suffered matching trauma to the head, throwing Kathleen's injuries into a different light during Michael's trial.
A bizarre coincidence or does Michael have form? You decide.
What does Michael Peterson think of the Colin Firth drama adaptation?
While The Staircase is based on true events, Michael has said since the show aired that the series has fabricated what really happened. While Michael worked closely with 2004 documentary maker Jean-Xavier de Lestrade he has now criticised de Lestrade for his role as executive producer in the drama, along with its show-runner Antonio Campos.
"He released his archive to Campos who then created a fictional account of events, most of which trashed me (which I really don't care about) and my children — which I really do care about," Peterson told Variety in a series of emails. "There are egregious fabrications and distortions of the truth in the HBO series, well beyond what may be considered 'artistic' license.
"We didn't sell our story to Campos — were never even consulted or informed that Jean had done this. We are the ones who were betrayed, falsely depicted as fighting among ourselves (which NEVER happened), and with made-up storylines that denigrate all of us in the eyes of millions."
Did Michael Peterson's family really have to sell their belongings to pay his legal fees?
The HBO adaptation of The Staircase sees the Petersons being forced to sell off many of their possessions, in order to keep the appeal process going, after Michael is found guilty in the first trial.
In episode seven, when new information that could help Michael comes to light, Bill Peterson (Tim Guinee) goes to David Rudolf's office and tells him that he is going to pursue this new information and that he's going to do it for free. According to Rudolf, the payment issue was a fabrication.
When What To Watch caught up with real-life The Staircase lawyer, David Rudolf, he blasted the series for 'false portrayal', saying he never charged the family anything after the initial court case, so them selling their possessions to pay for the appeal did not happen... "They [the filmmakers] knew that for 14 years after the verdict I didn't take a single penny for anything I did in connection with Michael's case," he told us.
"I did that because I wanted to make it right… I was trying to make something, that I thought was terribly wrong, right. And instead, they portray me as requiring Michael to sell his furniture to finance the appeal."
You can read more from lawyer David Rudolf in our exclusive chat with him.
Does The Staircase have an ending?
The jury found the evidence sufficient to convict Michael of first-degree murder and sent him to prison for life in 2003. But that is far from the end of the story.
After serving eight years in prison, Michael Peterson was given a new trial in 2011 when the judge ruled that a key witness had given misleading testimony. Fast-forward to 2017 and Peterson entered what is called an Alford plea to voluntary manslaughter — this means that the accused can admit that the prosecution has enough evidence to convict them, but not admit guilt for the crime.
Peterson was then freed from prison because his new sentence was 86 weeks in prison, however, he had already served that.
Why did Michael Peterson accept manslaughter?
To this day Michael Peterson maintains that he is innocent of any crimes surrounding his wife's death. So then why accept manslaughter?
Michael told This Morning: "There's a good reason. When this came about and they wanted to retry it, I was 73 years old and my attorney said he'd done as much as he could and couldn't represent me in the next case, I have grandchildren and children that had probably gone through more than what I had gone through.
"I went to prison but my children had to live through all of this and it was terrible for them, so at the age of 73 did I want to go back to trial to prove that I didn't do anything so that I could be free? I was already free. So I would've been risking emotional damage to my children and grandchildren… So I took what is considered an Alford plea, which is that I didn't do anything, I am not guilty, but I will plead guilty to a smaller charge so that you will set me free. So to me, that was the better thing."
Is The Staircase a documentary?
While this HBO adaptation of the real-life story of Kathleen's death is a drama, there was an original documentary made of the tragedy, too.
In the second episode of The Staircase, we find out that some documentary filmmakers are interested in chronicling Peterson's case. This really did happen, with a docuseries also called The Staircase which was first released in 2004.
The making of the true-crime documentary came about after Jean-Xavier de Lestrade and Denis Poncet won an Oscar for Best Documentary in 2002 for their movie Murder on a Sunday Morning, which documented a murder trial of a 15-year-old African American in Jacksonville who was wrongfully convicted. They soon found themselves drawn to Michael Peterson's case, and the rest is history.
You can find out more about where to watch The Staircase documentary with our handy guide.
How many episodes of the The Staircase are on Netflix?
The Staircase 2004 documentary is currently available to stream on Netflix in both the US and the UK. There are 13 hour-long episodes in the documentary, which provide in-depth looks at the case from shortly after the indictment to the trial to the appeals and developments all the way up to 2018.
De Lestrade originally made eight episodes of The Staircase from 2001 to 2004, two follow-up episodes in 2010 and a final three episodes completed the story in 2018.
How many episodes of The Staircase are on HBO?
All eight episodes of the limited series are now available to watch on HBO Max in the US and Sky/NOW TV in the UK.
Here are the synopses for all The Staircase episodes:
The Staircase episode 1: "911"
"In 2001, author and aspiring local politician Michael Peterson is charged with murder after the suspicious death of his wife Kathleen.".
The Staircase episode 2, "Chiroptera"
"While working on his defense, Michael considers an opportunity to tell his story in a documentary. Then, after learning shocking information about her stepfather, Caitlin wrestles with doubts."
The Staircase episode 3, "The Great Dissembler"
"As the DA's office attempts to solidify their case, shocking new details surface about Michael's past that threaten to derail the defense."
The Staircase episode 4, "Common Sense"
"After an unexpected homecoming, a critical discovery rocks the Peterson household. Michael's fate hangs in the balance as the trial ends."
The Staircase episode 5, "The Beating Heart"
"In the aftermath of the verdict, the Petersons struggle with the court's decision and Michael finds solace in an unlikely friendship from thousands of miles away."
The Staircase episode 6, "Red in Tooth and Claw"
"In 2006, Sophie pursues a far-fetched new theory about the night of Kathleen's death. Then, in 2017, Michael grapples with compromising his principles in exchange for his freedom."
The Staircase episode 7, "Seek and Ye Shall"
"After a body with similar injuries to Kathleen's turns up at the county morgue, Sophie continues her quest to uncover what really happened to Kathleen. Meanwhile, Martha decides to dig into her fraught past despite pushback from Margaret."
The Staircase episode 8, "America's Sweetheart or: Time Over Time"
"After navigating a possible retrial, a 73-year-old Michael confronts a life-changing decision. Meanwhile, Martha and Margaret each share long-buried truths and Sophie comes to terms with a revelation."
Where is Michael Peterson now?
After being released from jail, Peterson returned to Durham, North Carolina where he lives a secluded life. Despite having the freedom to live anywhere in the world he has never left Durham.
The wealth Peterson enjoyed before Kathleen's death is now gone, not only because he missed out on Kathleen's life insurance policy, but because his step-daughter, Caitlin, also obtained a $25 million settlement from Michael via a wrongful death claim against him.
In 2019, Michael self-published two books — Behind the Staircase and Beyond the Staircase — that detail his side of the story. He donated the proceeds from his book to charity because the law forbade him to keep the money for himself.
Where is the Peterson family now?
Today, it is thought that Margaret Ratliff lives in California and works in the entertainment industry as an actor, assistant director and production manager.
Martha Ratliff is believed to live in Colorado working as a psychotherapist.
Clayton Peterson is thought to live in Baltimore, Maryland, where he works as an engineer. He's still married to Becky, with whom he has two children.
Not much is known about Todd Peterson's whereabouts after he allegedly deleted his social media accounts following the release of The Staircase drama.
Has Michael Peterson remarried?
While filming the 13-part Netflix documentary about his long legal battle, Michael met and started a relationship with one of its editors, Sophie Brunet. The pair dated for nearly 15 years, but their relationship ended around 2017.
Where is Sophie Brunet now?
French-born Sophie moved back to Paris after her split from Michael. Sophie then worked on the final installment of the Netflix documentary, which aired in 2018 and according to her IMDb page, she is still working as a film and television editor.
What is the owl theory in The Staircase?
In another bizarre twist in the tale, it was later claimed that Kathleen could have died as a result of an owl attack. The Peterson's neighbor, Larry Pollard, suggested that the injuries on Kathleen's scalp were consistent with being attacked by an owl and a re-examination of evidence in 2009 found that Kathleen had a tiny feather in her hair and that wood from a tree was tangled up in the hair which had been pulled out of her head by the roots and was found between her fingers.
It was thought Kathleen could have been attacked by the owl outside (blood was reportedly spotted outside too) and then stumbled in, disoriented from the attack, before falling down the stairs.
The owl theory was so complex and baffling that it was excluded from the Netflix documentary entirely. However, this latest drama adaptation of The Staircase has addressed the theory in episode six, showing how Kathleen could have been attacked by an owl while she was putting a decorative Christmas reindeer in her front garden the night that she died.
Is the owl theory possible?
The owl theory has never been tested in court but the Peterson's neighbor Larry Pollard has publicized his belief that an owl caused the blunt-force trauma and head wounds on Kathleen's head that night, and not a fire poker as it was originally claimed in court.
Speaking to News Observer Larry said: "People question why I spent so much time on this case, but I spent a lot of time uncovering evidence indicating that Mr. Peterson is an innocent man. I've assembled what I believe is a very credible and truthful description of what actually happened to Mrs. Peterson and her demise."
Michael Peterson's lawyer David Rudolf originally said in court that Katheleen died after falling down the stairs while intoxicated... however he has since agreed that the owl theory is plausible.
All eight episodes of The Staircase are now available to stream on HBO Max in the US and on Sky TV and NOW in the UK.
Get the What to Watch Newsletter
The latest updates, reviews and unmissable series to watch and more!
Assistant Managing Editor at What To Watch
Claire is Assistant Managing Editor at What To Watch and has been a journalist for over 15 years, writing about everything from soaps and TV to beauty, entertainment, and even the Royal Family. After starting her career at a soap magazine, she ended up staying for 13 years, and over that time she's pulled pints in the Rovers Return, sung karaoke in the Emmerdale village hall, taken a stroll around Albert Square, and visited Summer Bay Surf Club in sunny Australia.
After learning some tricks of the trade at websites Digital Spy, Entertainment Daily, and Woman & Home, Claire landed a role at What's On TV and whattowatch.com writing about all things TV and film, with a particular love for Aussie soaps, Strictly Come Dancing and Bake Off.
She's interviewed everyone from June Brown — AKA Dot Cotton — to Michelle Keegan, swapped cooking tips with baking legend Mary Berry backstage at the NTAs, and danced the night away with soap stars at countless awards bashes. There's not a lot she doesn't know about soaps and TV and can be very handy when a soapy question comes up in a pub quiz!
As well as all things soap-related, Claire also loves running, spa breaks, days out with her kids, and getting lost in a good book.