Hi-de-Hi! — our ultimate guide to the classic holiday camp comedy
By Nicholas Cannon published
Everything you need to know about hit comedy Hi-de-Hi! now showing on BritBox and celebrated in a new Channel 5 documentary.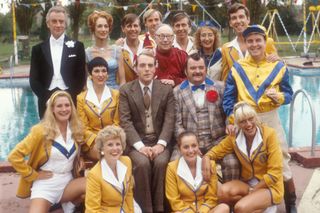 (Image credit: BBC)
Hello Campers! Hi-de-Hi!, the classic 1980s BAFTA-winning sitcom from Dad's Army creators Jimmy Perry and David Croft, is now available on Britbox in the UK, with all nine series ready to binge watch and bring some laughs. There's also a wonderful documentary called Hi-de-Hi!: All The Laughs & More arriving in 2022 on Channel 5 on Saturday March 26 at 7.45pm and then on streaming service My5. This features archive footage and personal memories from some of the show's stars (see more on the documentary below).
So we've decided to take a look at the famous holiday camp comedy ourselves! Set in 1959 at the fictional holiday camp of Maplins in Crimpton-on-Sea, the hit show follows the antics of the camp's Yellowcoats, most of them struggling actors or has-beens, as they try to entertain a stream of British holidaymakers. To foster some enthusiasm at the resort the staff would shout "Hi-de-Hi!" at the campers to which they'd expect the shouted response "Ho-de-Ho!". This was typical of most British holiday camps back in the day!
The holiday camp's greedy and philandering owner Joe Maplin was never seen, only talked about in deferential terms.
The show was based on Jimmy Perry's experience as a Redcoat at Butlins in the 1950s and originally ran on BBC1 between 1980 and 1988. It proved such a hit, it drew audiences of around 20 million, won a BAFTA in 1984 for Best Comedy Series and made huge stars of the entire cast.
Here's our run-down of who's who in Hi-de-Hi! and some of the shows must-watch moments. All together now, "Hi-de-Hi!'" "Ho-de-Ho!"…
BritBox is the No. 1 way to watch all your favorite British shows from the BBC and ITV. And you can watch it easily via Amazon Prime Video Channels. All your subscription and billing is handled through your Amazon account, allowing you to watch as much as you want for a single price.
Hi-de-Hi: All The Laughs & More — the documentary
Channel 5's 90-minute documentary Hi-de-Hi: All The Laughs & More (Saturday March 26, 7.45pm 2022) pays a big tribute to the show. It has interviews with cast legends such as Su Pollard (Peggy), Ruth Madoc (Gladys), Jeffrey Holland (Spike) who shared an excited Facebook post (see below). There are also never-seen-before interviews with late actors Paul Shane (Ted Bovis) and writer Jimmy Perry. All reveal the classic sitcom's history through their own wonderful memories and experiences. Many pay tribute to the late Simon Cadell, who of course played the camp's totally unsuited head of entertainments Jeffrey Fairbrother.
Discover how iconic characters such as Ted Bovis and Gladys Pugh were cast , plus how Su Pollard became a household name playing chalet maid and wannabe yellowcoat Peggy Ollerenshaw. She also reveals the very rude word she taught the pet parrot at the hotel where the cast would stay.
Viewers discover that top management at holiday camp franchise Butlins, the real-life inspiration for the comedy, weren't impressed with the show at first. There are backstage secrets, such as the day several cast members nearly drowned in the swimming pool. Of course there's also plenty of archive footage revealing the show's funniest scenes and memorable characters.
Where was Hi-de-Hi! filmed?
The BBC began filming the Hi-de-Hi! pilot episode in the spring of 1979, followed by the full series. The outside scenes — with that famous Olympic-sized swimming pool — were all shot at the Warner's holiday camp at Dovercourt, on the Essex coast, and filming always began in the spring before the holiday camp opened to customers. It meant the cast were often shivering in the cold as they had to wear summer clothes for scenes! The Dovercourt holiday camp sadly closed for business in 1990 and has since been demolished to make way for a housing estate.
Many of the seaside shots were filmed on the beach at Dovercourt, while Weybourne station doubled as the railway station at fictional Crimpton-On-Sea. Another famous outside location later in the show's eight-year run was St Mary's Church in Lawford, Essex, where Gladys married her then boss The Honourable Squadron Leader Clive Dempster DFC (David Griffin).
Most indoor scenes were filmed at the BBC's studios.
Hi-de-Hi! cast — Ruth Madoc as Gladys Pugh
In Hi-de-Hi! Ruth Madoc plays head Yellowcoat Gladys Pugh, who greets all on the site with her catchphrase "Hello Campers" which she reads out over the loudspeaker system after three hits of her Xylophone, before launching into the day's activities at Maplins. She was queen of the false eyelashes and a flirty Welsh lilt. Over the series Gladys develops a smoldering passion for the camp's uptight posh manager Jeffrey Fairbrother. But despite their many scenes together, she never seems to manage to snare him. She did however marry the next entertainment's manager, Squadron Leader Clive Dempster DFC, played by David Griffin.
Gladys recently became a name on everyone's lips again thanks to the C4 and HBO Max drama It's A Sin after shy Welsh lad Colin (Callum Scott Howells) was given the nickname 'Gladys Pugh' by his London friends.
Ruth Madoc is an actress and singer who was born in Norfolk but was brought up in Wales by her Welsh grandmother Etta. Hollywood came a calling early on when she had a singing role in the classic 1971 musical movie Fiddler On The Roof, playing a widower's wife Fruma Sarah who came back from the dead to haunt Tevye (Topol) in what are very bizarre and frightening scenes during the song Tevye's Dream.
In recent years, Ruth's known well for her role in BBC comedy series Little Britain, playing the mother of 'Only Gay in The Village' Daffyd Thomas (Matt Lucas).
Ruth was once married to the late actor Philip Madoc who played a German submarine commander in a much-loved episode of classic war comedy Dad's Army.
Hi-de-Hi! cast — Su Pollard as Peggy Ollerenshaw
Known for her frizzy perm and oversized specs, scatterbrained chalet maid Peggy Ollerenshaw, played by Su Pollard, aspires to be a Yellowcoat and tries to get involved in Maplins entertainment in any way she can, much to Gladys Pugh's frustration.
Su Pollard is a much loved comedy actress who comes across as just as bonkers as Peggy. Prior to Hi-de-Hi! she'd starred in the 1978 sitcom Two Up, Two Down alongside Paul Nicholas about squatters. She hosted It's a Royal Knockout in 1987 and she's appeared in many reality series, including Last Laugh In Vegas on ITV, plus BBC comedies Oh! Dr Beeching! and You Rang M'Lord (see below) with many of the Hi-de-Hi! cast. She was also a guest star in the 2010 Christmas special of ITV comedy Benidorm.
Su Pollard on filming Hi-de-Hi...
We recently spoke to Su Pollard about her appearance on Celebrity Masterchef 2021 on BBC1. She had particularly fond memories of the catering during filming...
"Oh yes, it was absolutely superb," Su remembers. "I got into trouble one day because sometimes the head of BBC's Light Entertainment would come down to the Maplins set which was the Warners holiday camp at Dovercourt, near Harwich. So he'd come down say: 'This is absolutely marvellous food'. On Fridays we had fish days and we had things like lobster. He was eating a bit of lobster. And I said, 'Oh we have this a lot!' And I suddenly felt a kick on my shin. It was the production manager, as if to say, 'Stop talking about how well we're fed here! The BBC budgets don't run to this!'
"But you know what, the catering was superb. We had a Full English every day if you wanted it at about 7am before we began filming, or you might just have a boiled egg or something if that was all you fancied, or a croissant or a bacon sandwich. Then we'd have these great big tables heaving with cheese, salad and then things like shepherds pie. Then at about 4pm you'd have tea come round on a trolley — sandwiches, smoked salmon and things. By the time you'd finished filming you had to be careful, you could put on about 2 stone. It was terrific food darling. That catering was superb and you could never want for anything."
Su Pollard on her fondest memories of Hi-de-Hi...
Su says: "I don't think you could ever repeat it, even if you tried, it was such a lovely time. My big great memory is always always seeing really really good friends with each other. We all got on so well. The saddest thing was when one of the great names Barry Howard died. He was from Nottingham as well. Every single person was supportive, every single person had one of their little episodes that was centered around them so everyone had the same chance as each other. We were a team. I miss some of course. I'm doing something with Jeff Holland next week. I miss Shaney. The beautiful happiness every day of going into work, and the fun we had was special. Make no mistake, we were extremely focused, we had to be as David (Croft) and Jimmy (Perry) insisted on that, but they also insisted that we have as much fun doing it as we could. You never forget those days.
"Oh I feel a bit teary when you think about it all and those wonderful times. The greatest thing is people who were brought up with it and they still stop me in the street and go, 'I grew up with you in the show, and it was marvellous'. They're beautiful memories in itself, that we made other people's memories happy."
Hi-de-Hi! cast — Paul Shane as Ted Bovis
Ted Bovis is Maplins' host and comic, famed for his Teddy boy quiff and loud checked jackets, and he's of course very popular with the campers. But he's also a bit of a wrong'un, always trying to cheat the holidaymakers out of cash with fake raffles and rigged bingo.
Ted was played by the late Paul Shane who passed away in 2013. In 1979, Paul was spotted playing Frank Roper in an episode of Coronation Street by writer Jimmy Perry, who thought he'd be perfect for the part of Ted. The rest was TV history....
Hi-de-Hi! cast — Jeffrey Holland as Spike Dixon
Hi-de-Hi! was Jeffrey's big acting break. In the show he plays hapless comedian Spike Dixon, who tries — and fails — to branch out into his own style of comedy. Law-abiding Spike also shares a chalet with Ted and tries very hard to turn a blind eye to his money-making scams.
Hi-de-Hi! cast — Simon Cadell as Professor Jeffrey Fairbrother
The object of Gladys Pugh's' affections, Jeffrey Fairbrother is an uptight Cambridge-educated professor turned entertainment manager. Having joined Maplins in the hope it would help him gain an insight into the ordinary people, he ends up out of his depth and deeply embarrassed by Gladys' longing glances and Ted's lavatorial humour. Simon Cadell, who played Jeffrey for the first five series, was married to Rebecca Croft, the daughter of Hi-de-Hi!'s co-creator David Croft. Sadly he was just 45 when he died in 1996 after a battle with non-Hodgkin lymphoma.
Hi-de-Hi!'s best moments…
Hi-de-Hi! became known for its long-running comedy themes, such as Peggy's dreams of becoming a Yellowcoat. Peggy finally fulfils her ambition in the very last episode of the sitcom, when another Yellowcoat is hospitalised and she's recruited as a stand in. But unfortunately it's a pretty short-lived job when Peggy collapses from exhaustion after just one day!
Other classic moments include several of Ted's scams, including asking unsuspecting holidaymakers to donate the Campers' Amenity Fund, which he puts on a horse that comes in at 33-1.
Then there's Mr Partridge (Leslie Dwyer) – catchphrase 'I hate kids!' – who is Maplins' boozy Punch and Judy man. In one episode, frustrated by the lack of respect from some increasingly bad-mannered children, he ends up trying to throttle a boy who's spoiling his show and it's up to Ted to save his job.
But who can forget Gladys quivering with passion every time she sees uptight manager Mr Fairbrother? One episode has a "did-they-didn't-they'" moment when Mr Fairbrother gets so drunk he can't remember the night before. So did he sleep with Gladys?
Snobby duo Yvonne and Barry Stuart-Hargreaves (played by the late Barry Howard and Diane Holland) teach ballroom dancing to the campers, but things don't ever go as smoothly as Strictly Come Dancing...
Hi-de-Hi! cast — look out for these guest stars...
As you watch the Hi-deHi! episodes on Britbox, you'll notice some famous faces crop up as guest stars. The very first episode of Series 1, called Desire In The Mickey Mouse Grotto, features current EastEnders star Gillian Taylforth, who's been playing Kathy Beale in Walford since the very first episode of the soap. In Hi-de-Hi! Gillian plays tarty teenage holiday camper Rose who really wants to get passionate with awkward entertainments manager Jeffrey Fairbrother, much to the disgust and despair of Gladys Pugh. Rose's parents are none too happy with their daughter either, especially when Rose's advances end up with the pair falling over in the tropical bushes of the Hawaiian ballroom. This terrific episode was first shown on BBC1 in January 1981.
If you move on to the fourth episode of the first series on Britbox you'll see another EastEnders star, the late John Bardon, best known as Jim Branning (husband of Dot!). In the March 1981 episode called The Day Of Reckoning, John Bardon plays the gangster Big Mac who comes to stay at Maplins when he finds out Yellowcoat and former jockey Fred Quilley (Felix Bowness) works there. Fred once crossed him during his time as a jockey by refusing to lose a race on purpose for a betting scam! Now Big Mac is after revenge!
Hi-de-Hi! creators Jimmy Perry and David Croft introduced a guest star who was a stalwart of their previous comedy Dad's Army (opens in new tab). Look out for John Le Mesurier, aka Sergeant Wilson from the classic wartime comedy, who rocks up in the third series. John plays Hugo Buxton who's head of Jeffrey Fairbrother's Cambridge university faculty for archaeology. He arrives at Maplins in an episode called Carnival Time to persuade Jeffrey to give up his job there to return to Cambridge and become 'faculty chair'. But when he gets there staff are dressed as Wild West characters for the local carnival, and things get rather chaotic. He's not too impressed!
In Series 4, eagle-eyed Coronation Street fans will see Cheryl Murray, aka Weatherfield's Suzie Birchall in the 1970s, who plays Joan Wainwright. Ball-breaking, unpleasant Joan is a girlfriend of Joe Maplin who arrives at the camp to take over as Entertainment Director and immediately ruffles everyone's feathers.
Also in Series 4, there's a small part played by Arthur Bostrom as camper 'Hulk' who Peggy falls for. Arthur was 'Allo 'Allo regular Officer Crabtree, famous for delivering his lines in terrible Franglais, ie 'Good moaning to you!'.
If you were a fan of 1980s drama Tenko (opens in new tab) that followed the British and Dutch women who were captured by the Japanese army near Singapore and held in prison camps, you'll be delighted to spot one of its stars turning up in Hi-de-Hi! In the fifth series episode called The Marriage Settlement, look out for Claire Oberman, who played Aussie nurse Kate Norris in Tenko (opens in new tab). Claire plays Daphne Fairbrother, the estranged wife of the holiday camp's posh entertainment's manager Jeffrey Fairbrother, as the pair sort out their divorce in a highly unusual way! The plan involves Peggy and a character played by another famous guest-starring actress Susan Jameson, best know for playing Esther Lane in the BBC1 crime drama New Tricks.
EastEnders fans can spy Gavin Richards in a couple of fifth series episodes, playing Joe Maplin's gangster-like right hand man Harry Fox. In EastEnders, Gavin played Tiffany's estranged dad Terry Raymond from 1996 to 2002, while he starred as Captain Alberto Bertorelli in another BBC1 sitcom 'Allo 'Allo (also available on Britbox) between 1987 and 1989. Gavin first shows up in Hi-de-Hi in a 1984 episode called The Graven Image where he arrives to oversee the staff unveiling a statue to Joe Maplin. Harry Fox's last appearance came in 1986 in the episode called Spaghetti Galore.
Four years after John Le Mesurier's appearance, another Dad's Army regular rocks up in Hi-de-Hi!. Look out for Bill Pertwee in series 7 in just one scene. Bill of course was the Chief ARP Warden Hodges in the wartime comedy. His unnamed Hi-de-Hi! character, billed as 'Angry Camper', is seen raging at the Maplins staff because drunken Punch & Judy man Mr Partridge had walloped his kids and he demands a sacking!
Was there a Hi-de-Hi! sequel series?
No, but there was a later BBC1 comedy series called You Rang M'lord? which ran from 1990 to 1993 and featured some of the Hi-deHi! cast including Paul Shane, Su Pollard and Jeffrey Holland. It followed staff at a stately home after the war. The BBC's nostalgic railway comedy Oh, Doctor Beeching! (1995-1996) also featured the same three Hi-de-Hi! cast.
The memorable Hi-de-Hi! theme tune…
The show's rock and roll theme tune was indicative of the era in which the comedy was set. Called Holiday Rock, this title tune was sung by Ken Barrie who later provided the voice of Postman Pat on the popular animated kids' TV series. The song was later released as single with the main vocal part sung by cast member Paul Shane and the Yellowcoats (it featured several members of the cast on backing vocals)
How to watch every series of Hi-de-Hi! in the UK!
All nine series of Hi-de-Hi! are on streaming service Britbox. Enjoy the nostalgia! BritBox is offering a free 7 day trial currently. It's then £5.99 a month or £59.99 a year. You can access BritBox on the web, iPhones, iPads, Android phones and tablets. Plus on Smart TVs and TV streaming devices.
How to watch BritBox in the US
BritBox is available for $6.99 per month/ $69.99 annually — after an introductory free trial period— on Roku, Amazon Fire TV Stick, Apple TV 4th Gen, Samsung, LG and all iOS and Android devices, AirPlay, Chromecast, and online at www.britbox.com. BritBox is also available on Amazon Channels for Prime members and on Apple TV Channels.
I'm a huge fan of television so I really have found the perfect job, as I've been writing about TV shows, films and interviewing major television, film and sports stars for over 25 years. I'm currently TV Content Director on What's On TV, TV Times, TV and Satellite Week magazines plus Whattowatch.com. I previously worked on Woman and Woman's Own in the 1990s. Outside of work I swim every morning, support Charlton Athletic football club and get nostalgic about TV shows Cagney & Lacey, I Claudius, Dallas and Tenko. I'm totally on top of everything good coming up too.
Get the latest updates, reviews and unmissable series to watch and more!
Thank you for signing up to Whattowatch. You will receive a verification email shortly.
There was a problem. Please refresh the page and try again.