Meet the Black Sea cast: who's who in the underwater thriller taking Netflix by storm
A submarine heist goes badly wrong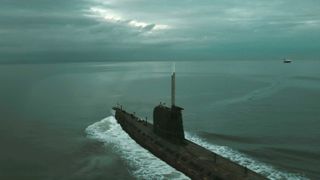 (Image credit: Focus Features)
Black Sea tells the story of the crew of a submarine as they try to pilfer gold from a sunken Second World War U-boat — the fact that the movie is a disaster thriller tells you just how well that goes.
Directed by Kevin Macdonald (of The Last King of Scotland, State of Play and The Mauritanian fame), the movie is currently in the Netflix list of the top 10 films being streamed in certain countries, including the UK where it's the second-most streamed movie after new original Your Place or Mine.
Interested in watching Black Sea? Or already done so and wondering where you recognize all those actors from? Well, there are a few big stars, so this guide will let you know who's who in the maritime misadventure movie.
Jude Law as Captain Robinson
Captain Robinson is an experienced submarine operator who specializes in underwater salvage, but he's been down on his luck recently thanks to a recent divorce and his new unemployment. He takes on the underwater heist job in order to turn around his luck.
There are likely few people reading this article who don't already know who Jude Law is, as the British actor is a film icon, having played multiple classic characters. He's played Watson in the Robert Downey Jr-led Sherlock Holmes series, Dumbledore in the Fantastic Beasts trilogy and Vortigern in Guy Ritchie's King Arthur movie.
He's also had leading roles in A.I. Artificial Intelligence, The Talented Mr. Ripley, Sky Captain and the World of TOmorrow, Road to Perdition, The Young Pope, Contagion, Hugo, The Grand Budapest Hotel, Captain Marvel and Anna Karenina.
His upcoming projects include more classic characters: he's in another Sherlock Holmes sequel, he plays Captain Hook in a live-action Peter Pan adaptation and, curiously given his body type, he's playing Henry the 8th in a biopic about the infamous monarch's marriage with Catherine Parr (played by Alicia Vikander).
Scoot McNairy as Daniels
Daniels is Lewis' (more on that character later) man on the inside, as he's the one representing the person bankrolling the expedition on-board the submarine.
If you don't recognize Scoot McNairy, it's probably because the talented character actor really immerses himself in every role he plays, but he's been in some big hits.
With big roles in Argo, Batman v Superman, Gone Girl, Frank, 12 Years a Slave, Killing Them Softly, Monsters and The Legacy of a Whitetail Deer Hunter, there's a good chance you've seen him in something.
Ben Mendelsohn as Fraser
A dangerous man, Fraser has been to prison before for his violence, which is a habit he doesn't seem to have kicked. This weakness is used by people who don't have his (or anyone's) best interests at heart.
A prolific actor, you may recognize Mendelsohn for his roles in The Dark Knight Rises, Ready Player One, Captain Marvel, Robin Hood (the Taron Edgerton one), Rogue One: A Star Wars Story and Exodus: Gods and Kings.
He's also been in smaller movies like The Place Beyond the Pines, Killing Them Softly, Darkest Hour, The King and Cyrano, and in the TV world he's had main roles in Bloodline, The Outsider and Love My Way. He's also set to return to his Captain Marvel role in more Marvel creations.
Tobias Menzies as Lewis
One of the few characters on this list who isn't on the crew of the submarine, Lewis is the financial backer of the trip, so he sponsors the sub and crew in return for a big windfall at the end.
A recognizable British actor, Menzies is perhaps best known by Netflix users for playing Prince Philip in 20 episodes of The Crown but he's also been in Casino Royale, The Night Manager, Outlander and Game of Thrones.
Michael Smiley as Reynolds
A long-time friend of Captain Robinson from his Navy days, Reynolds is also recently unemployed, so he's ready to get back underwater for the heist.
Michael Smiley is an Irish actor who's been recently in Kill List, The Lobster, Free Fire, Gunpowder Milkshake and Rogue One: A Star Wars Story. Fans of Luther may also recognize him as recurring character Benny Silver, though he's not slated to be returning for Luther: The Fallen Sun.
Jodie Whittaker as Chrissy Robinson
Chrissy Robinson was Captain Robinson's wife — 'was' being the key word in that sentence, because they recently divorced, with Chrissy not keen for her ex-husband to see their son.
Jodie Whittaker has become a massive star since the release of Black Sea for playing one particular role: from 2017 to 2022 she played the Doctor in Doctor Who.
That's not to say Doctor Who is her only big role, and she's played recurring characters in Broadchurch, The Assets and The Smoke. You may also recognize her from St Trinian's and its sequel, Attack The Block and Spike Island.
Get the What to Watch Newsletter
The latest updates, reviews and unmissable series to watch and more!
Streaming and Ecommerce Writer
Tom is the streaming and ecommerce writer at What to Watch, covering streaming services in the US and UK. His goal is to help you navigate the busy and confusing online video market, to help you find the TV, movies and sports that you're looking for without having to spend too much money.