'Doctor Who' season 13 — release date, cast, plot, rumours, trailer and more
By Martin Shore
Everything we know about Doctor Who season 13 so far!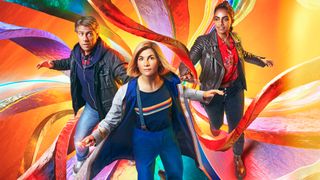 (Image credit: BBC Studios / Zoe McConnell)
After a long wait, Doctor Who season 13 is nearly here! Russell T. Davies first revived the sci-fi show with Christopher Eccleston 17 years ago, and the Doctor has been saving the world from countless alien threats ever since.
Jodie Whittaker is the current custodian of the TARDIS, although we now know that this will be her last full season as the Doctor. Aside from three additional specials which will air in 2022, season 13 is Jodie's final adventure across space and time.
As we move towards the end of the year, we're being drip-fed new information about Doctor Who more and more.
Recently, we've learned that the new series is subtitled Doctor Who: Flux, along with a release date, a new trailer, and some more news about the guest cast!
Here's everything we know about Doctor Who season 13 right now.
Doctor Who season 13 release date
For the longest time, we only knew that Jodie would be back "later this year" in a teaser released over the summer.
Thanks to a recent announcement from the BBC, we finally know that Doctor Who: Flux will premiere on Sunday, Oct. 31 at 8:30 pm on BBC1 and BBC iPlayer.
That announcement did not have a US release date, but we expect the show to make its way stateside not long after the season airs in the UK.
How many episodes will Doctor Who season 13 have?
The upcoming season of Doctor Who will be shorter than fans would want. Initially, Doctor Who season 13 was planned for an 11 episode run. Due to the impact of COVID-19, filming was delayed, and the new season was cut down to a shorter run of just 6 episodes with two specials due to air in 2022.
One of these specials will be the usual Doctor Who Christmas special 2021 (airing on New Year's Day), with the other following in Spring next year.
When the BBC revealed that Jodie Whittaker would be leaving, they also announced that a third and final feature-length adventure had been commissioned to help celebrate the BBC's centenary next year. This extra episode will air in autumn 2022 and will finally see the Doctor regenerating
MORE: Is Doctor Who on Netflix?
Who are the companions in Doctor Who season 13?
The Thirteenth Doctor enjoyed having her "fam" around her, but the 2020 Christmas Special saw her group of companions parting ways. Graham (Bradley Walsh) and Ryan (Tosin Cole) both decided to leave the TARDIS behind for good at the end of the episode.
Although we don't know when he'll set foot inside the TARDIS for the first time, the Doctor and Yaz will bump into Dan Lewis, who's played by stand-up comedian John Bishop. It's clear that he enjoyed his time in the TARDIS, as he shared his enthusiasm in a video when he wrapped filming on the series back in September.
At a Comic-Con panel in July, we learned that Jacob Anderson (Game of Thrones, Broadchurch) would be joining the trio as Vinder, a brand new character. He didn't give much away about his new character, but he described joining Doctor Who season 13 as "a real-life childhood dream".
Doctor Who season 13 guest cast
Recently, we learned which actors would be guest-starring in the latest series of Doctor Who.
Joining the Doctor, Yaz, Dan and Vinder are Robert Bathurst (Cold Feet, Downton Abbey), Thaddea Graham (The Irregulars, Us), Blake Harrison (The Inbetweeners, A Very English Scandal), Kevin McNally (Pirates of the Caribbean, Designated Survivor, Downton Abbey), Craig Parkinson (Line of Duty, The English Game), Sara Powell (Unforgotten, Damned), Annabel Scholey (The Split, Britannia), Gerald Kyd (Cold Feet, Britannia) and Penelope Ann McGhie (The Crown, Harry Potter).
Is there a trailer?
Over the weekend we got a huge look at what Doctor Who season 13 has in store for us. It promises to tell "one epic story" over "six thrilling chapters", and makes it look like the stakes are higher than ever for the Doctor.
The biggest thing to note from the trailer is just how many baddies will be showing up over the six-episode season. Veterans viewers will recognize the Ood, Sontarans, Cybermen, and the Weeping Angels, but there are also new baddies like the axe-wielding Karvanista and an ominous swarm that looks to be swallowing up a planet.
You can watch the action-packed trailer below.
If you want to look back at the brief glimpse we got at the cast in action in the July teaser, you can find that below:
What rumors have we heard so far?
We've kept up with some of the rumors surrounding the latest season; with Doctor Who: Flux just around the corner, we'll finally see whether they come true.
One rumor suggested Captain Jack Harness (John Barrowman) might make a return in the series. Some fans spotted a synopsis for a Captain Jack comic book tie-in briefly suggested it would link closely with the second episode of season 13.
Although Jodie's first season was dominated solely by new monsters and alien races, that all changed when the Daleks, the Master, the Judoon, and the Cybermen became important in series 12.
As we've seen in the trailer, older monsters will be making a return in the latest season, too. Fans spotted the Sontarans and Angels on set long before they were confirmed to be returning!
Is Jodie Whittaker leaving Doctor Who?
Rumors about Jodie's departure from the series were spreading as early as January 2021; as we've already mentioned earlier, the BBC has since confirmed that this series (plus those extra specials in 2022) will be Jodie's final adventures in time and space.
If you're now wondering who will replace Jodie Whittaker in Doctor Who, Olly Alexander has been tipped as the prime candidate. His name has been thrown around multiple times, and he was recently rumored to be "thrashing out final details" with the BBC to play the role by The Sun.
However, his agent released a statement saying that the rumors weren't true as Olly was focussing on his music for the time being. So, it seems the Fourteenth Doctor's identity will remain a secret for some time to come.
Who is the showrunner for Doctor Who season 13?
Series 13 isn't just Jodie Whittaker's last full outing as the Doctor, it's also Chris Chibnall's.
When the news of Jodie's departure broke, the BBC also revealed that Chris Chibnall would be departing his role as Doctor Who showrunner at the same time. He'll still be in charge of the remaining episodes, but will be handing his role over to someone else after the final special airs next year.
As of today (Sept. 24), we now know that Chris Chibnall will be replaced by none other than Russell T. Davies!
According to the announcement on the official Doctor Who website, Davies will "make an explosive return to screens to celebrate the 60th Anniversary of Doctor Who in 2023, and series beyond."
Seasons 1-12 of modern Doctor Who are available to stream on BBC iPlayer in the UK right now, and US readers can find them on HBO Max. You can also watch episodes of classic Who on BritBox.
Get the latest updates, reviews and unmissable series to watch and more!
Thank you for signing up to Whattowatch. You will receive a verification email shortly.
There was a problem. Please refresh the page and try again.