'Doctor Who' 14th Doctor: Who will replace Jodie Whittaker?
By Martin Shore
Here's the top names in line to play the 14th Doctor.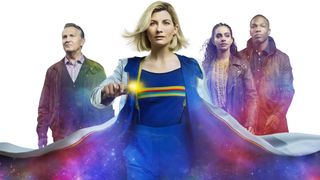 (Image credit: BBC / BBC Studios)
Who will be the 14th Doctor in Doctor Who? That's a question every Whovian will be asking for the next year, as we now know that the Doctor will be regenerating again next year.
At the end of July, the BBC finally confirmed that Jodie Whittaker's time in the TARDIS would be coming to an end in 2022. After Doctor Who season 13 and three additional specials set to air next year, Jodie will be handing her TARDIS key over to a brand new actor. 
Fans have been trying to guess who the 14th Doctor will be ever since rumors of Jodie's departure first went around in January 2021. Although he has publicly downplayed his potential involvement in the show, the most popular candidate is still It's A Sin star, Olly Alexander.
The Years & Years singer has been questioned about Doctor Who multiple times. In June The Sun reported that Olly was "thrashing out final details" with the BBC to become the next Doctor. Sadly, though, his manager posted a Who-themed statement on Instagram that said the rumors were not true, and that Olly would be focussing on his music for the time being. 
As if there weren't enough names in the mix, former Doctor Matt Smith has recently added a new actor into the mix. 
In an interview with The Hollywood Reporter, Matt suggested his House of the Dragon co-star Rhys Ifans would be his pick for the next Doctor. 
He said: You know who I think would be a brilliant Doctor Who … Rhys Ifans. Rhys would be sort of cool. I don't know if we've had a Welshman yet. I'm backing Rhys!"
Seeing as we likely won't know the true identity of the 14th Doctor for a while yet, we've put together this list of some of the most popular candidates to play the character when they regenerate next year.
Top picks for the 14th Doctor...
Michaela Coel 
Michaela Coel is probably the second-most popular actor tipped to play the Fourteenth Doctor.
Alongside her theatre career, Michaela is best-known for creating and starring in the E4 series Chewing Gum as well as the BAFTA-winning BBC comedy-drama I May Destroy You, which is regarded as one of the best BBC dramas in recent years. She also starred in Hugo Blick's drama Black Earth Rising and in two episodes of Black Mirror. 
If the BBC does decide to keep the Doctor female going forward, Michaela Coel is a strong candidate to be the next keeper of the TARDIS keys.
Michael Sheen 
Michael Sheen recently came first in a RadioTimes.com poll for the actor viewers wanted to see play the Fourteenth Doctor the most.
It's easy to see why he'd make a good Doctor. Michael is no stranger to science fiction, having already appeared in Good Omens, Passengers, and TRON: Legacy. With plenty of awards nominations under his belt, he's more than capable of playing the legendary time-traveling hero. 
One potential issue here is that Michael Sheen has technically already appeared in modern Doctor Who. He was the voice behind the evil entity named House, a being that fed on TARDIS energy who appeared in Series 6 of the revived series. Appearing in the show didn't seem to be a problem for Peter Capaldi though, so its likely even less of an issue for Michael as he only voiced a creature.
Vicky McClure
Vicky McClure made waves over the last decade as DI Kate Fleming in Line of Duty, but she's also appeared in shows like Broadchurch, This is England and The Secret Agent. 
Kate always fought to get justice for those in need and it's not hard to see how Vicky could translate her experience as DI Fleming over to playing the Doctor! With the Master now back in the show, she could easily transfer her experience chasing bent coppers over to chasing bent Time Lords!
Richard Ayoade 
Best known for his role as socially awkward nerd Maurice Moss in The IT Crowd and as the presenter for the modern revival of The Crystal Maze, Richard Ayoade is a truly unique character. 
He's known for off-beat, quirky humour and his endless wit whenever he appears on British panel shows, and this personality would translate perfectly to the Doctor, especially as an extension of the 13th Doctor's stranger side.
Phoebe Waller-Bridge 
Phoebe Waller-Bridge's career has gone from strength to strength in recent years. She is best known for creating and starring in Fleabag but is also responsible for the first season of Killing Eve and the 2016 Channel 4 comedy mini-series, Crashing.  
With experience in both comedy and drama, Phoebe Waller-Bridge could well be a perfect Doctor, capable of both light-hearted madness and dealing with the more serious moments, too.
Kris Marshall
Given Kris was previously rumored to be in the running for the 12th Doctor, it would make sense for him to still be up for consideration. 
Kris is best known for his role as Nick Harper in the BBC sitcom My Family and as DI Humphrey Goodman in Death in Paradise, although you might also recognize him from a series of BT ads! More recently, he played Tom Parker in ITV's Jane Austen adaptation, Sanditon.
Tom Rosenthal
Tom Rosenthal is a stand-up comedian and actor, best known for his roles in beloved British sitcom Friday Night Dinner and the ITV2 comedy series Plebs. 
His turn as Jonny Goodman saw him playing a mischievous younger brother to Adam (Simon Bird). If he did step into the Doctor's shoes, maybe the character would become a little bit more playful with their enemies than they have been in the past.
Kelly Macdonald
Vicky McClure isn't the only Line of Duty star that people believe might be playing the next Doctor!
Kelly Macdonald is best known right now for her recent turn as DCI Jo Davidson in Line of Duty Season 6. However, playing a dodgy police officer shouldn't stop her from becoming the 14th Doctor. 
Macdonald has appeared in Trainspotting and the sequel T2 as well as playing Rowena Ravenclaw in Harry Potter and the Deathly Hallows and voicing Princess Merida in Brave.
Jo Martin
Doctor Who Season 12 really shook up the show's canon. Along with the reveal that the Doctor was the Timeless Child, there was the appearance of Jo Martin as the Fugitive Doctor. 
The Fugitive Doctor had been working with The Division before escaping from the organization and becoming the so-called Fugitive Doctor after a group of Judoon were dispatched to recapture her. Jodie's Doc had no memory of this regeneration but speculated that The Fugitive Doctor could well be a regeneration from the Timeless Child directly.
If Jo Martin does reprise her role as the next Doctor, perhaps we'll get to see more of those adventures with The Division and see just what problems she and The Division dealt during the gaps in the Thirteenth Doctor's memory.
Matt Berry
Matt Berry has appeared in a range of British comedy series like The IT Crowd, The Mighty Boosh, and Toast of London. More recently, he's played a lead role in the FX series comedy-horror series What We Do In the Shadows. 
Many of Matt's big roles have seen him playing blustering, over-the-top characters, and the Doctor would be a bit different to his past work. With Steven Toast set to return for Toast of Tinseltown, Matt Berry might be ready for a change of pace.
Reece Shearsmith 
League of Gentlemen and Inside No. 9 creator Reece Shearsmith is another enigmatic British actor rumored to be the Fourteenth Doctor. 
Reece is a highly celebrated performer, and he's no stranger to the Whoniverse, either! He's already starred in the found-footage episode Sleep No More and he played Patrick Troughton (aka the Second Doctor) in the 2013 docudrama An Adventure in Space and Time. 
Olivia Colman 
Colman is best known for her performance as Queen Elizabeth II in The Crown and her appearance as DS Ellie Miller in Broadchurch, but she briefly appeared in Matt Smith's first-ever episode of Doctor Who as shape-shifting alien Prisoner Zero. Could the former villain be next in line for the Doctor? 
Sadly, Olivia Colman could well be too busy to take on another big role, as she's reportedly in talks to join Marvel's upcoming Secret Invasion series.
Helena Bonham Carter 
Helena Bonham Carter might seem too big an actress to play the 14th Doctor, but the Harry Potter star could still be in the running, as she's been rumored for the part in the past.
Earlier in the year, Piper Billie (who played companion Rose Tyler) denied she was returning to the show in a recent issue of Total Film, she said she would love Helena Bonham Carter to take the role. Of Helena, she said: "She's got that madcap energy — she's a ruddy powerhouse." 
Those are some of the actors currently thought to be in with a solid chance of becoming the 14th Doctor, even if we won't really find out who they are until Jodie regenerates next year. 
If you're still desperate for Doctor Who gossip, we've now learned who will be replacing Chris Chibnall when he leaves next year. On Sept. 24, the BBC confirmed that Russell T. Davies would be returning as the next Doctor Who showrunner.
Doctor Who season 13 is coming to BBC1 and BBC iPlayer later this year. 
Get the latest updates, reviews and unmissable series to watch and more!
Thank you for signing up to Whattowatch. You will receive a verification email shortly.
There was a problem. Please refresh the page and try again.