'Sex Education' season 3 — release date, cast, plot, trailer, and everything we know
Everything you need to know about Sex Education season 3.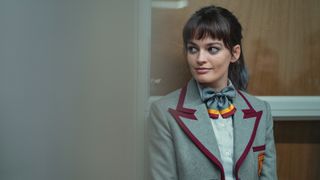 (Image credit: Sam Taylor/Netflix)
Sex Education Season 3 is finally here at last! Yes, Sex Education season 3 has landed on Netflix!!
After an extended time away from Netflix, Sex Education season 3 sees the much-loved comedy-drama returning for a new school year. As before, the show takes place at Moordale Secondary and is full of drama, cringe-comedy, and personal problems once again.
This year, though, things have changed at the fictional British school. Headmaster Mr. Groff has been replaced by a new headmistress who has introduced a uniform and wants the students to adopt a new attitude to put the school back on the map!
Here's everything we know about Sex Education season 3 including what happens in the first five episodes...
'Sex Education' season 3 release date
Sex Education Season 3 landed on Netflix on Friday, September 17. So what are you waiting for?! Get stuck in!!
How many episodes is 'Sex Education' season 3?
Sex Education season 3 is eight episodes long. So there's a lot to watch and enjoy!
'Sex Education' season 3 plot
Sex Education Season 3 has dropped, and its full of the exact same cringe comedy and emotional moments that fans of the series have been waiting for.
The official plot synopsis for the series explained: "It's a new year, Otis is having casual sex, Eric and Adam are official, and Jean has a baby on the way. Meanwhile, new headteacher Hope (played by Jemima Kirke) tries to return Moordale to a pillar of excellence, Aimee discovers feminism, Jackson gets a crush and a lost voicemail still looms.
"Prepare for commitment animals, alien phenomena, vulva cupcakes, and much more of Madam Groff."
Now that the third season has been released, we've got summaries of what's gone on in the first six episodes of season three below (beware spoilers!).
Image 1 of 6
'Sex Education' season 3 cast
All the original cast returned for the third season. Otis (Asa Butterfield), Eric (Ncuti Gatwa), Jean (Gillian Anderson), Maeve (Emma Mackey), Aimee (Aimee Lou Wood), Adam (Connor Swindells) and former headmaster, Mr. Groff (Alistair Petrie) all showed up in promo material ahead of the show's return.
Olivia Hanan (Simone Ashley, who's also starring in Bridgerton Season 2), Anwar (Chaneil Kular) and Ruby Matthews (Mimi Keene) also made appearances, alongside new student Cal (played by Sudanese-American musician and actor Dua Saleh), who clashes with the new headmistress. Dua appears alongside Harry Potter star Jason Isaacs who is playing Peter Groff, Mr Groff's far more successful (and less modest) older brother.
Jemima Kirke (who is set to star in Conversations With Friends) plays the aforementioned new head, Hope Haddon. Hope is a hugely successful young headteacher who has big plans to turn Moordale's reputation around.
What happens in 'Sex Education' season 3 episode one?
A new school year dawns at Moordale, and the new headmistress, Hope Haddon, makes quite the impression on the school body. Over the summer break, Eric and Adam have become a couple, Otis has started seeing Ruby Matthews in secret, and Maeve has grown closer with Isaac and Joe Goodwin from the trailer park.

Otis and Maeve aren't running the sex clinic after it was exposed in the last series. What's worse, their friendship has come to an end after a jealous Isaac deleted the voicemail where Otis told Maeve how he felt about her last season.

Otis gets caught with Ruby at school by Kyle, who is styling himself as the "Sex King" and offering bad advice to students since Maeve and Otis are no longer running their clinic. Ruby begs Kyle not to reveal their secret, and he says he won't as long as Otis doesn't report him.

Dex Thompson approaches Kyle for advice and causes a scene at Moordale which causes Hope Haddon to begin her crackdown on student behavior.

Meanwhile, Adam and Eric are official, but Adam is finding it hard to deal with his sexuality being out in the open as he worries it will change how other students see him. Elsewhere, Mr. Groff is living with his far more successful brother, and Jean is trying to figure out how to tell Jakob that she's pregnant with his baby.
What happens in 'Sex Education' season 3 episode two?
Now that Ruby and Otis' secret has been revealed to the school, she picks out a whole new look for him. Eric and Adam are ready to go all the way, but Adam isn't ready to reveal his relationship to his mother just yet.
Hope's changes start to crop up around the school, and Viv is desperate to get into her good books. Maeve tells Aimee that she has a thing for Isaac, and gets Otis to arrange an appointment for Aimee with Jean to talk about her assault from season two.
After ruining a romantic picnic, Adam goes to tell Otis to stop saying bad things about him to Eric. Whilst there, Otis gives him a strategy to help Adam express his feelings to other people, and he finally manages to open up to Eric and spends the night with him.
After Maeve has a run-in with her mother at Elsie's foster home, Isaac and Maeve share a kiss. This prompts Isaac to confess he deleted Otis' voicemail and that he'd admitted he also had feelings before the summer. Elsewhere, Jean and Jakob go for couples therapy and they later agree to become a family, with Jakob agreeing to move in with Jean.
Viv volunteers herself and Jackson to paint over some graffiti, but non-binary student Cal talks Jackson out of it. Hope relieves Jackson of his duty as Head Boy and replaces him with Viv, and announces Moordale will be getting a new school uniform.
What happens in 'Sex Education' season 3 episode three?
Otis and Ola do not get along well as siblings and cause chaos whilst Aimee has her first session with Jean. Hope pulls Maeve, Lily, Ola, and Cal in to crack down on them violating the dress code, but she reveals to Maeve she's trying to get funding for the gifted and talented program based in the US she's interested in.
Maeve's mum turns up to get her passport from the caravan whilst she's at school. Isaac manages to get her to stay behind long enough to allow Maeve to speak to her and reveal why she told social services about her and split her up from Elsie.
Jackson and Cal hang out after school, and he and opens up to them about his anxiety. Meanwhile, Eric, Adam, Otis, and Ruby go on a double date, which (eventually) goes quite well. Otis asks why Ruby never invites him over to her house; after revealing it's because she's embarrassed she brings him over. Otis meets Ruby's father and discovers she helping to care for him.
Although Maeve's relationship with her mum has been very strained, she finally receives a text from her saying she's going to get better, and Otis manages to come to an understanding with Ola about their living arrangements. The episode ends with Ruby telling Otis she loves him...but Otis can't bring himself to say it back!
What happened in 'Sex Education' season 3 episode four?
Maeve and her mum seem to be getting on a little bit better, and Jakob reveals to Jean that he doesn't believe therapy is all that effective, which shocks her. She starts to develop doubts over whether co-parenting with him is a good idea.
Hope restructures the school's Sex and Relationships Education (SRE) curriculum. The students are divided into two classes by sex, leaving Cal and another non-binary student to question which class they attend. Jackson encourages Cal to attend the students' forum he wants to set up so they can raise the issue.
Maeve and Otis rebel in their respective classes and are both sent out; she raises the possibility of them helping students once again, but Otis says he's not interested in giving out advice and refuses to help.
Isaac has been trying to make things up to Maeve, and when she heads home for the day he and his brother have made dinner for her. The two discuss what happened, before kissing and discussing how a relationship would work between them. Meanwhile, Ruby breaks up with Otis.
Elsewhere, Mr. Groff has been forced to move in with Mr. Hendricks. He bumps into his ex-wife in the supermarket and misinterprets something she said as meaning there was a chance they would get back together, but she just meant it wasn't too late to save his relationship with Adam.
Before Eric heads to Nigeria with his family and the other Moordale students head to France on a school trip, Adam tells Eric he loves him. Maeve is shocked to learn someone has anonymously paid her trip fees, and they head off with Miss Sands and Mr. Hendricks in charge.
What happened in 'Sex Education' season 3 episode five?
*HUGE* spoilers ahead!
Moordale's students are off to visit a WWII museum on their school trip, whilst Eric is getting ready to head to Nigeria with his family.
Jean bumps into Hope at the hospital when she's signing in for her scan. She voices her concerns about Hope's new SRE program and offers to discuss them with her, and Hope says she'll try to set some time aside. We see Hope attending an IVF consultation later in the episode, which does not go very well.
Jakob misses Jean's scan trying to get tea, and he later asks Jean for a paternity test as he tells Jean he does not trust her and is concerned he might not be the baby's father due to her history with other men.
Rahim causes an incident on the school coach which leads to a crash with a French family out for a drive, but Adam takes the fall for the incident, causing Rahim to start changing his mind about him.
With the issue resolved, Miss Sands and Mr Hendricks tell the coach driver to head off, leaving Otis and Maeve behind by accident. They discuss Otis' break-up with Ruby, and Maeve's relationship with Isaac, before Maeve asks Otis to reveal what was in the voicemail he left her.
Otis tells Maeve how he felt, and they share a kiss just as the school coach arrives to pick them back up and return everyone to Moordale. During the journey back home, Cal and Jackson kiss, but Cal tells Jackson they don't know if they're ready for anything to happen between them.
When they return, Miss Sands and Mr. Hendricks tell Hope the trip went entirely according to plan, Otis tries to get Maeve to talk to him about what happened, but she refuses, and Adam is disappointed not to receive a reply from Eric when he tells Eric he misses him.
What happens in Sex Education season 3 episode six?
Aimee drops Otis and Maeve's kiss into conversation by accident during a therapy session. Lily's entry in the Moordale Gazette's fiction competition is torn apart for being inappropriate, and the paper also blasts Moordale Secondary and Hope for allowing her to enter her story in the first place.
To try and turn the school's reputation around, Hope holds a school assembly where she announces she's renaming the school and will be holding an open day and inviting the press. During the same assembly, she also unleashes a cruel new style of punishment on Lily, Cal, and Adam for their behavior.
Jackson and Cal want to use the upcoming student forum to ask how the other students feel about Hope's excessive new measures. After a run-in with Hope in her office, Viv decides to help them fight back.
Eric enjoys his time in Nigeria. At the wedding, he bumps into Oba, the photographer. Eric hasn't revealed he is gay to his Nigerian family, but Oba figures it out and convinces Eric to come with him on a night out in Lagos. In the club, Eric and Oba kiss. When Eric sneaks back in the next morning, he's caught by his mother. They have an argument but reconcile after Eric tells her he's sick of hiding who he really is from his family.
Elsewhere, Maeve finds out she's been accepted on the Gifted and Talented scheme but Hope isn't able to secure funding for her. Isaac phones Maeve revealing that Erin has disappeared with Elsie. Otis and Isaac fight over Maeve, and she throws them both out of the house whilst her and Anna chat to the police.
When Otis returns home in a foul mood, he has a fight with Jean when she asks him about Maeve. Mr Groff also seeks Jean's help in finding a way to win Maureen back, and Adam asks Rahim to help him express his feelings for Eric in a poem.
Is there a trailer?
Yes, Netflix has released quite a lengthy trailer. It sees Maeve and Otis having an awkward exchange about the voicemail message. "What did it say?" she asks. Otis replies: "It doesn't matter it was ages ago". Maeve adds: "It matters to me".
Meanwhile, Eric tells Adam: "Look I understand that you're not ready to tell your mum, but if you're not all in I can't be with you."
You can watch the trailer — which declares: "THIS TERM EVERYTHING CHANGES" — below:
Will there be a 'Sex Education' season 4?
Just about a week after Sex Education season 3 debuted on Netflix, the streaming service announced during its special "Tudum" event that the series will be getting a fourth season. Variety (opens in new tab) reported the news.
No information was shared beyond the fact that the show will be returning for a fourth season. But What to Watch will keep you updated on the latest developments.
Breaking News out of #TUDUM!Sex Education has been renewed for Season 4! pic.twitter.com/8N2WwNLqoGSeptember 25, 2021