Meet the Carnival Row cast: who's who in season 2 of the Prime Video fantasy show
Humans, fae and everyone in between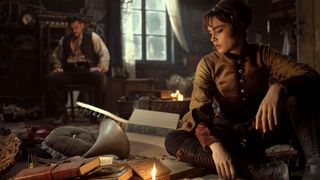 (Image credit: Amazon Studios)
If you're looking for an epic fantasy TV show which spans different characters and continents, Carnival Row season 2 could let you scratch that itch.
Carnival Row is set in a steampunk world in which humans live side-by-side with the fae, an umbrella term for different types of fantastical creatures inspired by folklore. Unfortunately, the species rarely get on, with prejudice and judgment cast toward the fae.
The TV show follows a wide cast of characters in different parts of society, and the storyline of the first season was a sprawling one. So to help you prepare for the second season, we'll introduce you to the cast of characters, as well as the actors portraying them.
Orlando Bloom as Rycroft Philostrate
Rycroft Philostrate, known to his friends as 'Philo' and formerly as 'Inspector Philostrate' was a police inspector in season one, before being outed as half-fae. He's secretly the son of Absalom Breakspear, the Chancellor who died in season one, and a prophecy suggests he'll amount to great things.
As of the end of the first season, he embraced his fae heritage and decided to live in the newly ghetto-fied Carnival Row. He's in a relationship with Vignette, who he met when he was fighting in a war seven years before the show, though they didn't see each other between then and the events of season one.
Orlando Bloom is a huge star, and if you've seen a beloved fantasy series in the last 20 years, you've probably seen him. Playing Legolas in The Lord of the Rings and The Hobbit series, Will Turner in the Pirates of the Caribbean franchise and Paris in Troy, he's a bona fide movie star, with roles also in Black Hawk Down, The Three Musketeers and Kingdom of Heaven.
Cara Delevingne as Vignette Stonemoss
Vignette is a pixie, one of the many races of fae, who now lives in The Burgue working for the Black Raven to stop human oppression of fae.
She met Philo when he was fighting in a war in her homeland; in season one we saw her evacuate from there to The Burgue and learn to live in this squalid city, but now she's ready to take it back.
Cara Delevingne is big star with many blockbuster movies under her belt: Suicide Squad, Valerian and the City of a Thousand Planets, Paper Towns and Anna Karenina solidified her as a top actress, and recently her role in Only Murders in the Building has kept her in the spotlight.
Karla Crome as Tourmaline
Tourmaline is Vignette's ex and best friend, who used to be a poet in the fae land of Tirnanoc before fleeing to The Burgue, where she had to become a prostitute to get by.
While Tourmaline only had a supporting role in season one, acting as Vignette's confidant, the official plot synopsis for the second season promises her a much more involved story in the second season.
Karla Crome is as much a writer as an actress, with credits for TV mini series The Stranger, Safe and Hooten & the Lady. You may recognize her on screen from her lead role in seasons 4 and 5 of Misfits and a part in Under the Dome.
Simon McBurney as Runyon Millworthy
In season one of Carnival Row, Runyon Millworthy was a travelling performer who was consistently down on his luck, but at the end of the season he was promoted to teacher for Jonah Breakspear and then rapidly special advisor to the chancellor, a role which he retains for the second season.
Simon McBurney is a prolific and recognizable British actor. He's perhaps best known by certain audiences for voicing Kreacher in the Harry Potter movies but his long list of hit movies includes Tinker Tailer Soldier Spy, Wolfwalkers, The Theory of Everything, The Pale Blue Eye, Mission Impossible - Rogue Nation, Robin Hood (the Russell Crowe one), The Last King of Scotland, The Golden Compass, the remake of The Manchurian Candidate — the list goes on and on.
Arty Froushan as Jonah Breakspear
Jonah Breakspear is the son of The Burgue Chancellor Absolom Breakspear, and he's content to waltz through life without any cares or responsibilities — until is father dies at the end of the first season, making him the interim Chancellor.
A worried and anxious man, Jonah lets himself be controller by his rival and lover (and half-sister) Sophie Longerbane. Unlike many other politicans, he's shown to be sympathetic to the fae, though he still prioritizes his position over their wellbeing.
Prior to the first season of the show, Arty Froushan had few screen acting credits, but since then he's been in Knightfall, House of the Dragon as Ser Qarl Correy and The Persian Version which played at Sundance Film Festival in 2023.
Caroline Ford as Sophie Longerbane
Sophie Longerbane is the daughter of the leader of the opposition of The Burgue's Chancellor, but when he dies in season 1, she rockets to power by taking up his mantle. She's shown to be a smart schemer, even though her gender means she's not taken seriously by her peers — and she has to make up for that by playing into the racist beliefs of her party.
It's revealed in season one that she knows that her and Jonah share a father, but she's not letting that get in the way of her political career or... love life.
Caroline Ford is an actress with credits including Free Rein, Anti-Social, Nekrotonic and Once Upon a Time.
Tamzin Merchant as Imogen Spurnrose
Imogen is an upper-class woman living with her brother Ezra, though his poor business decisions mean they've almost fully squandered the inheritance they received from their parents.
She makes up for that in season one by playing with social fire by appearing to befriend rich faun neighbor Agreus — a plan which backfires when they actually do fall in love. The two run away at the end of the first season, after being confronted by an angry and violent Ezra.
Tamzin Merchant is perhaps best known for playing Catherine Howard in The Tudors, Georgiana Darcy in Pride & Prejudice or Mary Rivers in Jane Eyre but she's played non-historical figures too, with recurring roles in Salem and Supergirl.
Andrew Gower as Ezra Spurnrose
Ezra Spurnrose is a prim and proper upper-class man who keeps losing money with poor business decisions. When his sister falls in love with their faun neighbour, he drunkenly intervenes — but gets beaten in a fight by the duo, who escape. He's enraged, and by the time season two rolls around he's ready to pursue.
Gower is a recognizable TV actor, having played roles in Outlander, Being Human, Black Mirror, You, The Village and many more.
David Gyasi as Agreus
Agreus is a rich faun, which is a shocking thing in a city where fae are oppressed, but his huge wealth unlocks some doors for him. When his plan to exchange financial backing for social connections with the Spurnroses leads to an affair with Imogen, but conflict with Ezra, the two end up running away on his ship.
Gyasi has plenty of big movies under his belt: he had multiple roles in Cloud Atlas and was also in Interstellar, Annihilation, The Dark Knight Rises. In the realm of TV he's been in The A Word, The Bastard Son & The Devil Himself and voiced a character in The Sandman.
The second and final season of this Prime Video original lands on Friday February 17.
Get the What to Watch Newsletter
The latest updates, reviews and unmissable series to watch and more!
Streaming and Ecommerce Writer
Tom is the streaming and ecommerce writer at What to Watch, covering streaming services in the US and UK. His goal is to help you navigate the busy and confusing online video market, to help you find the TV, movies and sports that you're looking for without having to spend too much money.