Carnival Row season 2: release date, trailer, cast, plot and everything we know
Get ready for the final season of the Prime Video fantasy show.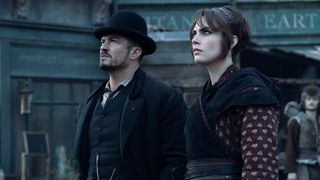 (Image credit: Prime Video)
After four years Carnival Row season 2 is finally on our screens, with episode 1 'Fight or Flight' and episode 2 'A New Dawn' now available to stream on Prime Video. Each Friday, another two episodes of the Orlando Bloom and Cara Delevingne fantasy TV show will air.
Set in a Victorian-esque steampunk world where various mythological creatures live side-by-side with humans, Carnival Row follows various characters as they contend with dark magics, political power struggles and romances. It's a complex show with plenty of different characters, and we've got a guide to the Carnival Row season 2 cast here if you need help, as well as a recap of episode 1.
This second and final season of the show, which suffered from a delayed release due to Covid-19, will have to wrap up the fate of The Burgue, the fae and Carnival Row itself in just 10 episodes.
Though the first season only received a 57% critic score on Rotten Tomatoes, its 88% audience score shows that it has a legion of keen fans, thanks to its intricate world, well-crafted characters and social messages. So here's everything we know so far about Carnival Row season 2.
Carnival Row season 2 release date
The first two episodes of Carnival Row season 2 release on Friday, February 17.
There are 10 episodes in the season, and two will release each week for five weeks. So you'll have to wait until March 17 if you want to binge the whole show.
Carnival Row season 2 trailer
At the beginning of January 2023, Prime Video shared the official trailer for Carnival Row season 2. It features many recurring characters from the first season, clues toward the plot of the second season, and plenty of action.
In November 2022, Amazon also showed a brief teaser trailer, which showed Philostrate and Stonemoss kissing in the sky, before she drops him over the city of The Burge. You can watch that by clicking here (opens in new tab).
Carnival Row season 2 cast
Many recurring characters from Carnival Row season 1 are returning for the second season, including the following:
Cara Delevingne as Vignette Stonemoss
Orlando Bloom as Inspector Rycroft Philostrate
David Gyasi as Agreus Astrayon
Tamzin Merchant as Imogen Spurnrose
Simon McBurney as Runyon Millworthy
Karla Crome as Tourmaline Larou
Arty Froushan as Jonah Breakspear
Caroline Ford as Sophie Longerbane
Without wanting to spoil anything, several main characters from the first season won't be returning for the second season.
A few actors have been cast as new characters for the second season including Jay Ali as Kaine and Joanne Whalley as Leonora.
Carnival Row season 2 plot
A few details of the Carnival Row season 2 plot have been confirmed, though details are quite light.
After leaving the police force in season 1, Inspector Philostrate is brought on board to help out with another series of murder cases that could be linked to Vignette. She's now handing out justice for the human oppression of fairy folk in the first season, with a jolly bit of guerilla warfare.
We also follow season 1 characters like Burgue leaders Jonah Breakspear and Sophie Longerbane as they doing said oppression, eloping cross-species lovers Imogen Spurnrose and Agreus Astrayon as they flee the Burgue, and fairy Tourmaline as she contends with some supernatural powers which she inherits.
As per the trailer, we also know that there will be heavy doses of supernatural creatures, big battles and some healthy romance between our two leads. One shot from the trailer shows Pact airships flying over The Burgue, suggesting a human war is afoot.
How to watch Carnival Row season 2
Carnival Row is an Prime Video original series, so it is available exclusively to watch on the streaming platform. You must be a subscriber to watch. The good news is that in addition to the shows like The Marvelous Mrs. Maisel, Jack Ryan, The Boys and more, signing up for Prime Video gives you access to all Amazon Prime subscription perks, including shopping and shipping discounts.
Carnival Row season 1 recap
Since it's been almost four years since Carnival Row first debuted, you'd be forgiven for forgetting half of what actually happened. Don't worry, we're here to help.
Obviously, spoilers for Carnival Row season 1 follow.
The world of Carnival Row is one in which humans live side-by-side with the fae (a collective name for mythological folk) like fairies, centaurs, fauns and more.
Carnival Row's first season almost exclusively took place in the city of The Burgue, a human-run town and the center of a burgeoning empire.
Seven years before the events of the show, The Burgue tried to invade Tirnanoc, the homeland of the fae. After a failed war the empire fled, but this power struggle let The Pact (a different alliance of humans) take over, and so most of the fae fled to The Burgue, where they're treated like second-class citizens to humans. Carnival Row is a street in The Burgue that's where most of the fae live.
Many other places are mentioned including the continents of Ignota (another fae land even further away than Tirnanoc) and Mesogea (where humans all live), and the cities of Quivira and Cibola (the home of The Pact).
The Pact, the rival empire of The Burgue, are shown to be technologically advanced, with rudimentary airships, gatling guns, bombs and rocket launchers, which is how they take over Tirnanoc and drive out The Burgue. They're also shown to infect their own soldiers with lycanthropy.
One of our main characters is Inspector Rycroft Philostrate (Orlando Bloom), a human-passing police inspector who is a veteran of the war. He's investigating a series of murders which are tied to his past — through this he learns the identity of his real mother and father, however the police force find out that he is part fae and ostracize him.
Our other lead is Vignette Stonemoss (Cara Delevingne), a fairy who had to flee Tirnanoc. She initially works as a servant to the Spurnroses but quickly joins the Black Raven, a criminal group fighting for fae rights.
During the war, these two characters eloped, but Rycroft faked his death to protect Vignette. She only discovers he's alive seven years later, during the TV show, when she arrives at The Burgue, and lots of the first season followed them processing their feelings for each other.
While those events progress we also follow siblings Imogen and Ezra Spurnrose (Tamzin Merchant and Andrew Gower), from one of The Burgue's high classes but who have struggled financially since the death of their father. Their lifestyle is upended when a faun, Agreus Astrayon (David Gyasi) moves in next door, and Imogen hatches a plan to help him gain a foothold in society if he supports Ezra's next business venture.
Another side plot follows the chancellor of the city Absalom Breakspear (Jared Harris) as well as his son Jonah (Arty Froushan) and wife Piety (Indira Varma). Piety stages a kidnapping of Jonah and places the blame on Absalom's political rival Ritter Longerbane (Ronan Vibert), but when her plan successfully sees Ritter killed for this perceived act, his daughter Sophie (Caroline Ford) takes his place as an even fiercer political rival.
Other important characters whose stories continue in season 2 are Runyon Millworthy (Simon McBurney), who plays a traveling human entertainer who has knowledge on Philostrate's past and later becomes a teacher for Jonah, and Tourmaline (Karla Crome), who used to be poet laureate for the fae people but is now working as a prostitute and Vignette's close friend and ex-lover.
Throughout the season, we learn that the murders were orchestrated by Piety to discover Philostrate's identity, and by following the case, he learns more about his family.
A prophecy tells that Absalom's son will be a great man. While this initially seems to be Jonah, we learn two things: firstly, that Rycroft is actually Absalom's illegitimate son, and secondly, that Jonah isn't actually his son (Piety had an affair with Ritter, apparently high society is full of affairs). Piety finds out about her husband's infidelity and wants to remove this threat to her political power.
Absalom is killed at the hands of a faun, who's part of a cult of fae who are rebelling against The Burgue's treatment of them (a separate group than Vignette's Black Raven though). Shortly after Piety is killed, when she tries to use a mythical creature to kill Rycroft, but Vignette gets the jump on her.
Following this Jonah agrees to work with Sophie to rule the city in their stead. While she personally supports the fae, her father didn't, and she decides the smart course of action is to continue to cater to his supporters.
Despite being shown to take no interest in his studies or future, Jonah takes over the mantle of chancellor, though largely as a puppet for Sophie, but he makes Runyon his chief advisor.
A twist at the end of the season revealed that the ransom note sent to Piety, which alerted her to the existence of Rycroft and began the events of the film, was actually written by Sophie Longerbane. Jonah works this out, but sides with her anyway.
When Imogen and Agreus begin a love affair, Ezra tries to kill Agreus, who fights back and strikes the human. Knowing the consequences of this action, the two lovers flee on one of Agreus' boats to find somewhere new to live. A wounded Ezra pledges to pursue them.
The series ends with Sophie and Jonah creating a ghetto for the Fae folk, which sparks racial tensions that have been growing through the season. After finding out about his past and surviving Piety's plot, Rycroft decides to join Vignette in the ghetto and embrace his identity rather than continue to pretend to be a human.
How to watch Carnival Row season 1
If you'd rather watch the first season of Carnival Row (which we'd recommend, as it's great, and the story will make more sense than in our condensed version), it's easy to do.
If you have Amazon Prime, you can find the show on Prime Video very easily. But if not, Prime Video has been sharing some of the episodes on its YouTube channel, which you can find here (opens in new tab).
Get the What to Watch Newsletter
The latest updates, reviews and unmissable series to watch and more!
Streaming and Ecommerce Writer
Tom is the streaming and ecommerce writer at What to Watch, covering streaming services in the US and UK. His goal is to help you navigate the busy and confusing online video market, to help you find the TV, movies and sports that you're looking for without having to spend too much money.