Peter Crouch and Maya Jama on hosting their fun-filled Euros afterparty 'Crouchy's Year Late Euros: Live'
Ex England player Peter Crouch joins DJ Maya Jama and Alex Horne to help fans celebrate football glory at Euro 2020 or mop up the tears.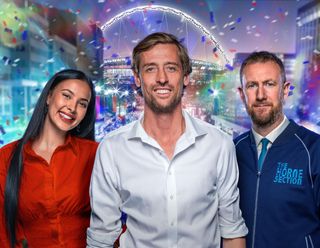 (Image credit: BBC)
Peter Crouch is excited and ready to party! There's a feast of football on the way with Euro 2020 kicking off on Friday June 11 – but the action doesn't finish after the final whistle blows in each match. Former England striker Peter and radio presenter Maya Jama will be providing some extra-time fun after the tournament's biggest matches with BBC1's new 10-part entertainment series Crouchy's Year Late Euros: Live that sees the pair reviewing the action, playing games and welcoming some big-name celebrity guests.
There'll also be plenty of live music courtesy of house band Alex Horne & The Horne Section as the hosts also catch up with the biggest footballing stars from England, Scotland and Wales. Each episode of Crouchy's Year Late Euros is broadcast live and just a stone's throw from Wembley Stadium, where the new champions of Europe will be crowned on July 11.
Here, Peter Crouch and Maya Jama tell us much more about Crouchy's Year Late Euros: Live, plus we give you a rolling episode guide to each show — the matches they follow and their guests joining them for the fun...
Peter Crouch on what we can expect from Crouchy's Year Late Euros: Live...
Peter Crouch says: 'We're basically having a little festival after some of the matches. We'll have great guests, fun games, and great music. I'll also be doing a few away days with some of the British players, including Mason Mount, Jack Grealish and Gareth Bale, which were lots of fun to film I can tell you.'
Maya Jama on looking forward to watching the matches with Peter Crouch...
Maya says: 'We're all looking forward to it because we've been waiting for a whole year. I feel like we need this at the moment and everybody is so excited about the football being there. The studio is literally just outside Wembley as well, so we'll be able to soak up the atmosphere. We don't know if we'll be allowed a live audience yet, but fingers crossed.'
Peter Crouch on the show's special guests...
Peter says: 'We're keeping most of them a surprise, but anyone who's anyone is going to want to be on this show. I get to go ten-pin bowling with Jack Grealish (this can be seen in the first episode) and clay pigeon shooting with Mason Mount, plus I play pool with Scott McTominay and have a round of golf with Gareth Bale – he's very good! They're all really great lads and they could all become national treasures this summer.'
Maya Jama on what Alex Horne & The Horne Section have in store for us...
Maya says: 'They're our house band, so they do whatever we like and play whatever song we like. They are super funny, so I'm sure there'll be twists on some classic songs, depending on how the games go. I'm going to see if they can learn some rap music as well.'
Maya Jama on getting viewers at home involved...
Maya Jama says: 'We want people to tweet in constantly, just as they did with Save Our Summer last year. We're also doing a section called Pop up Opinion, where guests, bands – and hopefully some players – give their opinions on games they've just watched.'
What Peter Crouch will do if England win the tournament...
Peter laughs: 'You'll be seeing me do the robot dance, that's for sure!' referring to the strange dance he often used to do to celebrate a goal back in his playing days. Take a look at a compilation of Peter doing 'The Robot' below...
How to watch Peter Crouch and Maya Jama in Crouchy's Year Late Euros: Live
Join Peter and Maya for Crouchy's Year Late Euros: Live on BBC1 from Friday June 11 at 10.55pm, right after the end of first match of Euro 2020 which is Italy v Turkey (shown live on BBC1, kick off 8pm). Coverage of Euro 2020 matches in the UK will be on both BBC1 and ITV, while in the US all 51 games can be seen on ESPN and ABC. Here's our handy guide Euro 2020: How to watch the European Football Championship Online.
Crouchy's Year Late Euros: Live episode guide
Here's our episode guide to Crouchy's Year Late Euros: Live which we'll update with as information as we can when we discover what's happening in each show of the 10-part series...
Episode One: Friday June 11, 10.55pm
This first show follows the tournament's opening game in Rome between Italy and Turkey on Friday evening. Peter, Maya and Alex will be joined by former Arsenal and England Captain Tony Adams, comedian and presenter Rob Beckett, and Welsh singing superstar Katherine Jenkins as they look back at the game and delve into the biggest moments and turning points of the match. They'll also look ahead to the Wales v Switzerland game on Saturday and discuss predications. You can also have a laugh at the time Crouchy caught up with England star Jack Grealish, when he travelled to Birmingham for a game of ten pin bowling. The pair discuss the past season, and what they're looking forward to in the upcoming tournament. Jack reveals his pre match rituals and together they discuss the team dynamic amongst the players. Plus Peter meets France legend Thierry Henry, as they discuss their earliest memories of the European championships, and their stand out moments from across the years. Also on the show, guests reveal who they received in 'Crouchy's Golden Sweepstake'. The winner will receive a trophy and an item of Peter Crouch's memorabilia, which they will raffle or donate for a charity of their choice. In tonight's show they'll be joined by dancer Amy Dowden and Radio 1 DJs Rickie and Melvin, who are doing the sweepstake. Plus Alex Horne and The Horne Section will be closing the show with a live musical performance.
Episode Two: Sunday June 13, 10.30pm
Will Crouchy, Maya and the gang be celebrating or drowning sorrows in this show which comes after the England v Croatia match at Wembley in the afternoon? Guests helping them dissect the game in this afterparty are former player Jermaine Jenas and comedian Iain Stirling.
Episode Three: Friday June 18, 10.45pm
With the big home nation battle between England and Scotland having been decided earlier in the evening at Wembley (kick off 8pm), Peter will be looking back at what happened on the pitch. Can he keep it light-hearted? The Wales match against Turkey would have been two days before on Wednesday so that should get a mention too. Guests have yet to be announced.
Episode Four: Wednesday June 23, 10.45pm
This time the show goes out after the last group match for Germany against Hungary, and Portugal v France. We expect Peter will probably be looking back at the last group games for the home nations the night before, with England having taken on Czech Republic, and Scotland having faced Croatia. Wales will have also played its last match against Italy in Rome on the Sunday. Guests have yet to be announced.
Episodes Five To Ten...
We shall update as soon as we have information.
Get the latest updates, reviews and unmissable series to watch and more!
Thank you for signing up to Whattowatch. You will receive a verification email shortly.
There was a problem. Please refresh the page and try again.