Sophie Rundle on the perks of filming The Diplomat in Barcelona
Sophie Rundle plays Barcelona's British consul in sun-kissed Alibi crime drama The Diplomat.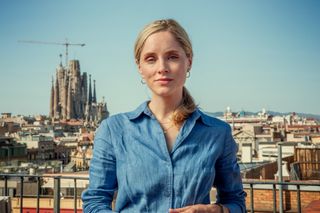 (Image credit: UKTV)
In Alibi's new crime drama The Diplomat, Gentleman Jack and Peaky Blinders actress Sophie Rundle stars as Laura Simmonds, the Barcelona-based British consul of the title whose job involves helping tourists and ex-pats who are in trouble.
We caught up with Sophie on set to find out more...
Your character Laura is the British consul in Barcelona. What does that entail?
Sophie says: "She basically looks after any distressed British national, or 'DBN'. So anyone from the UK who comes over to Barcelona and finds themselves in a pickle, from a lost passport to something more serious. She's the person who oversees things, dealing with the police and the public. The job leads her and her team into all sorts of different scenarios, so it's a really good idea for a TV show!"
What's Laura like?
"Often, to warrant having a young female protagonist in a TV series, there has to be something quirky about her — for instance, she's got to be unhinged or quite masculine. Laura's not like that — she's a very competent, efficient young woman who's good at her job, a safe pair of hands, and fun!"
So it's a bit of a change of pace from your work on Peaky Blinders and Gentlemen Jack!
"Absolutely! Coming off the back of those last two jobs, where one character was really damaged, and the other impossibly cool, you do get quite nervous that you're just being very normal. This is the closest to myself that I've ever played. I know women like Laura, and I went to school with girls like her!"
What can you tell us about Laura's consulate colleagues?
"Laura, her deputy Alba [Serena Manteghi] and assistant Carl [Dylan Brady] are quite cheeky and naughty with each other and have a really nice working relationship. That brings a lot of warmth, humour and levity to the show."
The Consulate gets a new boss, Sam Henderson (Steven Cree), in episode one. How does that pan out?
"Yes, Sam is the new Consul General. He's different from the sort of person they would expect to be in that role and immediately rubs Laura up the wrong way. Then you start to see that real doggedness in her, which riles Sam! So, it's not a happy mix, but maybe things aren't quite what they seem…"
The bereaved father, Colin, thinks there's more to his son's death than meets the eye. How does Laura deal with that?
"She has a lot of compassion and empathy, which is why she's good at her job. Colin's tenacity and determination make her start to think: 'Actually, maybe something isn't quite right'. So she keeps pulling at that thread, and that gets her into hot water!"
Barcelona is a beautiful location. Have you had the chance to do much exploring?
"Not in the way I had imagined! I'd pictured myself hanging out in glamorous tapas bars late at night but, as I have my one-year-old son with me, we've been to the zoo, the aquarium, and off to the seaside every weekend!"
Had you been to Barcelona before, and how important is it as a backdrop to the show?
"I came when I was 15, just for a day – so not really! In The Diplomat, we're saying: 'Come and explore Barcelona, and see what it would be like to be on holiday, or to live and work here!' It's not a rose-tinted travel advert, as it does show the city's slightly shadier side too. But Barcelona is also historic, beautiful and fascinating, and that's to be celebrated!"
Where can I watch The Diplomat?
The Diplomat airs on Alibi on Tuesday, February 28 at 9 pm and will be available on UKTV Play.
Get the What to Watch Newsletter
The latest updates, reviews and unmissable series to watch and more!
Ian writes about TV and film for TV Times, What's on TV and TV & Satellite Week magazines. He co-hosts the weekly TV streaming podcast, Bingewatch.