'The Gilded Age' — cast, release date, trailer, first look pictures, filming news and all about Julian Fellowes' lavish costume drama
The Gilded Age is set 30 years before Downton Abbey begins but it isn't a prequel...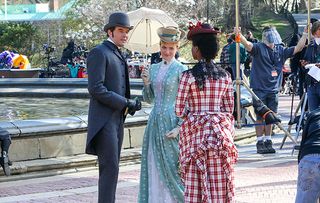 (Image credit: Getty)
Hang on to your corsets, monocles and britches, The Gilded Age is coming! If anyone can rustle up a good period drama it's Julian Fellowes, creator of the Downton Abbey TV series and movie franchise. Now it looks like he could hit the jackpot again with his new series The Gilded Age, following the high society movers and shakers of 1880s New York. 
Here's everything you need to know about nine-part costume drama The Gilded Age that will be arriving on HBO and likely to be shown on Sky Atlantic in the UK in 2022...
The Gilded Age plot and what happens
Julian Fellowes latest period drama The Gilded Age is set in and around New York during the 1880s. The title refers to this time of prosperity in the United States thanks to the industrial boom, and the show will follow the comings and goings of the upper echelons of New York's high society during that time.  
The story begins in 1882, introducing us to young Marian Brook, the orphaned daughter of a Union general who moves into the New York City home of her thoroughly old-money aunts Agnes van Rhijn and Ada Brook. Accompanied by Peggy Scott, an accomplished African-American woman, Marian inadvertently becomes caught up in a social war between one of her aunts, a scion of the old-money set, and her stupendously rich neighbors, the ruthless railroad tycoon and his ambitious wife, George and Bertha Russell, plus their son Larry. 
Keen for his many fans to invest in the characters, Julian Fellowes is quick to point out that The Gilded Age is not a prequel to Downton Abbey, in which events started in 1912 with news of the Titanic's sinking.
 "In fact, The Gilded Age is about a period much earlier than Downton Abbey," says Julian. "It's 1880s New York and its various types and things that were going on there."
The Gilded Age release date
The release date for The Gilded Age on HBO is still under wraps as it's still early days, with filming just underway in New York. We're expecting the nine-part drama to be launching some time in 2022 however both on HBO in the US and Sky Atlantic in the UK. We'll be sure to post when we get any news.
The Gilded Age locations
See our first look picture of The GIlded Age the crew around the Bethesda Fountain, plus some instagram pictures and videos of filming (all above).
Filming of the series initially began in February in Rhode Island at the mansions Chateau-sur-Mer, The Elms, and The Breakers. It then moved to New York, filming at the Lyndhurst Mansion in Tarrytown, as well as around the city, including on Fifth Avenue in the lower 70s and in Central Park at Bethesda Terrace (see our first look main picture).
Filming also took place in Troy for a few weeks between Second and Third Street around its ornamental Washington Park. This is one of two private residential parks in the state (the other being Gramercy Park). Both parks have homeowners living next to the parks as caretakers who have the keys to unlock the park gates. The area's architecture is perfect for depicting Manhattan in the 19th century. Set designers also helped transform the Washington Park and Monument Square areas into 1880s style, with building facades, elaborate storefronts, fake cobblestone, plus plenty of horse-drawn carriages. See the Instagram picture and video (above) posted by Caitlin Horgan and her husband Maxwell Woolley who own the Green House Mansion and who witnessed much of the filming in the Troy area.
Filming of The Gilded Age was originally due to take place last year but the coronavirus outbreak scuppered plans. A casting company posted a notice in The Times Union looking for extras. Producers are looking for women with long hair who are happy to wear corsets and bustles as well as men with facial hair and children to portray roles in the 1880s.
The Gilded Age cast...
The Gilded Age boasts a stellar cast and leading the way is newcomer Louisa Jacobson (Meryl Streep's daughter) who plays Marian Brook, the young heroine from an old Pennsylvania family. Cynthia Nixon, known to many as Miranda in Sex and the City, will play Marian's aunt Ada Brook while Mamma Mia! And Chicago star Christine Baranski is Marian's other aunt Agnes van Rhijn. 
Kelli O'Hara (The King & I) is playing Aurora Fane, who is Agnes van Rhijn's niece by marriage and who takes Marian under her wing. Among Marian's possible suitors is Agnes' son Oscar Van Rhijn, played by Indian Summers star Blake Ritson. Another gentleman on the scene is Tom Raikes (The 100 star Thomas Cocquerel), a sensible young lawyer.
Denée Benton (Hamilton) plays Peggy Scott, Marian's African American friend and an ambitious writer. John Douglas Thompson is her father, Arthur Scott, a freed slave and successful businessman, while six-time Tony winner Audra McDonald is her mother Dorothy.
Carrie Coon (The Leftovers) plays middle-class-born Bertha Russell, and Morgan Spector (Homeland) is her robber-baron husband, George Russell. Taissa Farmiga (American Horror Story) plays their daughter Gladys, and Harry Richardson (of Poldark fame) is son Larry. Patrick Page (Hadestown) is George's secretary Richard Clay.
Amy Forsyth (The Path) plays Caroline 'Carrie' Astor, the daughter of one of the most powerful women in New York, while Hollywood star Nathan Lane (Mouse Hunt) is Ward McAllister who is Mrs Astor's Confidant and gatekeeper of her social circle.
Also look out for Jeanne Tripplehorn (Big Love) as Sylvia Chamberlain, a tall, beautiful enigmatic figure in society. Bill Irwin (Rachel Getting Married) portrays Cornelius Eckhard, Ada's a former beau from her days in Pennsylvania, who may still hold a flame for her. 
Just like in Downton Abbey, there are plenty of 'below stairs' characters too. In the Van Rhijn household this includes Simon Jones (The Hitchhiker's Guide to the Galaxy) as butler Bannister, Debra Monk (Redwood Curtain) as lady's maid Armstrong, and Kristine Nielsen as the cook Mrs Bauer. 
Meanwhile, the Russells' household staff include Jack Gilpin (Billions) as the butler Church, Celia Keenan-Bolger playing housekeeper Mrs Bruce, and Douglas Sills is French chef Monsieur Baudin. Michael Cerveris (Assassins) is the valet Watson, and Kelley Curran (The Blacklist) is Turner, the lady's maid. 
Ada's house has Taylor Richardson (All Together Now) as her maid Bridget, and Ben Ahlers (When the Street Lights Go On) is Jack Treacher, the footman.
The Gilded Age creator Julian Fellowes…
Aside from the multiple award-winning ITV series Downton Abbey, Julian Fellowes has got serious credentials when it comes to writing. The former actor penned the film Gosford Park which won the Academy Award for Best Original Screenplay in 2002. He's also written Belgravia, Young Victoria, The English Game and he co-wrote The Tourist, starring Johnny Depp and Angelina Jolie, which raked in $278 million worldwide. Julian has also acted in several films and TV series, including Our Friends in the North, Tomorrow Never Dies and Monarch of the Glen.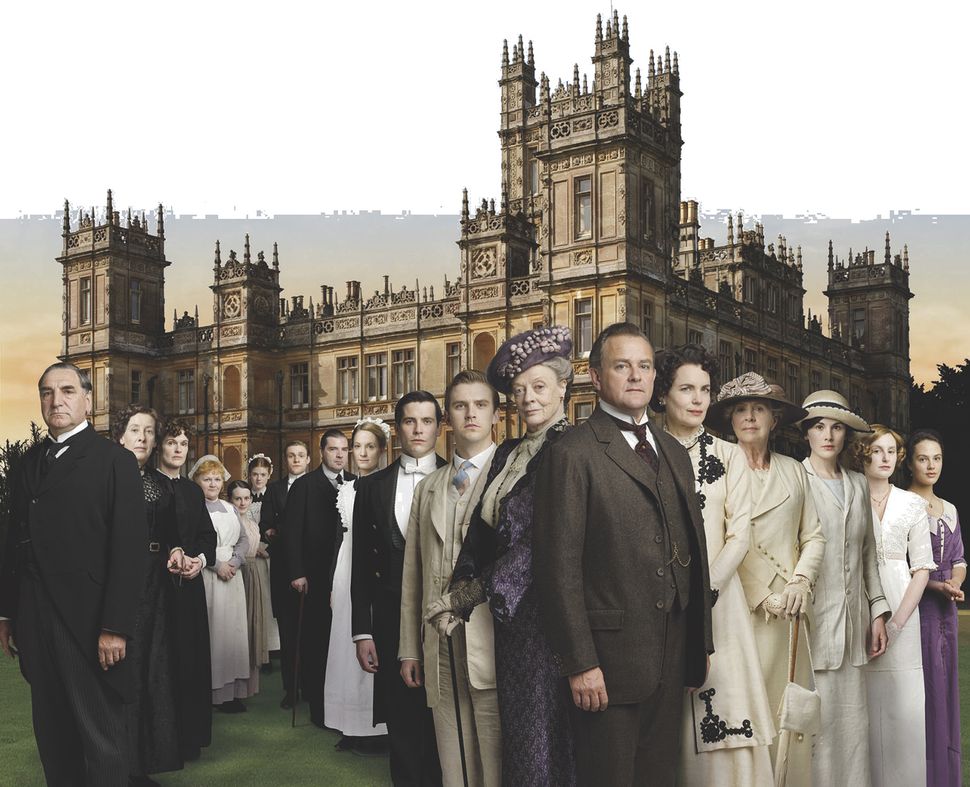 Julian Fellowes on the movers and shakers of 1880s New York, when The Gilded Age is set…
"These people were extraordinary," explains Julian Fellowes of The Gilded Age. "You can see why they frightened the old guard, because they saw no boundaries. They wanted to build a palace, they built a palace. They wanted to buy a yacht, they bought a yacht. The old guard in New York weren't like that at all, and suddenly this whirlwind of couture descended on their heads. The newcomers redesigned being rich. They created a rich culture that we still have today."
Is there a trailer for The Gilded Age?
As filming of The Gilded Age has only recently started a trailer is quite a way off! We'll definitely be posting as soon as it arrives, however.
Get the latest updates, reviews and unmissable series to watch and more!
Thank you for signing up to Whattowatch. You will receive a verification email shortly.
There was a problem. Please refresh the page and try again.