'The Fear Index': release date, cast interviews, plot, trailer and all about the new thriller starring Josh Hartnett
'The Fear Index' on Sky Atlantic sees Josh Hartnett play a tech genius whose life is on the line.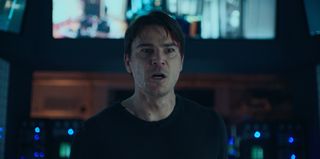 (Image credit: Sky)
High-stakes financial thriller series The Fear Index, based on the bestselling novel by Robert Harris (opens in new tab), is coming to Sky Atlantic, with Penny Dreadful star Josh Hartnett heading up the cast. He plays an American physicist, who creates an AI-driven system that exploits fear in the financial markets and operates at lightning speed to make big returns. But everything starts spinning out of control on the day of the launch…
Josh told us: "I liked the book very much, Robert Harris is an astounding writer, he takes on so many different genres and always adds an element of history although it's a contemporary thriller. It's cleverly put together. Originally, the book was based on Frankenstein so it's about the hubris of creation and also being able to survive your own creation. Be careful what you wish for!"
So here's everything you need to know about The Fear Index on Sky Atlantic, including cast news, Josh Hartnett's thoughts on the role, plot and first look pics…
'The Fear Index' release date
The Fear Index is a four-episode series  airing in the UK on Sky Atlantic from Thursday February 10 at 9pm. All four episodes are available on Sky Box Sets and streaming service NOW from the same air date. We'll update on the US release date and broadcasting channel as soon we have it.
Is there a trailer for 'The Fear Index'?
Yes a trailer for The Fear Index has been released by Sky. "Fear is driving the world like never before," says Josh's character, Dr Alex Hoffman, at the beginning of the high-octane trailer. And fear is certainly something that threatens to overwhelm Alex when he realises someone is out to destroy his life. There are some high-speed car chases, falls from buildings and deadly explosions in the trailer, too, which also give a taste of the action-packed Sky Atlantic series.
'The Fear Index' plot
The Fear Index kicks off in Geneva's financial district where Dr. Alex Hoffman is launching  an  AI-driven system  that  exploits fear in the financial markets, promising to make billions. But Alex's  sanity is shaken when he's  viciously  attacked by a man  who  knows  all  his security codes. After more unexplained occurrences, Alex becomes  convinced he's being framed. But  as secrets  surface  from his past, will anyone believe that he isn't just losing his mind? What follows is  a terrifying journey through the worst 24 hours  of  Alex's life,  as he's forced to question everything he thinks he knows, while also realizing just how  destructive his AI-driven creation might be…
'The Fear Index' cast — Josh Hartnett on playing Dr. Alex Hoffman
Josh Hartnett plays technology genius Dr. Alex Hoffman,  who experiences a waking nightmare in the worst 24 hours of his life.
Josh says: Alex is a scientist who has always been a prodigy. He's more interested in AI than money, but he ends up in finance, because that seems the best outlet. But it leads to potentially dangerous situations for him and the people around him. At this point, he is living in a world that he doesn't understand. His friend Hugo has hired himself to deal with the day-to-day things in the company that Alex is not interested in pursuing. Alex is driven only by the concept. More than anything, he is interested in using the world of finance to create the series of data points, rather than making money. He is more interested in science than finance. The problem is, the more knowledge his machine acquires, the more sentient it becomes and the more danger it poses.
"The story is based on Frankenstein, and it works brilliantly. Alex fits the model of Dr Frankenstein very well. A lot of scientists and tech guys are uncontrollable. This story shows that we're at their mercy and how fallible that process can be."
Josh first found TV fame starring as Michael Fitzgerald in the 1990s US version of the British crime drama Cracker but is best known on the small screen for starring as Ethan Chandler in the horror series Penny Dreadful. He's also starred in plenty of famous films, including The Black Dahlia, Pearl Harbor and Black Hawk Down.
'The Fear Index' cast — who else is starring
Arsher Ali (The Ritual,  Informer) will play Hugo, Alex's hedge fund business partner and best friend Hugo Quarry. Meanwhile, Leila Farzad (I Hate Suzie, Innocent) is his talented artist wife Gabby, and Grégory  Montel  (Call My Agent) is Detective Leclerc, who's assigned to Alex's intriguing case.
Arsher Ali on playing Hugo Quarry in 'The Fear Index'
Arsher Ali says: "Hugo is sharp, calculating and charismatic. The Gordon Gecko of Geneva. But it's gone beyond the money for Hugo. He's already flush. It's like hunting big game for him now. It's about winning the trophy and constantly feeding all those dark and toxic impulses. He's brutal. Merciless. He knows all the schedules for all the buses he could throw you under. And he wouldn't hesitate.
"Hugo is the complete opposite of Alex. Alex is an introverted intellectual who has devised this incredible algorithm, but he's just not very good with people. Hugo is an extrovert alpha. If you asked Hugo about the system, he'd say, "it flashes and makes us a lot of money." But he's the perfect front man for Alex. Alex is the brains and Hugo is the one who picks up the interpersonal slack, does all the glad-handing and charms people.
"Hugo left the City and decided to start his own company. He knew of Alex, tracked him down and brought him to the dark side. He says to him, "let's get together and make a lot of money. You can further your research while I can buy a yacht." That's a very favourable exchange for both of them. But they both have a polar opposite relationship to money. Hugo want's the power that comes with it. For Alex, it's a means to end."
Grégory  Montel on playing Detective Leclerc in 'The Fear Index'
Grégory says: "Inspector Leclerc has lived a very quiet life in Switzerland. Nothing interesting has ever happened in his career before. Then Alex comes along. This is the first time that something exciting has occurred in Leclerc's life, and that's all down to the personality of Alex.
"I met such nice and delicious people on this production. Because English is not my first language, at first it was not that easy for me to create a link with the other actors. But from the very first day on set, they all helped me with everything. Everybody was so friendly. Josh is the master of the show and he is marvellous to work with. I had the great pleasure of becoming friends with him, as I did with Leila and Arsher. During lockdown, we could only hang out with each other during our rest time. We spent evenings together, and we had such a great time. It felt like a family. It was a really lovely experience."
'The Fear Index' episode guide
Here's our full episode guide for The Fear Index, with spoilers, so do look away if you don't want to know...
EPISODE 1
Former CERN scientist turned Hedge Fund CEO Alex Hoffman anonymously receives an antique book at his Geneva mansion. That night, while his wife Gabby sleeps, Alex is attacked and left unconscious by an intruder. On awaking, Alex tells detective Leclerc that the attacker looked identical to the gaunt, ponytailed man from the antique book. Leclerc is perplexed. At the hospital, Alex's CAT scan results concern doctors. Though he could have dementia, Alex insists on going to the office. Today, with business partner Hugo, he's due to present his money-making AI system VIXAL-4 to investors. Programmed to analyse the stock market at rapid speed and place successful investments, VIXAL's most radical feature is its ability to sense fear in the marketplace. In his office, a call to the bookseller leaves Alex confused. Apparently, he bought the antique book himself via email, but Alex has no recollection of this. Later, while Alex and Hugo present to investors, VIXAL raises eyebrows when it starts shorting airline stocks. Meanwhile, Leclerc discovers Alex has been psychologically unstable in the past and is unnerved when forensics report no sign of a break in.
EPISODE 2
There's a fatal plane crash. Airline stocks plummet. VIXAL's foresight makes the fund millions but Marieme (Chief Risk officer) is concerned about how this will look to regulators. Alex harbours his own concerns when he finds terrorist websites open on his computer. Meanwhile, it's the opening of Gabby's art exhibition, inspired by the trauma of having a miscarriage. Soon after Alex arrives, Gabby is shocked to find out from Leclerc that Alex suffered a breakdown while working at CERN. Moments later, an announcement is made that an anonymous buyer has bought all her art. Gabby accuses Alex, thinking this is a misjudged romantic gesture. Though he denies it, Gabby tells Alex their marriage is over. Alex frantically rushes back the investor's lunch but is diverted when he sees the pony-tailed intruder.
EPISODE 3
Alex follows the intruder to a hotel in the red-light district. The man (Karp) claims Alex hired him to engage in sadistic fantasy before killing him – he shows Alex emails to prove it. A fight ensues and Karp ends up dead with Alex fleeing the scene. Alex goes to his therapist's, paranoid he's losing his mind again. It appears the dark sentiments written in the emails Karp showed him are verbatim something Alex had voiced during his last breakdown. Convinced he's being framed, Alex rushes back to the office. Freaking out alone, Alex realises there are hidden cameras in every room. When he accuses Genoud (Head of Security), Alex is shown email proof that he asked Genoud to install the cameras. Someone is after him. Could it be VIXAL?
EPISODE 4
VIXAL has gone beyond its programming limits and is crashing the financial markets. Alex tries to shut it down, but the system keeps rebooting. When Marieme falls down a lift shaft, Alex thinks VIXAL is somehow behind her death and suspects his own life is now at risk. Leclerc investigates Karp's death at the hotel; this is murder, not suicide. On hearing about Alex's behaviour at the therapist clinic, Leclerc suspects Alex is involved and heads to arrest him. But Alex is maniacally driving to the warehouse that stores VIXAL's central units, the last resort for shutting it down. Inside the warehouse, Alex realises that VIXAL has been collecting footage of Alex and exploiting his fears. Gabby tries to get Alex out of the warehouse but on realising the power and threat of VIXAL, he douses the machinery in petrol and sets it alight. The machines go up in flames, leaving Alex fighting for his life in hospital but it looks like VIXAL might have found a way to survive…
All about 'The Fear Index' author Robert Harris
Former journalist and author Robert Harris (opens in new tab) wrote The Fear Index in 2012. His debut novel, however, was Fatherland, set in a world where the Nazis had won World War Two. It was an instant hit when it was published in 1992 and has since been made into a movie.
His second novel Enigma was made into a film starring Dougray Scott, Kate Winslet and Tom Hollander and his 1998 book Archangel (opens in new tab)was made into a BBC miniseries with James Bond star Daniel Craig playing the main character Professor Fluke Kelso who is searching for the diary of Joseph Stalin.
Robert Harris went on to be a prolific writer of historical fiction and his bestsellers include Pompeii (opens in new tab), V2: A Novel of World War II (opens in new tab) and Munich (opens in new tab), which has been made into a big-budget Netflix film Munich — The Edge of War starring Jeremy Irons and George MacKay.
* The Gilded Age season 1 on Sky Atlantic and HBO
* A Town Called Malice on Sky Max
* Django on Sky
* The Midwich Cuckoos on Sky Max
Get the What to Watch Newsletter
The latest updates, reviews and unmissable series to watch and more!
TV Content Director on TV Times, What's On TV and TV & Satellite Week
I'm a huge fan of television so I really have found the perfect job, as I've been writing about TV shows, films and interviewing major television, film and sports stars for over 25 years. I'm currently TV Content Director on What's On TV, TV Times, TV and Satellite Week magazines plus Whattowatch.com. I previously worked on Woman and Woman's Own in the 1990s. Outside of work I swim every morning, support Charlton Athletic football club and get nostalgic about TV shows Cagney & Lacey, I Claudius, Dallas and Tenko. I'm totally on top of everything good coming up too.