The Glory season 2 cast: who's in the Korean Netflix thriller
Meet the stars that make up The Glory Part 2 cast.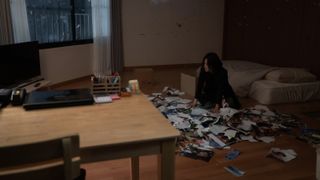 (Image credit: Graphyoda/Netflix)
The Glory season 2 sees the popular Korean Netflix series returning for more drama.
The Glory revolves around Moon Dong-eun, a woman who seeks revenge on all the people who bullied her during her school days. Moon was tormented to the point of dropping out of school, putting paid to her dreams of becoming an architect. Instead of wilting away, she instead spent the decades after school meticulously figuring out a plan to get back at the people who ruined her life, and those who did nothing to help.
The first part of the show dropped on Netflix on December 30, 2022, and became quite a big hit very quickly; in its first weekend on the platform, the series racked up 25.41 million hours watched.
With Part 2 set to continue several unresolved plotlines from the show, we've included the most prominent characters we expect to see in The Glory season 2 cast below so you're up to speed with
The Glory Part 2 cast: Song Hye-kyo as Moon Dong-eun
The Glory Part 2 will see her properly putting her plan into action. Her long-term plan (as of episode 8) is to completely alienate her enemy, Park Yeon-jin from everyone who matters to her, so she's got no one else to rely on when Moon Dong-eun succeeds in ruining her life.
Jung Ji-So played Moon Dong-eun's younger self.
Where else have you seen Song Hye-Kyo? Hye-kyo has also starred in Autumn in My Heart, The Grandmaster, Descendants of the Sun, Hwang Jin Yi Now, We Are Breaking Up.
Lee Do-hyun as Joo Yeo-Jeong
Moon Dong-eun completely won over Joo Yeo-Jeong in the first half of the series. He taught her how to play Go over a series of meet-ups and completely fell for her over the course of The Glory Part 1 to the point he vowed to act as her 'executioner'.
Where else have you seen Lee Do-hyun? Do-hyun is known for Sweet Home, Melancholia, 18 Again, Hotel Del Luna, Still 17, and Unexpected You.
Lim Ji-yeon as Park Yeon-jin
Park Yeon-jin was the leader of the group who ruined Moon's life all those years ago, though her family connections meant she avoided any comeuppance for her crimes. As an adult, she's seemingly got it all. It's believed she may well have been responsible for the death of Son Myeong-o, who had decided to aid Moon in her quest for vengeance in Part 1.
We'll hopefully find out whether she actually was responsible for their death, and see whether her relationship with her husband, Ha Do-yeong will survive her betrayals in Part 2.
Shin Ye-eun plays the younger version of Park Yeon-jin.
Where else have you seen Lim Ji-yeon? Ji-yeon has also featured in Obsessed, High Society, Welcome 2 Life, The Treacherous, Blow Breeze and in Rose Mansion.
Jung Sung-il as Ha Do-yeong
Ha Do-yeong is Park Yeon-jin's powerful husband. He's the CEO of a big construction firm and uses its money to make any trouble disappear. Moon learned Go from Joo Yeo-jeong to get closer to him, and it seems like it might have worked, as he's definitely intrigued by the woman who's secretly trying to ruin his wife's life.
Where else have you seen Jung Sung-il? Sung-il has appeared in When Flowers Bloom, I Think of the Moon, Times, Birthcare Center and Bimilui Soop.
Park Sung-hoon as Jeon Jae-jun
Jeon Jae-jun was part of the group that bullied Moon Dong-eun. As a grown up, Park runs a fancy club, and he was manipulating Son Myeong-yo into doing whatever he wanted.
Following Dong-eun's revelation that he's the father of Yeon-jin's daughter, he became set on breaking up her marriage, and it's implied that Da-yeong might well have found out...
Where else have you seen Park Sung-hoon? Aside from The Glory, Sung-hoon has appeared in Joseon Exorcist, Into the Ring, Psychopath Diary, Justice, My Only One, and Black Knight, to name but a few of his roles.
Who else do we expect to see in The Glory Part 2?
Along with the above faces, The Glory Part 2 also includes:
Kim Hierora as Lee Sa-ra
Cha Joo-young as Choi Hye-jeong
Yeom Hye-ran as Kang Hyeon-nam
Oh Ji-yul as Ha Ye-sol
There's also a chance that Kim Gun-woo will return as Son Myeong-o; although his character has been murdered, we don't yet know for sure who was responsible for his death
The Glory season 2 is available on Netflix globally. If you're looking for more shows to enjoy, head over to our guide to the best Korean Netflix dramas you should be watching right now.
Get the What to Watch Newsletter
The latest updates, reviews and unmissable series to watch and more!
Staff Writer at WhatToWatch.com
Martin is a Staff Writer with WhatToWatch.com, where he produces a variety of articles focused on the latest and greatest films and TV shows.
Some of his favorite shows are What We Do In The Shadows, Bridgerton, Gangs of London, The Witcher, Doctor Who, and Ghosts. When he's not watching TV or at the movies, Martin's probably still in front of a screen playing the latest video games, reading, or watching the NFL.