The Last of Us episode 3 recap: Bill and Frank's tragic tale
The Last of Us episode 3 recounts a tender, tragic love story amidst all the chaos of the apocalypse.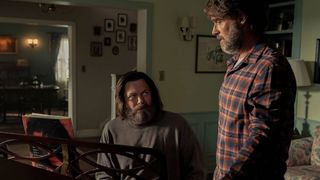 (Image credit: Liane Hentscher/HBO)
NOTE: this article contains spoilers for The Last Of Us episode 3, "Long Long Time."
The Last Of Us has proven that Joel and Ellie (Pedro Pascal and Bella Ramsey) are in for anything but an easy ride on their cross-country journey. After losing Joel's daughter in the outbreak in episode 1 and then his smuggling partner Tess's (Anna Torv) heroic sacrifice in episode 2, the duo's journey has been fraught with tragedy.
Tess told Joel to get Ellie to Bill and Frank before, and it's here where we join the two travelers; on the road, alone, putting up with one another's company.
On the road again
We find Joel and Ellie 10 miles outside of Boston, and there's clearly some tension between them following Tess's death. Enroute to Bill and Frank's place, the duo stops in at an old storefront where Joel had stashed some gear years ago.
While Joel hunts for his supplies, Ellie discovers an infected person stuck under some rubble in a basement; she kills it. Upon returning upstairs, Joel stashes his rifle, as he doesn't have much ammo.
Back on the road, Ellie asks about the initial outbreak; Joel explains the working theory was the cordyceps fungus mutated and got into the food supply, then infected people spread the mutated form once they started biting. It began Friday, September 26, 2003; Joel said, "by Monday, everything was gone."
Down the road, Joel suggests they cut through the trees, as he doesn't want Ellie to see something. Ellie refuses and rushes forward to find a mass grave. Joel then explains how FEDRA operated when they evacuated the smaller towns: either civilians were escorted to a quarantine zone if there was space, or they were executed, as dead people couldn't spread the infection either.
Bill, meet Frank
We jump back in time to September 30, 2003, and bear witness to a FEDRA evacuation. A lone figure watching it unfold on CCTV cameras from a bunker. This is Bill (Nick Offerman), a survivalist who had been prepping for an apocalyptic event and refusing to trust the government long before the infection took hold.
Once everyone is gone, Bill emerges from his bunker and sets about securing the settlement for his own survival, looting stores for supplies, getting power and gas piped into his home, and fortifying it with a perimeter fence and deadly traps to stop the infected from reaching him.
Four years into the apocalypse, a sensor goes off alerting Bill something has fallen into a hole outside his perimeter. When he checks it out, he finds Frank (Murray Bartlett), a survivor who swears he was just trying to make it to the Boston QZ, as the Baltimore one "is gone."
After a tense confrontation, Frank swears he won't tell anyone about Bill's place in exchange for some food. Bill lets him take a hot shower, gives him a fresh change of clothes and whips up a delicious meal and wine.
Before leaving, Frank asks Bill if he can play something on his piano. Frank starts out (badly) playing "Long Long Time" by Linda Ronstadt, but Bill interrupts him and plays it himself. Frank leans in for a kiss, and then the pair go upstairs together, where Frank says he's planning on staying for a few more days.
Connecting with Joel and Tess
Three more years into the future. Bill and Frank argue about sprucing up other parts of the town. Bill says it's a waste of resources, but Frank wants to do it because he wants to invite other people to the settlement, starting with the woman he's been speaking to on the radio.
This turns out to be Tess. Bill and Frank then have a home-cooked meal with her and Joel. Bill doesn't trust them, but Joel wins him over by mentioning he can get some supplies to shore up his defenses, to prevent the raiders he swears will one day come for his place.
Another three years, Frank surprises Bill with a strawberry garden he started by swapping a gun for some seeds. We also see that Bill has reinforced his perimeter fences with cars and other materials.
That evening, a band of raiders descends on the place; although his traps kill them off, Bill gets shot defending his home, and Frank drags him into the house so he can operate on him.
Frank's final day
We then jump 10 years to the present, Bill is now caring for Frank full-time, who's in a wheelchair because of an unspecified degenerative disease. One night, Frank struggles from their bed into his wheelchair in time for Bill to wake up; that morning, he informs Bill today is going to be his last day and he wants Bill's help to take his own life.
Frank and Bill play out Frank's ideal final day; picking out some nice outfits from the town's boutique, get married and enjoy a final delicious meal before passing peacefully in his sleep. At dinner, Bill reveals he had added something to the bottle of wine, rather than just Frank's glass. After explaining his rationale, Bill carries Frank upstairs so they can die together.
Joel and Ellie arrive
After reaching the compound, Joel begins to search for Bill and Frank. Ellie stumbles upon a letter dated August 29, 2023, that's addressed "To whomever, but probably Joel". The letter explains that the pair have died and that everything in town is at their disposal, so long as they leave the bedroom door locked.
Joel uses Bill's materials to build and charge a battery for the truck so he can take Ellie to see his ex-Firefly brother, Tommy. In the meantime, the pair gather supplies and get a fresh change of clothes (into the same outfits they wear in the game). Ellie secretly stashes a pistol in her bag.
As they drive away, Ellie finds a Linda Ronstadt tape in the truck and the pair drive off in search of Tommy to the tune of "Long Long Time".
New episodes of The Last of Us premiere every Sunday on HBO/HBO Max in the US; Mondays on Sky TV's Sky Atlantic and NOW in the UK.
More on The Last of Us
Get the What to Watch Newsletter
The latest updates, reviews and unmissable series to watch and more!
Staff Writer at WhatToWatch.com
Martin is a Staff Writer with WhatToWatch.com, where he produces a variety of articles focused on the latest and greatest films and TV shows.
Some of his favorite shows are What We Do In The Shadows, Bridgerton, Gangs of London, The Witcher, Doctor Who, and Ghosts. When he's not watching TV or at the movies, Martin's probably still in front of a screen playing the latest video games, reading, or watching the NFL.