The Pale Blue Eye ending explained: who committed the West Point murders?
Get answers to your burning questions about The Pale Blue Eye, Netflix's period drama.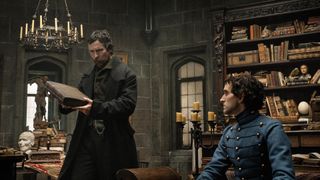 (Image credit: Scott Garfield/Netflix)
The Pale Blue Eye stars Christian Bale as a weary investigator and Harry Melling as a young cadet from a military academy.
Scott Cooper's The Pale Blue Eye adaptation is based on the novel of the same name by Louis Bayard and tells the story of a local detective hired to investigate the gruesome murder of a cadet. To unravel the case, Augustus Landor (Bale) enlists the help of a young soldier who also happens to be a poet called Edgar Allan Poe.
The Pale Blue Eye cast is packed with acclaimed supporting stars including Gillian Anderson, Lucy Boynton, Charlotte Gainsbourg, Toby Jones, Timothy Spall and Robert Duvall.
As Landor and Poe find new clues throughout their investigation, the mystery around the death that started it all is revealed. So what happened at the end of The Pale Blue Eye?
Read on to find out everything you need to know about the ending, but beware of spoilers ahead.
The Pale Blue Eye ending explained: Who killed Leroy Fry?
The mystery behind The Pale Blue Eye unfolds in two parts. Firstly, Landor discovers that Lea (Boynton) and Artemus Marquis (Harry Lawtey), along with their mother Julia (Anderson), were responsible for using Leroy Fry's heart in an occult ritual aimed at helping cure Lea from the disease that would eventually kill her.
Catching them in the act, Landor confronts the Marquis, and Lea and Artemus die in a fire that results from Landor's attempt at stopping them. He then delivers his conclusion to the military academy and the murders of Leroy Fry and Randolph Ballinger (Fred Hechinger) are pinned onto the Marquis siblings. The official story becomes that they killed Fry and Ballinger and that cadet Stoddard (Joey Brooks) ran away fearing for his life.
But that is not exactly the whole truth. At the end of the film, Poe visits Landor to tell him of his own findings about the case. It is then revealed that the true killer of Fry and Ballinger is Landor himself, who acted in revenge for his daughter's rape, and that all that Lea and Artemus really did was mutilate Fry's body to collect his heart after his death. The siblings actually never killed anyone.
What happened to Augustus' daughter, Mattie?
Throughout the movie, viewers hear that Landor's daughter Mattie (Hadley Robinson) ran away, never to be seen again. However at the end of the film, it becomes clear that her fate was much more tragic. Indeed, Poe discovers through the innkeeper Patsy (Gainsbourg) that Mattie was raped by three cadets one night after a ball. She never recovered from the trauma of the attack and eventually committed suicide by jumping off a cliff right in front of her father.
Augustus found out Leroy Fry's name from a medallion that Maddie had grabbed during the attack, and he then decided to find and kill the men who had violated his daughter. He learned of Ballinger's involvement through Fry's journal, and discovered cadet Stoddard was the third man who attacked Mattie when he beat up Ballinger before killing him as well.
Was Poe the killer?
If Poe was briefly suspected of having something to do with the West Point murders, he was not the killer. In fact, he is the one to uncover the truth. After realizing that the note found on Leroy Fry's body was in fact written by Landor himself, Poe connects the dots and comes to the conclusion that Landor killed Fry to avenge his daughter. He also remarks that the fact that Lea and Artemus Marquis took Fry's heart post-mortem gave Landor the perfect opportunity to pin the murder on someone else which explained why, after killing Ballinger also out of revenge, he took that victim's heart out to mirror what had happened to Fry.
Having identified that Fry, Ballinger and Stoddard raped Landor's daughter Mattie, Poe was hurt that Landor took him for a fool all along, but the latter assured him he had always planned to confess his crimes to the young poet.
What happened to Augustus Landor?
After confronting Landor, Poe is left with a choice. He has the information necessary to send Landor to the gallows, but throughout this investigation the two men have grown fond of each other. Landor gives Poe a note that is likely his confession, but Poe decides to burn it. Before he leaves Landor's cottage, the detective tells him he wishes his daughter had met Poe that night at the ball instead of the men who violated her, and that perhaps they would have all become family.
After Poe leaves with no intention of turning Landor in, we see Augustus going to the cliff where his daughter died. He walks to the edge and lets go of her ribbon he had kept, seemingly ready to let go of the pain that the whole affair caused to the both of them. The movie ends there, and although Landor was quite close to the cliff's edge, we do not see him jump off like his daughter did.
The Pale Blue Eye is now available on Netflix.
Get the latest updates, reviews and unmissable series to watch and more!
Marine Perot is a freelance entertainment writer living in London. She has been writing about television for 10 years, which led us to work with various publications including Paste Magazine, Radio Times, Konbini, Giddy, and more. Her favorite shows include Lost, Outlander, Game of Thrones, and The Haunting of Hill House. When not writing, Marine enjoys going on adventures with her corgi and reading a good book.
Thank you for signing up to Whattowatch. You will receive a verification email shortly.
There was a problem. Please refresh the page and try again.