The Staircase star Toni Collette on the true-crime drama: 'It was nice not to be the one grieving!'
Toni Collette tells What To Watch why she was drawn to playing Kathleen Peterson in the new miniseries based on the true-crime documentary.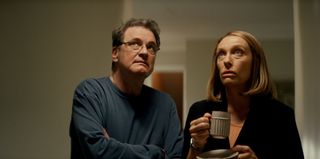 (Image credit: Sky)
Toni Collette is making her way back to TV with new eight-part miniseries The Staircase, based on the hit Netflix true-crime documentary of the same name. In the series, Toni plays Kathleen Peterson, whose body was discovered at the foot of the stairs in her family home in Durham, North Carolina — but while husband Michael (played in the miniseries by Colin Firth) claimed she must have tripped and fallen, the police suspected that he had attacked and killed her, and Michael was charged with Kathleen's murder.
Where the documentary focused on the investigation and trial surrounding Kathleen's death, the miniseries takes a wider scope, allowing us to glimpse the final weeks of Kathleen's life and her relationship with her blended family.
Here Toni reveals why the role of Kathleen appealed to her...
Toni Collette on why she wanted to play Kathleen Peterson
"I think her husband is somewhat glorified in the family, and certainly in the documentary she was objectified and nothing more, really, than a victim. I think this particular show is much more balanced in terms of its perspective — it's just as much about the breakdown of their marriage as it is about what happens after her death."
What resources did you drawn on in preparing to play her?
"I'd seen the documentary, and the scripts were just so informed, they really were very excellent. There were a couple of offers to talk to different people, but I don't think that was ever going to help me. I do think I had a little bit more freedom compared to the rest of the cast, because everybody else is still very much alive and my character wasn't. I saw some old video footage of Kathleen in the context of the family — Antonio [Campos, the show's co-creator] was so steeped in the story, in fact he's in the documentary in one of the later court scenes because he was already completely obsessed with it, so there was a lot of knowledge to be drawn from him."
How did playing Kathleen compare to some of your other recent roles?
"In the context of the stories that I've told in the past, it was really nice not to have to be the one grieving, you know? Everybody else went through that, but Kathleen's very much alive. Part of what we learn about her is just how stressed she was before she died, and the strain that was on their relationship, but as an actor I didn't have to go through all that intense grieving, which is exhausting."
How would you describe Kathleen as we see her in this series?
"You learn so much about her, she was a really interesting and passionate woman, and she lived a big life. She was a great leader at work, in kind of a top position, but the big telecoms company that she worked for started to fall apart, everything she'd worked for became very unstable and she became very vulnerable. It was hugely stressful, she started drinking more, she hurt her neck, and that created more physical stress.
"Obviously Michael had a lot of secrets and she may or may not have known about them, but they would have created more stress because if you're not living a certain amount of truth, that just kind of shrouds your existence. I really think their relationship was potentially coming to an end, she wasn't happy — but also being able to see how alive and positive she was amongst all of the stress that she was living through at the very end.
"I think this story really holds up because you get to see her as a very alive person, and then what happens becomes even more tragic, because you've gotten to know her and care about her."
The series portrays Kathleen's death in several different ways, as we still don't know what really happened. What was it like to film all of those?
"I thought that was a really great construct — it's a wonderful way of being able to look at each of the possibilities. In terms of the physicality of actually falling down the stairs, there are certain places that we have very real knowledge about where she hit and where the blood was, which we had to choreograph so it matched those specific places.
"I had a magnificent stunt woman who did the major part of the fall, and then I kind of struggled with the rest of the clawing around, trying to come to and call for help. Because there is blood involved, and the way it was rigged, for two of them I only did one take — it was like theatre, where you really only get one shot at it. There was a bit of pressure knowing you could only really do it once — prayer was involved!"
Does this series carry a cautionary tale about putting too much trust in what we're told by true-crime documentaries?
"I don't think it's a cautionary tale, but I do think it's less one-sided. The documentary is quite presentational — everybody knows they're on camera, so everyone is kind of 'acting' when they're being interviewed. I'm sure some of it is incredibly real, but just for an example, if you're in a group of people and you're getting your photograph taken, everybody kind of cringes, you put your smile on. So if you magnify that and think of it in terms of a documentary, what kernel of truth are you getting?
"I think in a way, even though our series is part-fiction, it delves even deeper into the story because it isn't so presentational and Antonio really gets into the characters. You would imagine it would be more real in a documentary, but he's just been so immersed in it that he brings something potentially even truer to it."
The Staircase launches on Thursday May 5 on HBO Max in the US, and on the same day at 9pm on Sky Atlantic and NOW in the UK.
Get the What to Watch Newsletter
The latest updates, reviews and unmissable series to watch and more!
Staff Writer for TV & Satellite Week, TV Times, What's On TV and whattowatch.com
Steven Perkins is a Staff Writer for TV & Satellite Week, TV Times, What's On TV and whattowatch.com, who has been writing about TV professionally since 2008. He was previously the TV Editor for Inside Soap before taking up his current role in 2020. He loves everything from gritty dramas to docusoaps about airports and thinks about the Eurovision Song Contest all year round.