'The Tomorrow War' on Amazon Prime – release date, cast interviews, plot, trailer and all about Chris Pratt's sci-fi movie
Chris Pratt gives the lowdown on The Tomorrow War, his new time-travel sci-fi movie...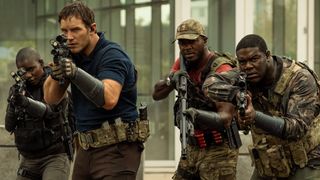 (Image credit: Amazon Studios)
Read our The Tomorrow War review.
The Tomorrow War is about to give us thrills and spills galore this summer. Off the back of his huge blockbuster Avengers: Endgame, Chris Pratt takes on another action-packed sci-fi thriller. The Tomorrow War on Amazon Prime Video gives a chilling look into the future. Imagine the shock when a group of time travellers arrive from the year 2051 with a terrifying message – that 30 years in the future mankind is losing a global war against a deadly alien species.
This news sends shockwaves across the world in The Tomorrow War, with present day civilians stunned at the news that humans are doomed. The only hope for survival is if those from the present agree to be transported into the future to join the fight. Of course there's always an all-action hero played by 42-year-old Chris Pratt to put things right!
Here's all we know so far about The Tomorrow War...
The Tomorrow War release date
You'll be able to watch Chris Pratt in The Tomorrow War when the sci-fi movie is released worldwide on Amazon Prime Video on Friday, July 2.
The Tomorrow War cast — Chris Pratt as Dan Forester
Among those recruited to fight the war in the future is Miami high school teacher and family man Dan Forester, played by Chris Pratt. Dan is determined to save the world for his young daughter. "It's a story about second chances," Chris says of his character who lives in Miami Beach. "Dan is a guy who feels like he's always been destined to do something extraordinary with his life, but hasn't actually done it yet, and I think that's a feeling a lot of people can relate to. At one point or another, we've all wondered if the life we're living might not be the one we were meant for."
Chris Pratt certainly has decent action-hero credentials, making a name for himself in the Marvel movies, playing Star-Lord. His character has appeared in Guardians of the Galaxy and its 2017 sequel, Avengers: Infinity War as well as the 2019 blockbuster Avengers: Endgame. He'll also be starring in their upcoming movies Thor: Love and Thunder, due to be released next year, and The Guardians of the Galaxy Vol. 3, which will be coming to our screens in 2023.
Chris also starred in Jurassic World in 2015 and the 2018 follow-up Jurassic World: Fallen Kingdom. He's also more than equipped to handle the lighter elements of the movie, having won acclaim for his role in the comedy series Parks and Recreation.
The Tomorrow War — Chris Pratt on the action sequences
The Tomorrow War star Chris Pratt says: "It really was a physical film. Off the top of my head, there's a really great sequence, and I know that we're focusing on the people of present-day 2021, but when we do make that jump to 2051, there's this transition and we fall from the sky in Miami and land in a pool. So there was some serious water work that we got to do, and that was a lot of fun. We got to jump off of this basically kind of high dive that we built out of a forklift and jumped off into the water. The camera followed us down and then you had stunt people jumping down and landing on top of you, forcing you underwater, so that whole sequence, which probably took two or three days, was really cool, really fun, and really physical."
The issue of the draft comes up and poses an existential dilemma for Dan Forester, who has been feeling professionally rudderless for some time and craves the sense of direction and purpose that he once had in the military, but he's horrified at the thought of leaving behind his wife Emmy (Glow's Betty Gilpin) and young daughter Mary to fight in a battle that he is unlikely to return from. His initial instinct is to find a way to dodge the draft and remove the device on his arm which will transport him to the future - which, unfortunately for him, requires tracking down his estranged father James, an engineer with a major distrust of the government who lives off the grid.
"Thematically we have some similarities to It's A Wonderful Life in this film," says Chris Pratt. "Granted, this guy is not on a bridge about to kill himself, but he's dissatisfied with his station in life, he's got a dad who he's estranged from, and he blames his father for all of his issues because he wasn't around, but through the course of this story he recognises that he has more similarities with his father than he ever realised. He gets to a place of acceptance and forgiveness for his father, because he realises it wasn't easy for him either.
"So Dan has a really complicated relationship with his father, and I felt like that was something I could bring my own experiences to. Although my situation and Dan's are quite different, there were definitely a few aspects of this character that I mined from my own background."
Is there a trailer for The Tomorrow War?
Yes, a trailer for The Tomorrow War has just landed and you can see it below. There's a whole load of shooting and explosions as you'd expect when civilians are fully armed and the future of mankind depends on the battles led by Chris Pratt's all-action character Dan Forester.
The Tomorrow War cast — Yvonne Strahovski on her role as Romeo Command
Yvonne Strahovski plays brilliant scientist Romeo, who is also selected to fight in the war in the future and forms an alliance with Dan.
Yvonne says she's a big fan of action movies involving aliens, so she couldn't put the script down when she first got her hands on it. "I was flipping the pages as fast as I could because it was just so exciting. It's the kind of story where you need to buckle your seatbelt once it begins, because it's a ride that just doesn't stop. It keeps racing forward until the very end, which makes it a lot of fun."
As for action sequences, there are plenty of those for Yvonne: "There's a scene where Chris Pratt and I have to run across a steel beam at the very top of a power plant,' recalls. And because everything in the power plant is made out of metal grate, you could see each level all the way to the bottom. I'm not too afraid of heights, but I wasn't sure if I could actually run across it - we were on wires, but you've really got to channel your inner zen and just have blind faith that you're not going to fall off!"
Yvonne is best known for her role as Serena Joy Waterford in the epic series The Handmaid's Tale. She's also appeared in The Astronaut Wives Club, Dexter and 24: Live Another Day.
The Tomorrow War cast — J.K. Simmons as James Forester
In a desperate attempt to rewrite the fate of the planet, Dan is also forced to reach out for help from his estranged father, James. He's played by J.K. Simmons, another Marvel stalwart who voices J. Jonah Jameson in many of the movies and animations, including The Justice League and the Spider-Man trilogy. J.K. has also had roles in La La Land, Brooklyn Nine-Nine and Defending Jacob.
J.K. Simmons says: "When I read the script, we really do see the micro and the macro - there's this beautiful family stuff with Chris's character at home his family, and then when my sort of estranged dad kind of non-relationship turns up, I was hoping that there was going to be some kind of a worthwhile journey there — and there is! No spoilers, but it was great to be able to incorporate that small picture with the gigantic picture of, Are we going to save the world or not?"
Other cast in The Tomorrow War
Betty Gilpin (GLOW, The Hunt) stars as Dan Forester's wife Emmy, while Ryan Kiera Armstrong (American Horror Story) is their daughter Muri. As for Dan's fellow draftees, Sam Richardson (Veep, Detroiters) plays Charlie, while Edwin Hodge (Six, Mayans M.C.) is Dorian, Mary Lynn Rajskub (24, Night School) is Norah and Mike Mitchell (Love, Brews Brothers) plays Cowan. Jasmine Mathews (The Rookie, The Man From Toronto) plays the exceptionally tough L.T. Hart.
Also look out for Keith Powers (Before I Fall, What/If), Seychelle Gabriel (Falling Skies, Sleight), Chibuikem Uche (American Housewife) and Alan Trong (NCIS Los Angeles, Paper Tiger).
The Tomorrow War director Chris McKay gives his thoughts
This is director Chris McKay's live-action directorial debut but he's well known for directing the animation The Lego Batman Movie in 2017. He also had a cameo in that movie, voicing Pilot Bill one of the pilots of the airplane hijacked by the Joker.
Chris McKay says: 'What was really important to me was the idea of what do you owe the future? I love genre movies, but also I'm caught somewhere between John Carpenter and John Cassavetes - there's always a little bit of human story in the drama. To have an original sci-fi movie that can have a big, epic scope like this but can have a bit of heart and give you something to think about was a real gift.'
The Tomorrow War locations
The Tomorrow War was filmed between September 1 2019 and January 1 2020. Although most of the action was shot in the US state of Georgia — in Lincolnton and Atlanta — some of the movie was filmed in Iceland. In the story, however, the Nordic island nation stands in for Russia. "Shooting in Iceland gave the cast and crew a connection to the material that went far beyond the theoretical," says writer Zach Dean. "It affects your senses in a way that you just can't experience in front of a green screen on a soundstage in Los Angeles. Everything feels much more extreme, and real, and palpable."
Get the latest updates, reviews and unmissable series to watch and more!
TV Content Director on TV Times, What's On TV and TV & Satellite Week
I'm a huge fan of television so I really have found the perfect job, as I've been writing about TV shows, films and interviewing major television, film and sports stars for over 25 years. I'm currently TV Content Director on What's On TV, TV Times, TV and Satellite Week magazines plus Whattowatch.com. I previously worked on Woman and Woman's Own in the 1990s. Outside of work I swim every morning, support Charlton Athletic football club and get nostalgic about TV shows Cagney & Lacey, I Claudius, Dallas and Tenko. I'm totally on top of everything good coming up too.
Thank you for signing up to Whattowatch. You will receive a verification email shortly.
There was a problem. Please refresh the page and try again.