The best A24 movies
By Leigh Monson published
We sincerely apologize for not including your favorite A24 film.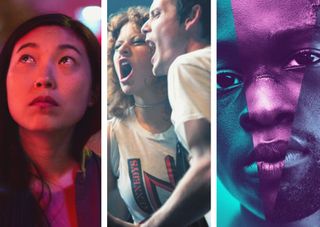 (Image credit: A24)
Ask about the best A24 films, and you'll get a lot of different answers. But if you could distill the brand and reputation of the film distributor down to a singular phrase, it would be "accessible arthouse."
Starting in 2013, the purpose of A24 has seemingly been to provide wide-release access to smaller independent films that have the potential to be financially successful with that wider audience. These are the kinds of films that critics love and film buffs eagerly drag their friends along to see. They spark entire meme cultures on Twitter that prompt revisitation and new discovery by fans. And, with theatrical distribution shut down for the foreseeable future (along with the majority of A24's 2020 release slate) we thought it best to go back and recommend some of our favorites from the brand.
These are among the best A24 films you can watch right now:
Ex Machina (2015)
The idea of taking the infamous Turing Test – the examination to test whether AI intelligence can think like a human being – and turning it into a sexy thriller is not necessarily an original idea, but in the hands of noted sci-fi scribe Alex Garland, Ex Machina immediately stands out as a prime example of its genre. Place tech millionaire Oscar Issac, a mysterious assistant played by Sonoya Mizuno, a perpetually out-of-his-depth Domnhall Gleeson, and the tempting robotic allure of Alicia Vikander in a remote getaway, and you have the makings of a tense exploration of whether humanity is based on the flesh we're born into or the minds that inhabit our skulls.
It also doesn't hurt that this film features one of the best impromptu dance scenes put to film.
The Witch (2016)
Robert Eggers' The Witch is exactly the kind of hard sell pitch that A24 just seems to make work for mainstream horror audiences. The film is set in 1630s New England and follows a family of religious extremists banned from their Puritan colony, only to discover that the woods near their homestead are likely inhabited by a witch.
All dialogue in the film is period-accurate, and though supernatural elements are explicitly present, the tension is much more centered on how this family's paranoia will tear them apart and whether the innocent teenage daughter Thomasin (Anya Taylor-Joy) can survive accusations of witchcraft.
Green Room (2016)
Often confused with a certain terrible Best Picture winner (opens in new tab), Green Room is the horror film for the era where we should be screaming "Nazi punks, fuck off!" as loud as possible.
The scenario is simple: a struggling punk band (including members played by Imogen Poots and the late, great Anton Yelchin) finds itself stranded in the middle of nowhere without money or gas, and their only hope is to play at a seedy bar populated by neo-Nazis.
The performance is antagonistic as you'd expect, but only gets worse once the band stumbles across a murder as they're collecting their gear from the green room. The barricaded standoff between the band and the patrons quickly turns bloody, especially when Patrick Stewart rears his head as the Nazi leader in one of the most perversely brutal casting choices of recent memory. Your surrogate starship father hits a little bit different in this movie.
Swiss Army Man (2016)
Maybe the most idiosyncratic film on this list, Swiss Army Man is infamous for provoking massive walkouts at its Sundance premiere.
At first glance, it appears to be an absurdist postmodern buddy comedy about a lonely man (Paul Dano) and his newly discovered best friend: a slowly reviving, talking, farting corpse played by adult Harry Potter (Daniel Radcliffe).
Upon deeper examination … Well, it's still just as absurd as it sounds, but it's also a shockingly deep story of learning to love oneself, wrapped in a story that works equally well whether you take the corpse's journey into sentience as literal or as an expression of the protagonist's solitary anguish.
You also get to see Paul Dano jet ski around on Daniel Radcliffe's farts, which is a huge, hilarious bonus.
Moonlight (2016)
Moonlight is easily one of the most vital, tender, and beautiful pieces of queer cinema of the past decade.
Set over the course of three time periods with three actors playing the same character through young childhood, adolescence, and adulthood, writer-director Barry Jenkins explores the intersection of Black and queer identities through the lenses of poverty and abuse, but never fails to look longingly at tender, intimate moments of self-discovery.
It's a heartbreaking story of repression and shame that also contains some of the most romantic shots in recent memory. It's the rare Best Picture Oscar winner that fully deserves the award.
Lady Bird (2017)
Greta Gerwig's solo directorial debut, Lady Bird, rocketed Gerwig to mainstream prominence with a semi-autobiographical take on teenage girlhood that was all-too relatable.
Stuck in a Catholic high school in 2002, "Lady Bird" (Saoirse Ronan) desperately wants to break away from the controlling grasp of her mother (Laurie Metcalf) and establish a new identity beyond the limited options with which she's been presented.
In a twistedly funny story of aimless angst, Lady Bird explores the first steps of young adulthood and our instinctual rejection of those who most directly impacted us, even when what we're rejecting is actually part of ourselves.
Eighth Grade (2018)
Normally, when movies explore the lives of teenagers, it's through a glamorous Hollywood filter, focusing on high school juniors and seniors as played by attractive folks in their 20s. Comedian Bo Burnham used his directorial debut to put a different spin on the genre, instead zeroing in on the awkward preadolescent angst of being a 13-year-old just on a cusp of puberty. Starring Elsie Fisher in the breakout leading role, Eighth Grade wonderfully balances the reflexive comedy of kids pretending at newfound adulthood and the traumas that are inherent to being a young teenage girl in our misogynistic and social media-driven culture. In short, it's brilliant.
Gucci!
Hereditary (2018)
With all apologies to fans of Midsommar (which is streaming on Amazon Prime (opens in new tab)), Hereditary is, in this writer's estimation, one of the most innately horrifying films to come out in a long time, and the better of Ari Aster's two directorial efforts thusfar.
Toni Collette gives the performance of her career as a fraying matriarch that has just lost her mother with whom she had a strained relationship. The mechanisms of the plot eventually turn to cultish intricacies and supernatural turnabouts, but the core of the narrative is in a family's toxic behaviors toward one another and the gradual breakdown of the family unit from that toxicity.
And when it's not breaking your heart, it's scaring the ever-living hell out of you.
The Farewell (2019)
Lulu Wang's autobiographical story The Farewell raises a fascinating question of culture clash: How does one come to terms with the imminent death of a loved one when your entire family refuses to acknowledge it openly?
This is the problem faced by Wang's narrative stand-in, Billi (Awkwafina, killing it in a rare dramatic performance), as she learns that her grandmother (Zhou Shuzhen) is dying of cancer, yet nobody in the family will tell her so that she will not lose hope in living. This pulls Billi between her Chinese heritage and her American sensibilities, creating a constant tension as the family convenes for one last get-together under the pretense of a falsified wedding.
Hilarious and tragic, The Farewell demonstrates the power of family and how the white lies we tell those we love are a burden we bear in their place.
But be sure not to leave those emotions totally bottled up!
The Lighthouse (2019)
Robert Eggers somehow made lightning strike twice on historically accurate horror features, following up The Witch with The Lighthouse.
In 19th century New England, a pair of attendants take residence in a remote lighthouse. One is an experienced braggart placed in charge (Willem Dafoe), while the other is a reluctant loner with a mysterious past (Robert Pattinson). What evolves is an Eldritch tale of how the social propriety of men breaks down when social company is limited to one person for months on end, deconstructing civility, toxic masculinity, romantic attraction, and one's sense of self. This only becomes more complicated with the implicit presence of curses, merfolk, lurking tentacles, and a mysterious power in the tower's light that the elder keeper wants all for himself.
Staggeringly dense and fartingly (not a typo) funny, The Lighthouse is arthouse cinema at its finest.
Uncut Gems (2019)
If you have a strong stomach for anxiety, the Safdie Brothers' Uncut Gems is hands down one of the best films to explore the despicable neuroses of a man who impulsively makes the wrong choice at every opportunity.
Adam Sandler gives an astonishingly good performance as Howard Ratner, a compulsive gambler who holds on to his jewelry shop only by paying off his loan sharks with loans from other sharks, and his get-rich quick scheme to auction off a rare uncut black opal goes awry when he lends it under the pretense of granting supernatural powers to basketball star Kevin Garnett, who in turn does not return the gem at the agreed-upon time.
Watching Ratner bounce from interaction to interaction is like watching his social and professional lives implode in slow motion, with multiple instances where Howard could just cut his losses but always needs to dig his hole just a bit deeper.
Leigh Monson has been a professional film critic and writer for six years, with bylines at Birth.Movies.Death., SlashFilm and Polygon. Attorney by day, cinephile by night and delicious snack by mid-afternoon, Leigh loves queer cinema and deconstructing genre tropes. If you like insights into recent films and love stupid puns, you can follow them on Twitter.
Get the latest updates, reviews and unmissable series to watch and more!
Thank you for signing up to Whattowatch. You will receive a verification email shortly.
There was a problem. Please refresh the page and try again.