Who is Wolf on The Masked Singer US?
The Wolf has everyone guessing on The Masked Singer.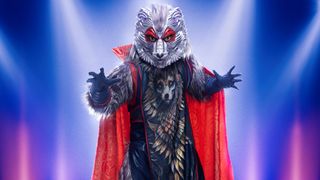 (Image credit: Michael Becker/Fox)
Wolf made his debut on The Masked Singer during the show's DC Superheroes Night. Three new masks competed in the episode, including Gargoyle and Squirrel. But we had to wonder who might be behind the Wolf mask.
Of the three new masked singers, we knew the least about Wolf heading into the competition. (Personally, we thought he was throwing major David Hasselhoff vibes based on his stance alone!)
Let's look at the clues to see if we can figure out who is Wolf on The Masked Singer.
Who is Wolf on The Masked Singer US?
🗣 TAKE IT OFF! TAKE IT OFF! 🗣#TheMaskedSinger pic.twitter.com/1wUlE0wgD8March 9, 2023
Wolf ended up being sent home first. As so many people on social media guessed, it ended up being multi-Grammy Award winner Michael Bolton.
Who is Wolf on The Masked Singer US? Song picks
That was a howl-some performance, #WolfMask! 👏 #TheMaskedSinger pic.twitter.com/5m8coFjdhCMarch 9, 2023
Wolf came out blazing under the full moon with a rocking rendition of "Break on Through (To the Other Side)" by The Doors.
Who is Wolf on The Masked Singer US? Clues
Celebrity Clue (delivered by Helen Mirren and Zachary Levi): "Timberlake." Wolf said, "Here's a thought: JT and I collaborated."
Voiceover clue: "Hello and welcome to my love den. Have a seat and make yourself comfortable. Oops, I keep forgetting to set the mood. What can I say, I'm a sucker for romance. And while I have many talents, it's the art of seduction that's my superpower. In fact, I'm sure I'm responsible for more than one baby out there. Nick? You know what I'm talking about. Please do. Sit down, let's have a heart to heart. Can I offer you anything? A Grammy? I've got a few. Want a laugh? Let me pop in my movie. I really am the most gracious host. Just ask my friends, Lady Gaga, Andy Samberg, or Jay-Z. They've vouched for me. So, sit back, relax and enjoy as I show you the power of love."
Who is Wolf on The Masked Singer US? Costume clues
There are a couple of things that immediately jump out as soon as you take a close look at Wolf and their costume. For starters, their head is silver and the rest of their fur is a silvery-black color. We've heard of silver foxes, of course, but could we have a Silver Wolf? Hmm…
And then there are Wolf's eyes, which are set amid a red outline on that silvery head. What do the red eyes mean?
Wolf's outfit is made up of a billowing red cape with a starched collar that stands up behind their head, and the outfit itself features a wolf wearing armor. Again, we've heard of wolves in sheep's clothing but a wolf in wolf armor? Very interesting indeed…
We have to think the red eyes and the red cape mean something, but what could they mean?
Who is Wolf on The Masked Singer US? Guesses
Fans immediately guessed that there was a music legend behind the Wolf mask, and that the legend was none other than Michael Bolton.
The panel was almost unanimous in choosing Michael Bolton, too, save for Ken Jeong who picked Richard Marx.
The Masked Singer season 9 airs Wednesdays at 8 pm ET/PT on Fox.
Get the What to Watch Newsletter
The latest updates, reviews and unmissable series to watch and more!
Editorial Content Producer
Sarabeth joined the Watch to Watch team in May 2022. An avid TV and movie fan, her perennial favorites are The Walking Dead, American Horror Story, true crime documentaries on Netflix and anything from Passionflix. You've Got Mail, Ocean's Eleven and Signs are movies that she can watch all day long.
When she's not working, Sarabeth hosts the My Nights Are Booked Podcast (opens in new tab) and blog (opens in new tab) dedicated to books and interviews with authors and actors. She also published her first novel, Once Upon an Interview (opens in new tab), in 2022.