Why Grey's Anatomy's Meredith exit flatlined
After 19 seasons, Meredith Grey gets the most lackluster goodbye.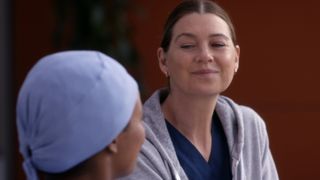 (Image credit: ABC)
As a longtime Grey's Anatomy fan, Meredith Grey's (Ellen Pompeo) departure from the Grey Sloan Memorial canvas has been a point of anxiety. For 18 and a half seasons, she's been the center of the show's universe and has provided the most OMG moments, the most mindboggling heartache and the most complex relationships of any character in the Shondaland production. So when it came time for Meredith's final episode as a series regular, we were expecting one of the best sendoffs in recent TV memory.
Unfortunately, when the episode titled "I'll Follow the Sun" aired on February 23, viewers got the complete opposite. It was like opening a new bottle of champagne and expecting the bubbles and fizz, only for it to turn out to be completely flat. Here's why Meredith's departure was such a letdown.
No former Grey's characters returned
For starters, when you think about the other characters that said goodbye to Seattle (those not killed off), they all seemed to have important people in their lives return to help shepherd them off the canvas. For example, Christina Yang (Sandra Oh) had Preston Burke (Isaiah Washington), Jackson Avery (Jesse Williams) had April Kepner (Sarah Drew) and even Alex Karev (Justin Chambers) had Izzy; even though fans didn't physically see her, she was referred to throughout his departure episode.
Who returned for Meredith's goodbye? No one. Not even her besties Alex and Christina made an appearance, nor were they mentioned. Izzy didn't return to the show, which wasn't that much of a shocker. Heck, some of her most memorable patients didn't even pop up in a scene. The lack of throwback characters was quite disappointing.
In all honesty, Meredith's stint with COVID in season 17 had so many shocking returns from Derek Shepherd (Patrick Dempsey) to George O'Malley (T.R. Knight) that the story arch would have served as a more appropriate goodbye if she had left the show then.
The episode wasn't focused solely on Meredith
Then there's the fact that Meredith's final episode as a series regular was inundated with other storylines. Instead of being all about her, viewers were treated to what was going on in the lives of Maggie Pierce (Kelly McCreary), Teddy Altman (Kim Raver) and the new interns. While we understand this crop of interns is a major part of the show in this subtle "reboot" of the franchise, given how long Meredith has been on Grey's, she was deserving of a little more attention.
Meredith's goodbye lacked reflection
With most character sendoffs in a series, time is spent reflecting on the growth of the individuals. Viewers are treated with speeches and/or montages to look back on how far they've come. Unfortunately, other than the brief words mentioned by Richard Webber (James Pickens Jr.) and Miranda Bailey (Chandra Wilson) at Meredith's going away party, the audience didn't really get much time to think back on Dr. Grey's journey.
There was one moment in the OR where Meredith and Nick Marsh (Scott Speedman) were engaged in a tiff about her leaving without talking to him about it first. Although she admittedly loves him, he's never said it back and she emphasized that she is not going to beg him to be with her. In fact, she said she chooses herself and her kids over doing that. True fans of the show know this contrasts directly with a season 2 scene when Meredith was begging Derek to be with her and she uttered the infamous words "pick me, choose me, love me." That was an interesting bit of growth for the character.
With all that said, given Meredith is set to return to Grey's Anatomy for the season 19 finale per a Deadline (opens in new tab)report, we hope that she will be given a more proper goodbye then.
Grey's Anatomy season 19 continues to air new episodes, Thursdays on ABC. Episodes become available to stream the next day on Hulu.
Get the What to Watch Newsletter
The latest updates, reviews and unmissable series to watch and more!
Terrell Smith has a diverse writing background having penned material for a wide array of clients including the federal government and Bravo television personalities. When he's not writing as Terrell, he's writing under his pseudonym Tavion Scott, creating scripts for his audio drama podcasts. Terrell is a huge fan of great storytelling when it comes to television and film. Some of his favorite shows include The Crown, WandaVision, Abbot Elementary and Godfather of Harlem. And a fun fact is he's completely dialed into the TLC 90 Day Fiancé universe.