Hermione Gulliford on Roxanna's shock Holby exit: 'I think Gaskell surprised himself at how far he'd go!'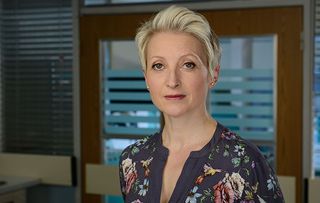 (Image credit: BBC)
Holby City fans were left stunned on Tuesday night when Professor John Gaskell finally revealed his true colours and KILLED his friend and colleague Roxanna MacMillan via lethal injection. Actress Hermione Gulliford talks about her exit…
Hermione Gulliford on Roxanna's shock death in Holby City…
Wow, what an episode of Holby City! We're still completely in shock that Professor Gaskell (played by Paul McGann) has actually just killed Roxanna?
"I know! I think Gaskell surprised himself at how far he'd go. It was pretty dark. He didn't even know what he was capable of and he certainly didn't expect to do what he ended up doing. But it just proves there's no stopping him."
Roxanna (Hermione) knew too many secrets about Gaskell's work, so he had to silence her
And we'd grown to really love Roxanna as a character…
"Oh, that's really sweet of you, thank you. And I've loved doing it. I've loved every minute of it."
So what have you most enjoyed about your time on Holby?
"Honestly, Holby is such a nice place to work. It's been a real joy and that's really down to absolutely everybody involved, on both sides of camera, in the production office, everywhere, it's just a great place and I think that really comes across. Everyone talks about the 'Holby family' and the minute you get there you feel like everybody wants you to be there. So it's been great."
What response have you had from fans about Roxanna?
"People have been incredibly nice. I don't Tweet very much but on Twitter people send me incredibly nice messages and stuff like that, so that's all very overwhelming. They've just been incredibly supportive, which has just been really amazing. I hope they enjoyed Roxanna's final episode... if that's possible."
Thankfully for Hermione, Paul McGann is nothing like his evil character, Professor Gaskell
Have you particularly enjoyed working with Paul McGann and Guy Henry, who plays Henrik Hanssen?
"Yeah, well, Guy and I worked with 20 years ago at the RSC, so I had known him a bit and he's hilarious! He's just adorable and is guilty for making me inappropriately laugh on more occasions than I should be admitting to. Paul's just brilliant and a complete legend – working with them both has been great."
Did you know this was going to be Roxanna's fate when you joined the show?
"No, not at all. I first played Roxanna in 2013, when she operated on Oliver Valentine's wife Tara, who had a brain tumour. The producers asked me to come back again in October of last year, to work with James Anderson, who played Oliver, and they said it would be six episodes, may be a few more. Incidentally, James is just heaven to work with. Anyway, I'd been there a couple of weeks and then producer Kate Hall called me in and said: 'Do you want to stay for a year, we've got this idea?' And I said yes. At that point, Kate suggested that they knew where they were taking the storyline but I didn't know exactly how it was all going to pan out. But I'm delighted."
Hermione's sad to say goodbye to Holby, having been at the heart of one of its biggest storylines
Are you slightly saddened that this really is the end for Roxanna and there won't be another comeback?
"Yeah, obviously, I'm gutted. But I have to take all the good bits and not think too hard about that. In my job, I'm so used to it now, going from one thing to the next. But it was nice to have a whole year to go on a journey, and a journey that was only being discovered as we went along. Well, by me anyway!"
What's next for you?
"I don't know. I'm just thinking about maybe doing a play. I spent the summer holidays with my kids, so now they're back at school I can properly think about my next move."
Holby City continues on Tuesdays at 8pm on BBC1.
Get the latest updates, reviews and unmissable series to watch and more!
Thank you for signing up to Whattowatch. You will receive a verification email shortly.
There was a problem. Please refresh the page and try again.