Holby's Antoine: 'Malick detests racists, usually'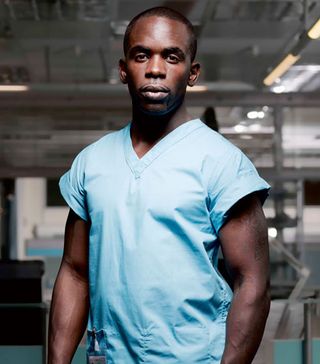 (Image credit: BBC)
Holby City's Antoine Malick has to keep his temper when he encounters a convicted murderer, as Jimmy Akingbola reveals... Registrar Malick is having a good day on Keller ward, until Ric asks him to deal with a high security patient... "Malick likes being in charge and wants to prove to Ric and Serena that he can run Keller without their help... until prisoner Stuart Belling arrives. Stuart's a convicted murderer, who's made his stomach ulcer worse by being on hunger strike, and Malick jumps to conclusions that he's a racist. Normally, Malick would lose his temper straight away, but here he remains calm and professional." Stuart won't consent to surgery until his teen daughter Kelly turns up at Holby. What does Malick find out about Stuart? "Kelly tells Malick that Stuart's in prison because he beat her mother - who's black - to death. Malick detests racists and wife-beaters, but that doesn't mean he wants Stuart to die. Then there's a big twist when Stuart admits he was actually being attacked by his wife, who was mentally ill." Does this change Malick's attitude towards Stuart? "It makes Malick understand what drove Stuart to do what he did and he ends up feeling a bit sorry for him. It's so easy to see domestic violence from one angle, but there are lots of cases where men have suffered. The story also highlights the strain of fathers bringing up children where the mother has mental health issues." When Stuart collapses before giving his consent to surgery, what does Malick do? "Malick knows he's putting his job on the line by operating without consent, but he's got Kelly there, begging him to save her father, so he's got to try and make that happen. All Malick's thinking about is that he can't let Stuart die in front of his daughter. Malick knows he could be fired, but he'd do the same again in a heartbeat." Are Ric and Serena pleased that they put faith in Malick? "Ric and Serena have almost been taking advantage of Malick and his desire to be the best. But Malick's not as arrogant as he once was; he's grown as a doctor and as a person and they're starting to see his potential. I don't know what's in Malick's future, but I'd like him to become a consultant - so Ric had better watch out!" Catch Holby throughout the Olympics at 8pm on BBC2.
Get the latest updates, reviews and unmissable series to watch and more!
Thank you for signing up to Whattowatch. You will receive a verification email shortly.
There was a problem. Please refresh the page and try again.