Holby's Eddi uncovers Max's big lie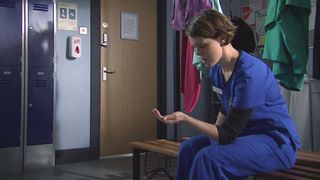 Luc discovers Max's dark secret in Holby City (BBC1, Tuesday) - and it leaves Eddi devastated, as Sarah Jane Potts reveals... The sudden return of Eddi's ex Luc pushes her new love Max out this week. How is Eddi feeling about Luc being back? "Eddi doesn't understand why Luc has come back because he never explains himself. She's really angry with him from the moment he comes back and this anger just grows and grows. All she wants is for him to tell her why he left, so Eddi thinks he is only there to ruin things for her. Max is straight with her - or at least she thinks! - so why can't Luc be?" Except Luc doesn't think Max is being totally honest with Eddi and thinks he's responsible for the missing Camoxidan painkillers... "Eddi believes everything Max says and wholeheartedly backs him all the way, she trusts him and I don't quite know why she does. I think if you have been hurt before it's sometimes very easy to slip into something - you either go one of two ways, really cold like an iceberg or completely trust someone so you are taken for a ride again, which is what is happening to her." How does Luc prove that Max is addicted to painkillers? "There is a big scene where things come to a head as Luc has managed to take a hair sample from Max to prove he is a Camoxidan user. That's when Max freaks out and asks Eddi to come to Brighton with him." Is that when Eddi realises Max has been lying about the stolen drugs? "Yes. Eddi agrees to go to Brighton with Max and goes to fetch Max's bag from his locker. That's when she finds the Camoxidan and it's at that point that she confronts him about it." Max flees before he's caught - how does Eddi cope with his departure? "Eddi thinks she may have had some happiness with Max and Luc's ruined it. We later see Eddi with a box of Camoxidan and don't know if she's going to take more. This could be the start of a slippery slope..."
Get the latest updates, reviews and unmissable series to watch and more!
Thank you for signing up to Whattowatch. You will receive a verification email shortly.
There was a problem. Please refresh the page and try again.