Holby's Michael Thomson: 'Jonny thinks it's game over when he's charged with murder!'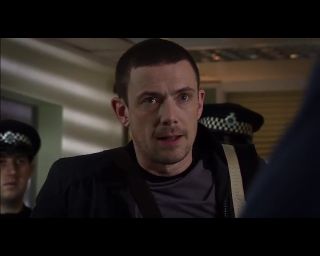 Holby City nurse Jonny Maconie fears he'll spend the rest of his life behind bars when he's charged with murder, as Michael Thomson reveals…
It's been a tough few weeks for clinical nurse manager, Jonny Maconie. Why has he felt under so much pressure?

"Jonny's been overworked, highly stressed and seriously on edge because of the impossible targets CEO Guy Self has imposed on Darwin ward. So when he was then taken in for questioning over the death of a patient, things started looking really bad for him…"
We know the patient in question, Julie Kale, passed away after becoming the latest recipient of Elliot's Kibo heart device. How was Jonny involved in her care?

"Jonny was in charge of changing the battery that powered the Kibo. He replaced the old battery with a new one but, when he got called away, Julie died. Viewers know, however, that Julie's husband mistakenly swapped the batteries back over, inadvertently killing his wife! Unfortunately, Jonny's signature was next to the new battery on the record…"
This week, Jonny's formally arrested and taken into custody, where he's questioned further by police about the incident. What's going through his mind?
"Jonny knows he hasn't done anything wrong, but he also knows you can't argue with the evidence. He's been through quite a lot since he's been at Holby, but here he's at his most vulnerable – and the stakes are the highest they've ever been."
How do Jonny's colleagues Mo and Elliot react to news of his arrest?

"They're pretty devastated – Jonny's a great nurse, so they can't get their heads around the idea that he could've made a mistake like that. I don't think anyone truly believes Jonny's capable of killing a patient!"
What about Guy – does he think Jonny could be guilty?
"Jonny knows Guy's gunning for him. Before Julie died, Jonny was heard saying to Guy: 'Someone will die and it will be all your fault'. So when Julie died in Jonny's care, Guy immediately suspected he'd done something deliberate to prove himself right. As the story unfolds, it becomes a very personal battle between these two men."
Later, Jonny's charged with murder and sent straight to prison, where he awaits bail. Does he genuinely fear that he could spend the rest of his life behind bars?

"Yes, and he's terrified. Jonny fears he's going to lose everything: his career, his daughter Emma and, most of all, his liberty. As far as Jonny's concerned, when he's thrown in that cell, he thinks: 'That's it – game over!'"
Holby City continues on Tuesdays at 8pm on BBC1.
Get the latest updates, reviews and unmissable series to watch and more!
Thank you for signing up to Whattowatch. You will receive a verification email shortly.
There was a problem. Please refresh the page and try again.