Cleo McQueen's dangerous liaison with Joel Dexter in Hollyoaks!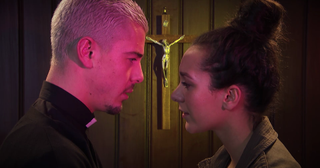 Cleo's love for priest Joel leads her into danger and a massive Hollyoaks stunt, Nadine Mulkerrin tells Soaplife…
Cleo McQueen has a habit of falling hopelessly in love with inappropriate men. Her crush on Harry Thompson came to nothing as it turned out he was gay, she yearned for Nathan Nightingale, and now she has the hots for Joel Dexter, a Catholic priest with a heroin habit and blood on his hands. 'She thinks Joel's one of the good guys,' actress Nadine Mulkerrin tells Soaplife. 'But Joel's about to lead her into a terrible situation that will have far-reaching ramifications.'
Why does Cleo love Joel? "He was there for her when she was grieving for her murdered sister, Celine. They were friends and she opened up to him. She thinks he's a nice guy and she basically wants what she can't have."
What would happen if she found out he had a hand in Bart's death? "She knows Joel has this big secret regarding Katy Fox and he believes her death was his fault, but she has no idea Bart's been murdered. If she knew the truth about what happened to Bart, who's her cousin, it would definitely make her see Joel in a new light."
Will she sleep with Joel? "She wants to. She tells him she loves him, but she knows he has restrictions as a man of the cloth. Her feelings may or may not be unrequited."
Why does she choose the wrong man all the time? "It's down to what happened with Pete Buchanan. Being abused as a child is bound to have an affect on future relationships and getting involved with drugs is not uncommon. All she wants is to be loved, but she can't help but be drawn to the wrong men."
Why does Cleo follow Joel to a drugs deal? "He's been acting strangely, talking about all this Catholic guilt stuff and she can sense something is wrong. She follows him because she wants to help. She knows he has a murky past with heroin and he helped her through when she was dabbling in it."
What's the story behind his motorbike? "It's been stolen by Shane and, in a bid to take Joel's mind off his problems, Cleo cleans it up and returns it to him."
Where do they go on the motorbike?| "They make a decision to go somewhere on the bike and it doesn't end very well. There's a massive stunt and the repercussions will continue for quite some time…"
Get the latest updates, reviews and unmissable series to watch and more!
Thank you for signing up to Whattowatch. You will receive a verification email shortly.
There was a problem. Please refresh the page and try again.