Hollyoaks' Ellis Hollins: You have to choose your friends wisely when you grow up on TV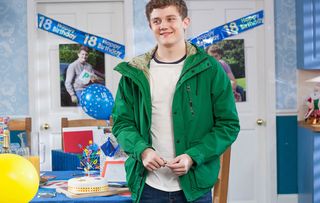 The Tom Cunningham star admits that fellow kids were often more interested in Tom than they were in him…
Hollyoaks actor Ellis Hollins has opened up about his experience of growing up in the public eye, and reveals that he spent his school days being constantly recognised and asked questions about his life on the soap.
Eighteen year old Ellis - who has revealed his highlights playing Tom to us - joined the C4 show when he was just three years old, making him a famous face in the classroom throughout his time in primary and secondary school.
"People always wanted to ask me about Hollyoaks," said the actor, who left school in 2016. "You have to choose your friends wisely, and determine which ones are in it for you and which ones are in it for Tom.
"It got quite easy to determine – some people, all they wanted to talk about was Hollyoaks, and I was like 'Do you want to know about me?' I got a lot of it at school, especially when a new school year started, because you'd get a fresh bunch of year sevens who would watch the show and recognise me, and then for a good month after that, that's all it would be. It never really died down."
But the star, whose TV alter-ego turns 18 over Christmas and receives a seven-figure trust fund, says he wouldn't have wanted his life to pan out any other way.
"Growing up on screen; that's been my life and it's something I've come to accept. I can't think of anyone who has been through the same process I have, in terms of being so young and growing up and being on the same show. It's odd, but I wouldn't change it for the world.'
And he adds that he would like to stay in Hollyoaks for as long as possible.
"It's such a good environment to work in, and there's nothing I want to leave for at all," he told us. "I really, really love the show, and I hope I'll be there for a long time."
Get the latest updates, reviews and unmissable series to watch and more!
Thank you for signing up to Whattowatch. You will receive a verification email shortly.
There was a problem. Please refresh the page and try again.