Exclusive: Hollyoaks' Gloved Hand Killer suspects 'confess'! (VIDEO)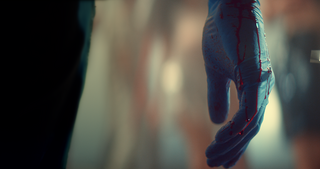 Hollyoaks is celebrating its 20th anniversary with a week of drama including the climax of the slow-burning Gloved Hand Killer storyline. He or she is about to strike again, reportedly three times, before their identity is revealed!
The mystery of the Gloved Hand Killer has kept Hollyoaks fans guessing throughout the year, ever since they first struck by injecting Rick Spencer with a lethal drug. Since then, Will Savage, Mariam Andrews and Phoebe McQueen have followed in a similar vein.
The chief suspects are Lindsey Butterfield (Sophie Austin), Celine McQueen (Sarah George), Tegan Lomax (Jessica Ellis) and Kim Butterfield (Dasiy Wood-Davis), but who knows if Hollyoaks will throw a curveball and the killer turns out to be someone else altogether!
What's on TV decided to test the main suspects' ability to slip on a rubber glove. Watch the results above. Can you determine which of them is the killer? "]
*Please note that Daisy doesn't feature among the suspects because she was off work ill when filming took place.*
Hollyoaks' 20th anniversary week starts screening on E4 and Channel 4 from Monday, October 19.
Get the latest updates, reviews and unmissable series to watch and more!
Thank you for signing up to Whattowatch. You will receive a verification email shortly.
There was a problem. Please refresh the page and try again.