'It's a dream come true!' Newlywed Hollyoaks ex Claire Cooper is In The Club!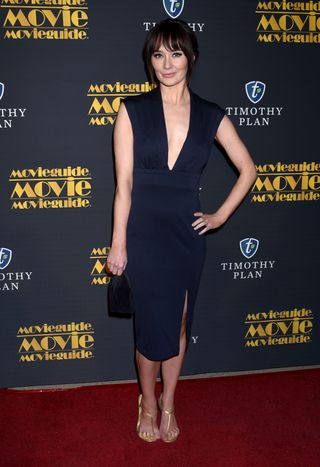 (Image credit: AFF)
It's been three years since Claire Cooper left her Hollyoaks character Jacqui McQueen behind just a month after her co-star and real-life partner Emmett J Scanlan departed the show as evil Brendan Brady. And in that time their relationship went from strength to strength with a romantic Christmas Eve 2014 proposal and a fairytale wedding on New Year's Eve 2015 in New York. Now Claire's made another dream come true by landing a role in the second series of Kay Mellor's drama, In The Club (BBC1).
How are you enjoying married life with Emmett?
"Married life's wonderful! I share my life with my best friend and that's pretty perfect."
How excited were you to be in a Kay Mellor series?
"It's been on my wish list since leaving drama school. I've always been a fan of Kay Mellor. I have huge admiration for her vision and storytelling. Kay's writing is complex, witty and moving, and it's so true to its setting and people. I'm a West Yorkshire girl myself and this is the first time I've had the opportunity to play my heritage."
Who are you playing in In The Club?
"I'm playing a character called Claire, which made it very easy for everyone on set to remember my name! Claire's the new partner of Susie, played by Tara Fitzgerald. They've been together for a while and they're very much invested in each other's lives. Claire's a little in the dark with regards to Susie's previous relationship and this certainly has repercussions."
Did you watch the first series?
"I did and I loved it!"
Do you ever regret leaving Hollyoaks?
"Life shouldn't be about regrets, only fond, grateful memories and being present."
What do you like doing when you're not working?
"I love catching up with friends. But I don't have many 'spare time' moments. I'm either acting, auditioning or preparing. I'm currently developing a children's pre-school series called Pancake The Cat with Channel X production company."
You're well known for your love of animals, Claire… That must help with Pancake…
"I was brought up to appreciate, respect and value all living creatures. Those people who are cruel to animals have no place in my heart or on this planet."
Do you have any pets?
"Emmett and I have two flat-faced cats! Pancake, who inspired my pre-school animation, and StarLord. You roll out of bed and you can't help but smile seeing such sweet, funny faces!"
Did your love of animals inspire you to be a veggie?
"Yes. I have no interest in eating fear and pain. It can't be good for you, plus an animal's life is not mine to take. I'm a proud veggie and transitioning to be vegan. Both Emmett and I adopted this new lifestyle choice predominantly because animal genocide is off the scale and devastating. We both made an emotional connection."
The second series of In The Club is due to return to BBC1 in April 2016
Thank you for signing up to Whattowatch. You will receive a verification email shortly.
There was a problem. Please refresh the page and try again.