Hollyoaks star Jazmine Franks: Mother's Day is extra-special for me after nearly losing my mum to cancer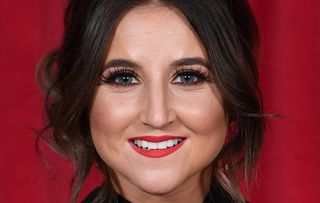 (Image credit: David Fisher/REX/Shutterstock)
Actress Jazmine Franks, who plays Hollyoaks' coffee shop owner Esther Bloom nearly lost her beloved mum Lesley to bowel cancer five years ago.
Celebrating Mothering Sunday has always been a big deal for Hollyoaks' actress Jazmine Franks and her mum, Lesley. But, in recent years, Jazmine has gone all out to make it the perfect day after her mum was diagnosed with bowel cancer five years ago.
Jazmine, who plays The Bean's Esther Bloom, told Soaplife: "We've always been close but mum's illness made me appreciate just how special she is and how much she – like all mums - should be treasured."
Soaplife's interview with Jazmine Franks
Soaplife: Your mum sounds amazing, Jazmine!
Jazmine Franks: "She is. She wouldn't allow either my dad or me to be sad when she got sick because she wasn't. She was – and still is – so strong."
S: Did her strength help you?
JF: "Absolutely. She was like, 'We all have to ride this together!' Hollyoaks were really good and they let me have time off to be with her. Actually, the treatment for her cancer wasn't the worst bit. What came after was more serious."
S: Why? What happened?
JF: "Well, she'd had a colostomy bag fitted as part of her treatment and, about a year after she'd had the operation for that and had been given the all clear, the decision was made to reverse it. There were complications during the surgery and mum, who had been put on a feeding tube, had to stay in hospital for quite a while. Not even the doctors knew what was wrong. But then this junior doctor insisted that she had a CT scan immediately and afterwards she was rushed back into the operating theatre."
S: What was the complication?
JF: "It turns out that during the first operation, her bowel had been twisted so it wasn't even the cancer that caused it. It was a very scary time, but even throughout that she never complained. Mind you, she was up-to-her-eyeballs on morphine and hallucinating at the time! It was horrible, but we laugh about it about it now."
S: Could you cope?
JF: "Yes. You have to, don't you? Me and my dad took turns to be at the hospital with mum, and we just got on with it. You look back and think, 'However did we manage?' But you just do. Dad and I just pulled each other along. Not having mum at home made me realise what a massive part mum plays in my life. My dad's, too. There are only three of us, you see, so we're very close."
S: Is your mum OK now?
JF: "She's great, thanks... What happened encouraged mum and dad to take early retirement from their post office business. They've sold up and they're currently on holiday in Tenerife. They're living the dream!"
S: She'll be back for Mother's Day, though?
JF: "Oh yes. I'll be going out with mum, my nan and my Aunty Jackie, who doesn't have any kids. I buy them all a present and we'll be going somewhere lovely for lunch. I love hanging out with mum. We regularly go to the cinema together or for afternoon tea."
S: On a different tack, how's life at Hollyoaks?
JF: "Brilliant. It's the best job in the world. Life's quite quiet for Esther, my character, at the moment, but there's some exciting stuff to come. Some weeks you're madly busy, others you're only in for a day. It gives me the chance to do other stuff."
Like what?
JF: "I volunteer at a homeless shelter called St Barnabas in Manchester once a week. It's somewhere people can come and get a hot meal, a shower and a change of clothes. It's also a place where they can feel safe and have a chat. I'm also in training for the British Powerlifting Championships."
S: That sounds pretty heavy duty if you'll excuse the pun!
JF: "Ha! It's about lifting the most weight through powerlifts, squat lifts, deadlifts, etc. I'd done weights in the gym for years, but then my trainer told me I was strong enough to enter competitions. I refused for a while because the Lycra all-in-ones you have to wear in competition aren't exactly flattering. But he finally persuaded me and I entered my first competition in November 2016. I'm now hooked."
S: How do you think you'll do in the British Powerlifting Championships?
JF: "I know I'm not going to win, but I'm aiming at a place in the top three. Wish me luck!"
For more details about St Barnabus, please visit: www.barnabus-manchester.org.uk
Main pic: David Fisher/REX/Shutterstock
Get the latest updates, reviews and unmissable series to watch and more!
Thank you for signing up to Whattowatch. You will receive a verification email shortly.
There was a problem. Please refresh the page and try again.