Jennifer Metcalfe: 'Ayden and I were like two little babies filming the Hollyoaks stunt!' (VIDEO)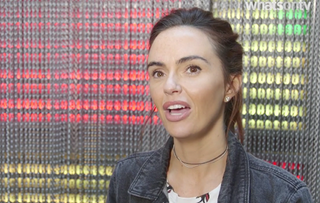 Hollyoaks star Jennifer Metcalfe chats about filming Joe Roscoe's romantic proposal to Mercedes at the top of a Ferris wheel
Hollyoaks star Jen Metcalfe reveals she and co-star Ayden Callaghan discovered they have no head for heights while filming their climactic Halloween stunt.
Jen told What's on TV that their sequence involves Mercedes and her on-off boyfriend Joe Roscoe becoming trapped at the top of a Ferris wheel at the height of the 'Spooktacular'.
Jen said: "I thought I was OK with [heights] and Ayden had said 'I don't really like heights' when we spoke a couple of times about doing the stunts, but I said 'We'll be fine when we get there, I bet it's not that big.'
"When we got there Aidan was really quiet, I forgot he really doesn't like heights.... I thought, 'You are actually really scared!' So we were both up there for five hours, literally we wouldn't hardly laugh because if we laughed it swung a little bit. We were like two little babies, it were embarrassing."
The couple are on the Ferris wheel because Joe is planning an elaborate proposal.
"Mercedes obviously knows that because Freddie's told her, but she isn't thinking she's going to take Joe back," said Jen. "She knows she loves him, but she thinks 'No, one step too much.' She wants to humiliate him, she wants to get it all on camera, send it viral and say, 'Nah see you later mate, jog on.'
"Obviously that doesn't happen and we see them both up there, really romantic scenes of him trying to win her back."
Whether they get down alive or not, viewers will have to watch on Monday and Tuesday on Channel 4...
Get the latest updates, reviews and unmissable series to watch and more!
Thank you for signing up to Whattowatch. You will receive a verification email shortly.
There was a problem. Please refresh the page and try again.