'I've never felt love like this!' Hollyoaks' Jennifer Metcalfe on being a mum!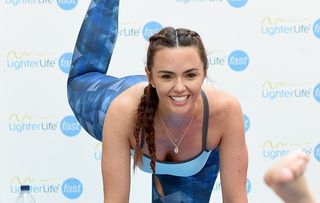 (Image credit: MCPIX/REX/Shutterstock (5683999p))
Jennifer Metcalfe tells Soaplife how she's enjoying life with her first child and when she'll be returning to Hollyoaks as Mercedes McQueen
Hollyoaks star Jennifer Metcalfe is apologising for speaking with her mouth full. "I'm grabbing a salad while I can," she says. "I'm taking advantage of the fact that my baby boy Daye has fallen asleep…"
What's the story?
"Every day is different being mum to a six-month-old. Some days it's exhausting, others it's exhilarating," Hollyoaks star Jennifer Metcalfe told Soaplife. "But no matter what kind of day I've had with Daye, I've never felt love like it. It's all-consuming and just too much to put into words. The closest thing that comes to it is to say I've been hit by the Love Bus – very, very hard!"
Jennifer Metcalfe tells Soaplife what life's like as new mum to her baby boy Daye…
Soaplife: What kind of baby is Daye?
Jennifer Metcalfe: "He loves playing and each day tries to do more and more. He's really active… He props himself up and crawls. He's very smiley and happy but that's not to say he doesn't have moments when he kicks off!"
SL: And what kind of mum are you?
JM: "A good one! Seriously, we're both finding our feet – Daye is new to life and I'm new to motherhood. We're learning a little bit more about each other every day. Motherhood is challenging and difficult – but also totally amazing."
SL: Has motherhood changed you?
JM: "I can't go on my girly holidays or have my wine nights any more… But, fundamentally, I am the same person. Maybe I'm more patient. I've become more patient as I've got older anyway but being a mum definitely requires another level of patience altogether."
SL: How are you finding maternity leave?
JM: "It's great most of the time. I always planned to take a year off to concentrate on Daye and my partner [Geordie Shore's Greg Lake]."
SL: Is Greg a hands-on dad?
JM: "He's brilliant. He runs his own business and so had to go back to work six days after Daye was born but I hand the baby over when he comes home so I can have some chilled-out time on my own. I love hearing the laughter and squealing coming from downstairs."
SL: Have you got your pre-baby body back yet?
JM: "I'm happy with the way I look. My body has changed but I'm not really bothered. It's different, that's all. I go by whether I'm happy about myself - and I am."
SL: But do you watch what you eat?
JM: "I do a version of the 5:2 diet for maintenance. For five days a week I eat what I want – in moderation – and on the other two days, I have Lighter Life meals – shakes, soups and bars. It works very well for me because I like the products. As a newish mum, I find the plan really convenient."
SL: What about exercise?
JM: "There are some great mum-and-baby-friendly exercise classes where we live in the north east, such as 'Mummy Fit' and 'Bar Class' which is a ballet class you can take your baby to. I also do a Hot Yoga class every week in the evenings – Greg babysits!"
SL: When are you back in Hollyoaks?
JM: "I start back next June. The thought of going back to work at the moment is exhausting but I know I'll be fine once I'm back."
Pic credit: MCPIX/REX/Shutterstock
Get the What to Watch Newsletter
The latest updates, reviews and unmissable series to watch and more!