'Marnie and Myra should get their own series!' says Hollyoaks' Lysette Anthony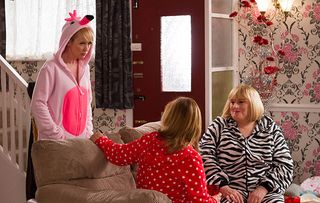 Marnie Nightingale's latest deceptions see her shunned by her family… and she ends up living with Myra McQueen! Lysette Anthony told Soaplife exactly what happened…
You'd think Marnie Nightingale might give up on trouble magnet husband Mac, who's brought her nothing but misery for years on end. But she loves him and she's devastated when she thinks she's going on a date with him… only to see him wooing Neeta Kaur again. "He rips her apart yet again," Lysette Anthony told Soaplife. "Marnie wants revenge and Myra inadvertently gives her an idea."
How does Marnie feel about Mac (David Easter)? "She loves him very much and she's totally broken-hearted, confused, angry and humiliated. The whole thing with Neeta [Amrit Maghera] is awful and he really does deserve a great, fat punch!"
What happens when Myra gives her an idea? "Marnie misconstrues something that Myra says and it has disastrous consequences at the restaurant. It ends with her children refusing to talk to her and Marnie becoming homeless."
Where does she go? "She stays in a hotel, but they take away her clothes when she can't pay the bill. It's Myra who lets her stay at the McQueens'."
Marnie will hate it there! "She does keep talking about having to escape the utter squalor. It's snob hell for Marnie."
How long will she be able to endure it? "She actually starts to find it comfortable and it's Myra and the McQueens who desperately try to get her out. Marnie also realises she rather likes daytime TV and sits shouting at Jeremy Kyle! The McQueens' electricity bill goes up and up."
Won't Mac help her out? "No. He's really horrible to her. He turns up when she's in a onesie, eating peanut butter from a jar. He roars with laughter and throws some money at her."
How long will Marnie be down on her uppers? "This will last a while. What's nice is that Marnie and Myra really understand each other. The only difference between them is education. I'd be furious if they broke up our partnership now. Myra actress Nicole Barber-Lane and I deserve our own series!"
Tell us about the McQueens' karaoke party… "Myra makes Marnie wear a flamingo onesie with a beak and it looks as if she's grown a male appendage! She just has to stand there and bear the horror of it all. Then Myra says, 'You know how I've kept that so soft? I haven't washed it!'. Marnie is horrified."
Will Marnie get over Mac? "She has to get to a point where she can really move on, but she hasn't reached it yet."
Hollyoaks, Channel 4
Get the latest updates, reviews and unmissable series to watch and more!
Thank you for signing up to Whattowatch. You will receive a verification email shortly.
There was a problem. Please refresh the page and try again.