Mercedes faces Sienna in rooftop showdown on Hollyoaks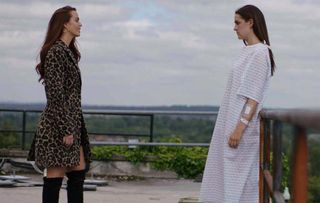 Two grieving women with grudges against each other, Mercedes and Sienna had a rooftop showdown on Hollyoaks. Who came out on top?
There were harsh words and murderous threats when grieving Mercedes McQueen happened across equally distressed Sienna Blake on a rooftop on E4's Hollyoaks tonight.
Mercedes is mourning the death of her fiancee Joe Roscoe while Sienna is struggling to cope with the loss of daughter Nico, both of whom died in the Halloween spooktacular disaster.
Sienna was in a catatonic state as she slowly made her way to the hospital roof ready to jump, only to be met by an equally fraught Mercedes standing a few metres away from her.
Mercedes blames Nico for Joe's death and threatened to push Sienna off the roof, but decided she didn't want to give Sienna the 'easy way out'.
Instead, miraculously, the two women shared stories of the people they've lost and the experiences they've had and... called a TRUCE!
Meanwhile, Cindy and Jude recovered the dodgy money from Liam Donovan and in an emotional farewell, Jude confessed she was jealous of Cindy's settled family life.
Cindy begged her mother to stay in the village, but Jude couldn't give up her glamorous lifestyle and left the village in a black limo while sipping Champagne and shedding a tear of regret.
Has Hollyoaks seen the last of her?
These scenes will screen on Channel 4 at 6:30pm on Thursday, November 3
Get the latest updates, reviews and unmissable series to watch and more!
Thank you for signing up to Whattowatch. You will receive a verification email shortly.
There was a problem. Please refresh the page and try again.