Anna Passey and Jamie Lomas: Filming Hollyoaks' fire stunt 'got the heart pumping' (VIDEO)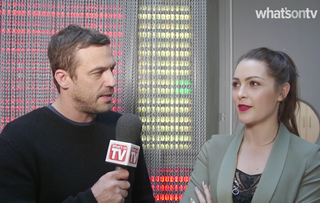 Hollyoaks stars Anna Passey and Jamie Lomas preview the excitement of the Channel 4 soap's Halloween funfair disaster
Stars Anna Passey and Jamie Lomas have spoked about the draining, difficult task of filming Hollyoaks' spectacular 'spooktacular' fire stunts.
The actors play couple Sienna Blake and Warren Fox, who are at the heart of the drama when Sienna's killer daughter Nico is ont he loose at the funfair.
Anna talked to What's on TV about filming: "It was really fun, we had a lot of fun doing it. Night shoots do a weird thing to you, you kind of kick into an odd madness when you're on your 17th night of working the weirdest hours. But at the same time really draining, the emotion of it, the content of it, it's a hard push..."
Jamie added: "Adrenaline takes us through a lot of it as well, you're doing big fire episodes. As an actor that's what you want to do."
Anna continued: "There's no tricks. We were really in the maze, it was really on fire, I was really kicking you. You don't realise until later you're quite bruised and sore. You really put a lot into it. It's really quite safely done, everywhere you look there is a fireman, but you really are this close to fire. It gets the heart pumping."
Jamie explained he's enjoying playing a new side to his dangerous character. "It's really refreshing for me to come back... [Warren] doesn't want to go back to prison. He's trying to turn over a new leaf. Will it last? No, I don't think so, but I really enjoy playing that side to him."
Watch Anna and Jamie preview the Hollyoaks drama, above.
Get the latest updates, reviews and unmissable series to watch and more!
Thank you for signing up to Whattowatch. You will receive a verification email shortly.
There was a problem. Please refresh the page and try again.