'Simone's hideously competitive and things go too far,' says Hollyoaks' Jacqueline Boatswain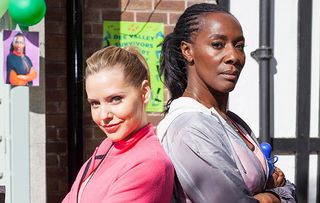 It's Simone Loveday v Cindy Savage! Robbery victim Simone's dangerously close to falling off the wagon – then she tackles Cindy! Hollyoaks Jacqueline Boatswain details of this fight...
Simone Loveday thought her life was back on track with husband Louis at her side, her drink problem under control, plans to have IVF treatment and a campaign to become councillor. But after a few bits of misfortune she's perilously close to falling off the wagon.
"She's trying to do too much," Jacqueline Boatswain told Soaplife. "Drinking's an addiction and Simone becomes desperate for five minutes of oblivion."
What goes wrong for Simone? "Her mum's dying from cancer, and the IVF thing is tough… on her relationship and on her body."
What happens with Prince McQueen (Malique Thompson-Dwyer)? "He steals jewellery that Simone's mum gave her to pay for IVF and he attacks her in the process. It's a real knock."
Why does she want to be a local councillor? "Simone's hideously competitive and bossy. The idea of bossing people about outside of the family environment is a dream for her."
Is that all there is to it? "She also feels she has a lot to give. She isn't a lawyer now and wants to feel she's doing something useful."
So, how does Cindy ruin it? "It's hilarious that Cindy [Stephanie Waring] actually thinks she could be a councillor. Simone's enraged and she's offended by the idea of it. She doesn't think Cindy has the knowledge, training or intelligence for the job. Besides, she has no clue what's going on in the village. For Cindy, it's all about being competitive with Simone and she tries to ruin her campaign by bringing stuff up about her troubled past."
What does Simone do about that? "She goes for her and tips a few of Cindy's own skeletons out of the closet. However, it goes too far and it's that thing you always get with Cindy when you go for her… it feels like you're kicking a kitten!"
How strong is Simone's urge to drink? "She really wants to drink, but it would mean letting everybody down as well as being an admission of failure."
Hollyoaks, Channel 4
Get the latest updates, reviews and unmissable series to watch and more!
Thank you for signing up to Whattowatch. You will receive a verification email shortly.
There was a problem. Please refresh the page and try again.