Nick kisses Tegan after a row with Holly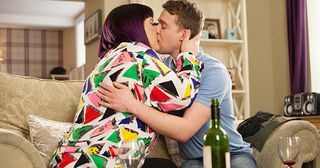 Unaware that Holly has gone to a lot of trouble organising a lavish do for him, Nick kisses Tegan in Hollyoaks
Holly is dead excited as she has planned a surprise party on the Love Boat for Nick, but he's not impressed, especially as he's been locking lips with Tegan in Hollyoaks!
As the guests cheer, how will Nick react?
At the Lomaxes' place, there's a booty call for Zack and Leela. But when he later buys Leela a present, Peri finds it and reckons it's for her. She brags to Yasmine, who goes on to tell Tom, who goes on to confront a very confused Zack…
nick, holly, tegan
nick, holly, tegan
But, meanwhile, Holly's got something planned for an unaware Nick…
Surprise! Holly's organised a party for Nick on the Love Boat
Elsewhere, Zack and Leela have a passionate encounter...
But Peri finds a bracelet Zack has bought for Leela and presumes it's for her. As she brags to Yasmine, Peri ends up causing a huge drama… How will he react? Watch Hollyoaks on Channel 4 from Monday, April 24
Get the What to Watch Newsletter
The latest updates, reviews and unmissable series to watch and more!