Will Billie go ahead and marry VJ in Home and Away?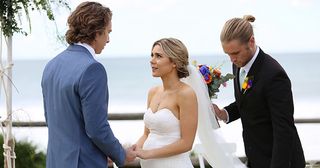 As their wedding day arrives, a stressed-out Billie is in turmoil. Can she go through with it?
The excitement is mounting in Summer Bay as Billie and VJ's big day approaches.
Marilyn is determined to throw her a bridal shower, unaware the bride-to-be is wracked with guilt over her lies and deception and is having a serious case of cold feet.
Meanwhile an oblivious VJ, who still has no idea he's not the biological father of heavily-pregnant Billie's baby, can hardly wait to leap into his suit and say his vows.
Uh-oh! As friends and family gather for the nuptials, can Billie paint on a smile and go through with it or will her anxieties spill over and leave VJ jilted and heart-broken?
Will it be happy ever after for the bride and groom? Don't bank on it….
Ash drives his little sister to the cliff top wedding venue in a beautiful classic car.
Bride Billie is pleased to have her brother as support. She may look happy but inside she's battling with her demons.
Billie and Ash make their way down the red carpet towards the assembled guests.
VJ is beaming to see his beautiful bride and her baby bump approaching.
This is the moment he's been dreaming of. He can't wait to tie the knot.
But the same can't be said for Billie who takes a deep breath and goes to take her place by VJ's side.
Kat and Ash do a beautiful poem recital and then VJ begins to say his hearlfelt vows.
Kat and Ash do a beautiful poem recital and then VJ begins to say his hearlfelt vows.
Overcome with emotion it's all too much for Billie, she starts to crack, unable to bury her guilt any more.
Kat looks on, concerned that all is not well.
Will Billie go through with the wedding or is she about to break VJ's heart and confess the huge lie she's been keeping… I'm sorry VJ, you're not the father of my baby?! Watch Home and Away on Channel 5 from Monday, January 30
Thank you for signing up to Whattowatch. You will receive a verification email shortly.
There was a problem. Please refresh the page and try again.