Cul-de-sac (1966) | The Criterion Collection presents Roman Polanski's black comedy classic on Blu-ray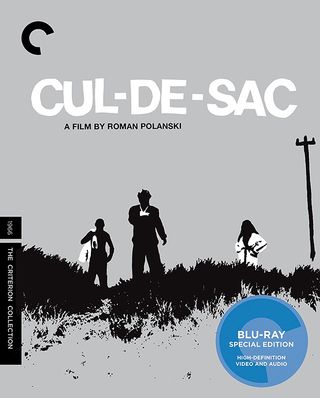 Roman Polanski's follow-up to his classic chiller, Repulsion, is a bleak, blistering satire on sex, class and death.
In an old castle on an island off the north-east coast of England live retired businessman George (Donald Pleasance) and his young French wife, Teresa (Françoise Dorleac). George is besotted by Teresa; she is bored by him. Into this domestic scene come Richard (Lionel Stander) and Albert (Jack MacGowran), two wounded gangsters on the run. Albert is the more seriously hurt, with bullets in his stomach; Richard has a wounded arm. Soon the situation becomes explosive…
Atmospheric Lindisfarne, Northumberland locations (and Holy Island) set the stark tone for Roman Polanski's 1966 British thriller, Cul-de-sac, a claustrophobic, and morbidly funny tale about sex, class and death. Donald Pleasence is in his element as the slightly dotty George, while gravel-voiced Lionel Stander (best known as Max in TV's Hart to Hart) is outstanding as bullish thug Richard. Tragically, Françoise Dorleac (sister of Catherine Deneuve) died in an auto accident a year after this film's release. Watch out for Jacqueline (billed as Jackie) Bisset, briefly on screen in one of her earliest roles.
THE CRITERION COLLECTION RELEASE • Restored high-definition digital transfer, approved by director Roman Polanski, with uncompressed monaural soundtrack • Two Gangsters and an Island: A 23-minute 2003 documentary about the making of the film. • Archive TV interview with Polanski from 1967 • Theatrical trailers • Plus, booklet featuring an essay by film critic David Thompson
READ MORE ABOUT THE FILM HERE…
https://www.youtube.com/watch?v=zxyIxHzv3Lg
Get the latest updates, reviews and unmissable series to watch and more!
Thank you for signing up to Whattowatch. You will receive a verification email shortly.
There was a problem. Please refresh the page and try again.