The Gate, The Lair of the White Worm and Wishmaster joins the Vestron Collector's Series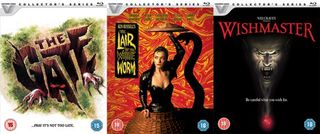 Lionsgate UK presents three classic horrors: The Gate, The Lair of the White Worm and Wishmaster in their ongoing Vestron Collector's Series, restored and re-mastered on Blu-ray with a host of bonus features.
THE GATE (1987) When best friends Glen and Terry stumble across a mysterious crystalline rock in Glen's backyard, they quickly dig up the lawn searching for more precious stones. Instead, they unearth The Gate – an underground chamber of terrifying demonic evil.
The teenagers soon understand what evil they've released as they are overcome with an assortment of horrific experiences. With fiendish followers invading suburbia, it's now up to the kids to discover the secret that can lock The Gate forever… if it's not too late.
This highly entertaining horror, starring a young Stephen Dorff, is a well-deserved 1980s cult classic and a must-have for all horror fans. Get it on Amazon
Special Features: • Two audio commentaries with director Tibor Takacs, and many of the crew, including Randall William Cook (SFX) and Craig Reardon (sfx make-up artist) • Isolated score and audio interview with composers Michael Hoenig and J Peter Robinson • A series of 'Making of' featurettes • Trailers and TV Spot • Galleries
THE LAIR OF THE WHITE WORM (1988) James D'Ampton (Hugh Grant) returns to his country castle in England. Legend has it that James's distant ancestor once slayed the local dragon — a monstrous white worm with a fondness for the sweet flesh of virgins. The young lord dismisses the legend as folklore, until archaeology student Angus Flint (Peter Capaldi) explores James's property and unearths a massive reptilian skull and a pagan snake god's ancient site of worship.
When James's virtuous girlfriend, Eve Trent (Catherine Oxenberg), suddenly disappears, James and Angus set out to investigate the foreboding cavern said to be the worm's lair, where a centuries-old mystery begins to uncoil.
This outlandishly camp horror from the equally outrageous British director Ken Russell is a sexed-up adaptation of Bram Stoker's adventure novel and is noteworthy for its OTT special effects. We also get to see Capaldi and Grant at the very start of their acting careers. Get it on Amazon
Special Features: • Audio commentaries with director Ken Russell and Lisi Russell • Interviews with the SFX artists Geoffrey Portass, Neil Gorton and Paul Jones, editor Peter Davies and actress Sammi Davis • Trailers From Hell featuring producer Dan Ireland • Trailer and Gallery
WISHMASTER (1997) The ancient entity known in human legend as the Djinn can grant a person's wildest dreams. And in the process, it unleashes your darkest nightmares. The moral of this explosively terrifying, special effects powered, horror-fantasy spectacular: Be careful what you wish for!
Featuring Robert Englund (A Nightmare on Elm Street), Kane Hodder (Friday the 13th) and Tony Todd (Candyman) and executive produced by Wes Craven, this is the first and the best of the horror series. Get it on Amazon
Special Features: • Audio commentaries with director Robert Kurtzman, screenwriter Peter Atkins, and actors Andrew Divoff and Tammy Lauren • Isolated score selections and audio interview with composer Harry Manfredini • Interviews with the cast and crew, including Robert Englund, Kane Hodder, and Ted Raimi • Trailers, TV & Radio Spots • Archival 'Making Of' featurette an behind-the-scenes compilation • Galleries
©1986 The Gate Film Productions Inc. all Rights Reserved. © 1988 Vestron Pictures Inc. All Rights Reserved. © 1997 Artisan Pictures Inc. All Rights Reserved. Package Design: © 2018 Lionsgate Home Entertainment UK. All Rights Reserved.
Get the latest updates, reviews and unmissable series to watch and more!
Thank you for signing up to Whattowatch. You will receive a verification email shortly.
There was a problem. Please refresh the page and try again.