Get ready for some classic Euro horror and sexploitation from Screenbound's Black House Films and Maison Rouge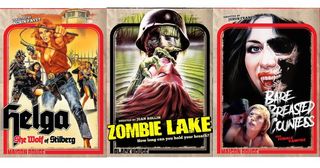 From Screenbound comes two new Euro cult film labels into the UK, Maison Rouge and Black House Films, which will specialise in releasing a slate of Euro Gothic horror and sexploitation on DVD and Blu-ray. Here's a sample of their titles...
Female Vampire (aka Bare Breasted Countess)
(Out Now, Maison Rouge) Euro sleaze maestro Jess Franco, directs and also makes an appearance in this cult vampire movie from 1975. Lina Romay is Irina, the beautiful last descendant of a family of vampires from distant Bohemia. When she takes Austrian writer, Baron von Rathony (Jack Taylor), as her lover, her gluttonous lips devour him, as he surrenders his body and soul to her. Special Features: Erotikill (Horror Version), Destiny In Soft Focus, Words For Lina, Trailers
Helga, She Wolf of Stilberg
(Out Now, Maison Rouge) This 1970s women's prison classic set in South America takes place in a fortress turned detention camp for political prisoners and under the command of the sadistic Helga Stiver. When Lisbeth, the daughter of the opposition leader arrives at Stilberg, local rebels plot to free her and the camp's other captives. Nudity, violence and lesbian catfights – what more could you ask for? Special Features: Alternative Clothed Scenes, Trailers
Zombie Lake
(Out Now, Black House Films) Young women are disappearing without trace in a small lakeside town in this zombie movie from Jean Rollin. The superstitious locals blame 'The Lake of Ghosts', but the town mayor (Howard Vernon) is unwilling to investigate. However, a reporter discovers that the lake harbours a terrible secret dating back to World War II.
Crimson
(17 April, Black House Films) When a robbery goes wrong and the gang leader, Jack (Paul Naschy) is shot in the head, a group of criminals engage a mad scientist to use the brain from another severed head as a transplant. The operation is a success and everything seems to be as planned – that is until the brain's former owner starts living out his murderous past…
Elsa Fraulein SS
(17 April, Maison Rouge) Inspired by Tinto Brass' Salon Kitty, this French-made Nazi sexploitation film centres on a train of beautiful women who have been engaged to service German soldiers in a bid to improve morale under the watchful eye of Elsa (Malisa Longo). Meanwhile, the French resistance plot to derail the train and plan an attack that will strike back at the Third Reich.
Get the What to Watch Newsletter
The latest updates, reviews and unmissable series to watch and more!